This post may contains affiliate links for your convenience. If you make a purchase after clicking a link we may earn a small commission but it won't cost you a penny more! Read our full disclosure policy here.
If you have never paid a visit to the Animal Kingdom Lodge, I highly recommend it. It is one of the most unique hotels on Disney property and it is also home to some really fabulous restaurants. A favorite of many guests is Boma-Flavors of Africa, which offers breakfast, lunch, and dinner each day. I had the chance to stop in for breakfast and loved every minute of it.
Breakfast at Boma is offered buffet style with lots of different breakfast items to choose from. Make sure you come hungry!
We made a dining reservation ahead of time, which is always a good idea, especially with a large party. As we were seated, our server welcomed us and offered us Jungle Juice as well as a variety of other drinks. We were planning a long day at Animal Kingdom after breakfast, so I definitely needed some coffee!
As I waited for my coffee to arrive, I decided to give the Jungle Juice a try and I was glad that I did. This stuff was amazing! It is a blend of orange, passionfruit, and guava juices and it was delicious. I certainly enjoyed my coffee, but the Jungle Juice was the best beverage by far.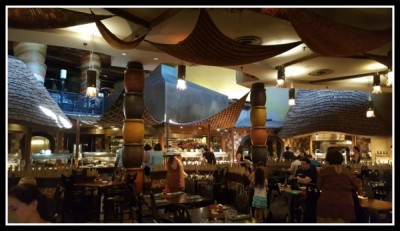 Boma Restaurant
After we were all settled in, it was time to hit the buffet. It was a bit crowded on this particular morning, but the line moved quickly. We must have arrived at a peak time because the restaurant did clear out quite a bit later on during our meal, making it easy to go back up to the buffet more than once.
The beginning of the buffet is where you will find all of the hot foods, so that is where we started. I had looked at the menu online prior to our trip, but the choices here were far more plentiful than I had even expected. Hand carved meats, bacon, waffles (Mickey and Simba shaped), potatoes, plantains…you name it, it was available. There were also some African-inspired dishes for those looking to try something that you may not find elsewhere.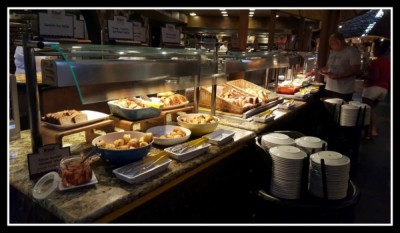 Pastries, bagels, muffins, and more!
At the other end of the buffet, are all of the breads and pastries. All of this looked great too, but I didn't make it to the pastries on my first trip. I actually didn't even make it past the mid-point of the buffet because my plate was already full! I took a quick look as I walked back to my seat and mentally planned what I wanted to grab when I came back for round two later on.
I loved just about everything I tried and it was nice to be able to go back for seconds of my favorites, like the French toast bread pudding. I will also always be a big fan of Mickey waffles, but I discovered that the Simba shape was great for holding the maple syrup in place as I walked back to the table. Simba was cute and kept my syrup from getting all over everything else. Win, win!
Full plate=full bellies!
This type of buffet breakfast turned out to be an excellent choice for our large party because everyone could pick and choose what they wanted and eat at their own pace. Our server checked on us often enough that our drinks were always refilled and we had everything we needed. Overall, it was truly a pleasant dining experience for all of us.
Will I go back to Boma for breakfast in the future? Absolutely!
If you have had the chance to dine at Boma, let me know what you thought in the comments!