This post may contains affiliate links for your convenience. If you make a purchase after clicking a link we may earn a small commission but it won't cost you a penny more! Read our full disclosure policy here.
Once you have paid in full for your Disney Cruise and have completed the online check-in process, many booking options will open for you to select from as activities to participate in during the duration of your cruise.  If you are interested in sending your princess to the Bibbidi Bobbidi Boutique, getting a massage or facial, signing up for a port adventure, or getting tickets for an on board character breakfast, you can set up all of those appointments before you board.
Log into your account on the Disney Cruise Line website and select "My Cruise Activities."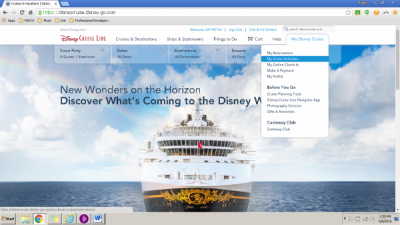 Select the specific cruise you would like to book reservations for and then select "Explore Activities."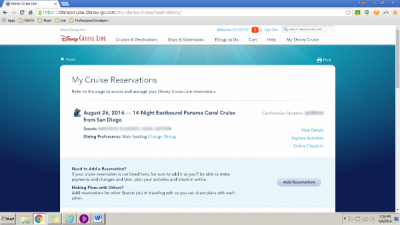 You will now see the itinerary for each day of your cruise.  From here you can search all days or select an activity for a specific day.  (Note: I have noticed that if you use the "Search All Days" option, not all experiences show up for the entire cruise.  Make sure you check a specific day of your cruise before assuming that the activity you are looking for is not available.)  If you have already booked an activity for a specific day, it will show up here in your itinerary.  You can also see the various ports that you will be visiting each day of your cruise.
At the bottom of a specific day, click "View or Add Activities."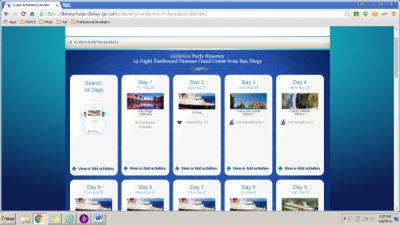 From there you will be able to select from Port Adventures, Adult Dining, Spa & Fitness, On Board Fun, or Nursery.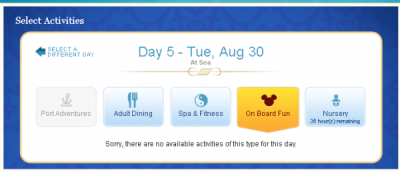 If the item is grayed out (like Port Adventures is in the picture above), then it is not an option for that day.  Also, if there are no scheduled activities open for that day you may get the message above (On Board Fun:  "Sorry, there are no available activities of this type for this day").
If it is a port day, you can click on Port Adventures and see all of the various excursions available for that port.  Clicking on the blue name of the adventure will allow you to see more information about the excursion, including the activity level and the price.  Putting a check in the box next to the excursion will allow you to select the members of your party who would like to participate in that excursion and will check the availability of the excursion.  You can then select a departure time for the event, and save it to your shopping cart.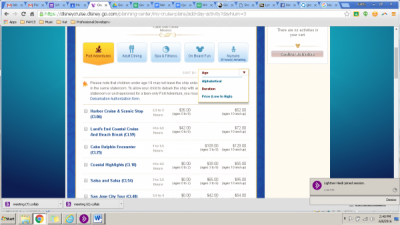 The main tabs are still visible across the top of the screen, so you can toggle through the different options for a specific day without returning to the main itinerary.  If you are looking to eat at Palo or Remy (adult only dining that has an additional fee), the various options for your cruise will be listed under that tab. Click in the box next to your selection and choose the members of your party 18 or older who will be dining.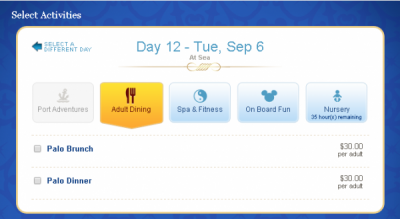 If you wish to reserve a massage, get a facial, manicure or pedicure, or take advantage of any of the other onboard spa and fitness options, you can select those under the Spa & Fitness tab.  The prices for these individual services will be listed as well as descriptions of the service.  You can then select the specific member of your party the reservation is for and a time to participate.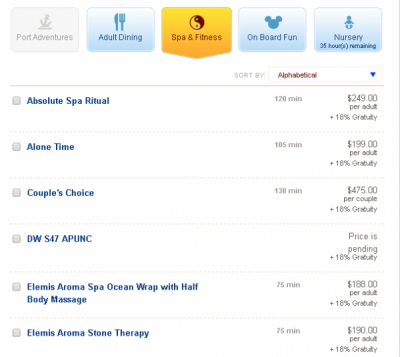 New for June 2016, you can now book special meet and greet tickets as well as character dining under the On Board Fun tab.  A character dining breakfast is sometimes offered on cruises with more than 2 sea days. This is also where you can make reservations for the Bibbidi Bobbidi Boutique or Pirate's League (available on select cruises on the Fantasy or Dream).
There will be many opportunities on board to meet the amazing Disney characters, but for the most popular Meet and Greets you can select tickets for a specific time during your cruise.  This option is free, and helps to eliminate long lines for these events.
The "Frozen" Meet and Greet features Princess Anna and Queen Elsa.  It is typically held in the Animator's Palate restaurant, which will be decked out in wintery scenes from Arendelle.
The Princess Gathering features several of your favorite Disney Princesses.  The number of princesses varies by ship and by cruise date.  We have met at least 3 but as many as 5 princesses at a gathering, and the combinations have been different each time and have included Tiana, Cinderella, Aurora, Rapunzel, Snow White, Ariel, and Jasmine.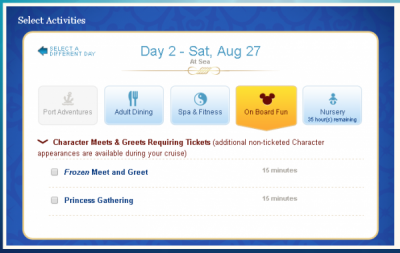 Select the activity you are interested in by clicking in the box next to the name of the activity.  You will then see all eligible guests in your stateroom and can select those who wish to participate in this activity.  If a name is grayed out, it means they are not eligible for this activity due to an age or other restriction.  Not all members of your party need to participate at the same time, but all members must have a reservation to participate.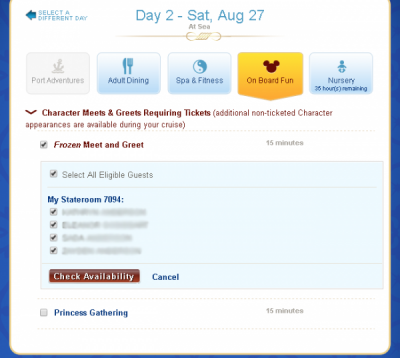 Once you select "Check Availability", you will see all of the available times for that event on that day.  Keep in mind we are only looking at one specific day of your cruise, so if a time that appears does not work you can always select a different day.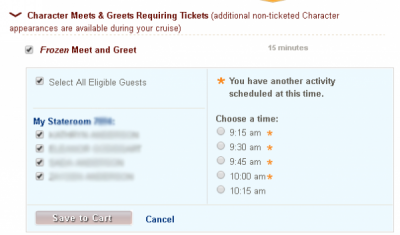 An orange asterisk (*) will appear next to any event that has a conflicting activity for members of your party.  This will happen if you have already made a reservation for a one time only event (meet and greets, character breakfasts, adult dining), or if another event will prevent you from attending at the selected time.  If you proceed with the reservation with a time conflict, the next screen will ask you to resolve the conflict before confirming your reservation.  You will have the options of either keeping your current reservation or continuing with the new reservation.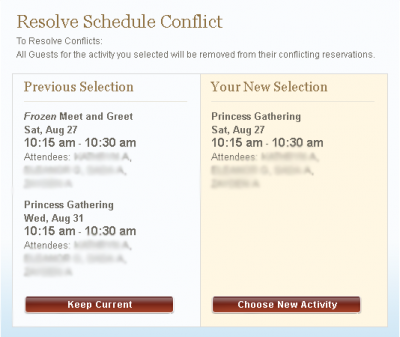 Reservations for all of these activities are limited, and they do sell out.  If a specific day, time, or activity is sold out, you will see the "Sold Out" message next to the name of the event: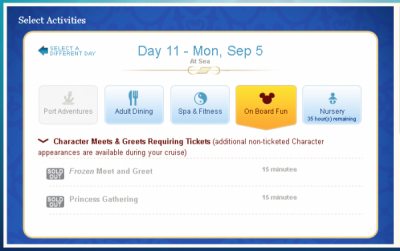 When you select the Nursery tab, you will have the option to reserve time in the nursery for children under the age of 3.  Reservations are in 1 hour increments, and you may reserve up to 36 hours of nursery time online prior to your cruise.  Prior reservations are not required for the Nursery, but they do operate on a first come, first served system.  If you know when you will be going to Remy or Palo, or if you have an excursion planned that your baby or toddler cannot participate in, you can make a reservation ahead of time to ensure there is room in the Nursery.
This is also an important tab because you have the option to register your children for the Kids Clubs here.  This will save you time at the port, as you can then skip the long line at the Kids Club registration and proceed directly to the Kids Club onboard to pick up your MagicBands.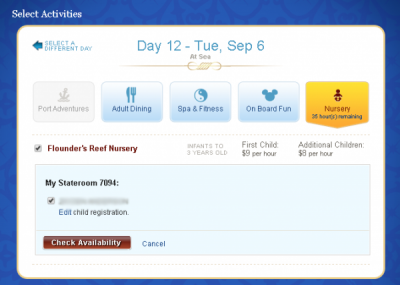 All of the activities that you select are placed in a "Shopping Cart" on the right side of your screen.  Before you are officially registered for your events, you must select "Confirm Activities."  I like to do this after each activity to make sure I don't run into any issues with the website or my internet service.  It is easier to go back and select one activity again than to re-select all of them.

Make your reservations as soon as possible after your paid in full date to ensure you get to participate in all of the wonderful events Disney Cruise Line offers!  If you have questions or need assistance making reservations, your The Magic for Less Travel Agent will be happy to assist you.
Incoming search terms:
https://www themouseforless com/blog_world/booking-activities-disney-cruise-line/