This post may contains affiliate links for your convenience. If you make a purchase after clicking a link we may earn a small commission but it won't cost you a penny more! Read our full disclosure policy here.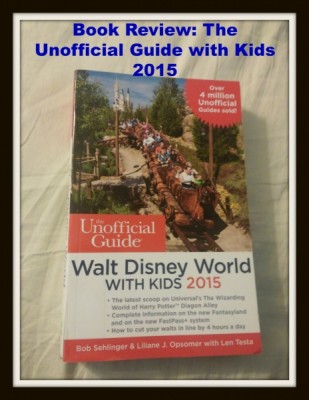 I recently picked up this book along with The Unofficial Guide to Walt Disney World 2015 (the author's call the aforementioned "the big book"), as a companion guide for our upcoming 2015 trip to Walt Disney World. While it looks measly in comparison to "the big book", this guide is still 480 pages filled with useful information for planning a Walt Disney World vacation.
While there is some overlap between the books, I was pleasantly surprised at how much new information was offered in this guide, and was pleased at how well this book seemed to work as a companion to the larger work. The book contains a scaled down introduction and shorter/less detailed descriptions of hotel and restaurant options. However, for each hotel, there was a list of pros and cons for families staying there, which was specifically helpful for evaluating hotels while traveling with children.
Additionally, there was a great deal more information and tips regarding child based issues for a Walt Disney World vacation. For instance, there were sections devoted specifically to grandparents who are traveling with children and for parents who want to invite their child's friend along for the trip. There are also many tips within the book with respect to child discipline, avoiding meltdowns, and dealing with tantrums (actually sound parenting advice for any situation).
I found the dining chapter to be especially helpful, since it provided many tips on how to cut down on dining time and expense, both of which are helpful when traveling with children. The book also provided suggestions for the best dining options for families in each park/area, and a list of favorite snacks to pick up along the way.
Another very useful section of the book was the Small Child Fright Potential Chart, which listed out any attractions that children may find scary/boring and a short explanation as to why. For a less seasoned Walt Disney World traveler, this would be a good list to carry in the park while touring. There is also a great section about character interaction which explains how it works and which characters can/cannot speak. Some children love to see their favorite characters from afar, but may be surprisingly spooked by seeing them up close and personal.
This book provided a much longer list of items to pack, because, let's face it, traveling with children means packing even more in your suitcases. I found their list to be well advised. I also agreed with their suggestion to write up an itinerary of your vacation before you leave, which is useful for the adults to follow but also helps to manage children's expectations as to what is coming next.
Much like "the big book" this guide provides listings for each attraction along with information about ride duration, loading time, and ratings for each age group. However, they also pay special attention to noting which rides may be scary/boring and which age groups particularly liked/disliked them. Similar information is provided for the Universal theme parks, and a brief overview of Sea World attractions is available as well.
Lastly, the guide devotes the last 24 pages of the book to providing detailed touring plans for the parks. These plans give readers a step-by-step itinerary of which things to do and what order to complete them in as well as suggesting when and which rides to schedule FastPass+ reservations for.
While I do not recommend solely using The Unofficial Guide to Walt Disney World with Kids 2015 as your only planning tool for a Walt Disney World vacation, I do think that it serves as a valuable companion to "the big book," and would recommend that it be read if you're planning a family vacation in 2015.
Ed. note:  While Liliane, one of the authors of "The Unofficial Guide to Walt Disney World with Kids" does write for us here at The Mouse For Less, this review is completely independent and we were under no obligation to either review the book, nor give it a positive review. 
Sponsored Ad:  Would you like to help support The Mouse For Less website in continuing their mission of being THE Disney vacation planning resource?  You can do so by purchasing "The Unofficial Guide to Walt Disney World with Kids 2015" from our affiliate link through Amazon.