This post may contains affiliate links for your convenience. If you make a purchase after clicking a link we may earn a small commission but it won't cost you a penny more! Read our full disclosure policy here.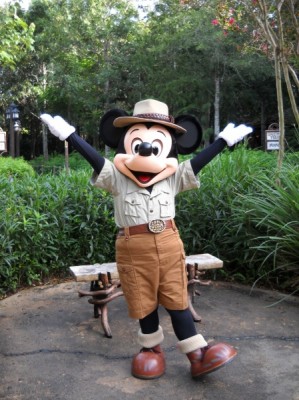 One of my favorite books to help with planning a Disney vacation is The Unofficial Guide:  Walt Disney World with Kids 2014 by Bob Sehlinger and Liliane J. Opsomer.  I borrowed this book from the library and have been enjoying the advice from the guide all week!   If you are going to Walt Disney World with kids and you are going to buy only one guide book to take you by the hand and lead you through the planning and the vacation, this should be the book!   I recommend this book to those taking a first Walt Disney World trip as well as to seasoned Disney travelers because the tips and reviews are helpful to all.
Get this book well before your vacation, find a comfortable chair, and start reading!  The guide kicks off with useful information you should know before leaving home such as a quick overview of the parks, gathering information, when to travel, and budgeting advice.  There are countless travel tips for parents of kids of all ages sprinkled through the pages by the authors and readers.  These tips are sound "I've been there and done that" advice.  Take them to heart and you'll benefit!
Later in the guide, the tip topics expand to include getting ready mentally, emotionally, and physically for your vacation.   This section of the book has a practical title "Disney Boot Camp," and not only is it a pleasure to read just for fun but it is also a treasure trove of ideas to have you gearing up to successfully conquer the World!  It will help you plan the nitty-gritty details of the trip, from everything to park touring to building in some rest and relaxation.
The heart of this book is the sections on resorts, dining, and attractions.
Resorts  In addition to a five star rating system, each resort has strengths and weaknesses listed.  There are valuable first-hand reviews from readers and tips from the authors.  The guide includes prices of resorts and lists offsite lodging options.  If you are trying to decide where to stay, the resort section of this book will give plenty of detailed information!
Dining  Off site and on site options are included as well as a helpful overview on the Disney Dining Plan and Advanced Dining Reservations.  There are suggestions such as Top Snacks to try (you don't want to overlook the Dole Whip!) and other dining tips to devour!  Each Disney restaurant is given a quality rating, value rating, portion size information, and reader survey responses as to whether readers would recommend each particular restaurant.  I like the descriptions for each place that describe the menu options.
Attractions  Every attraction is listed in detail with the primary age appeal for that particular attraction,  the scope and scale of the attraction, fright potential (important if you're traveling with young ones!), the wait times and what time of day is best to ride each attraction.  There is a information about loading speed, which affects wait times and is good to know!  The authors and readers provide plenty of tips and thoughts in this section.  That makes it helpful to use when deciding which attractions your family wants to do.
The back of the book has touring plans that will give you a plan of attack for each park, helping you decide in which order to do the attractions.  What I like most about these plans are that they are customized to fit various types of families, highlighting touring plans that younger children may enjoy the most verses what teens may enjoy the most for each park.  Clip out the plans you like best to use as a guide during your vacation.   The book was published before Fastpasses were available to arrange in advance and online, which means that you can use the plans even more efficiently without having to take time for Fastpass gathering.
As an added bonus, a chapter about Universal Studios and Sea World is included.   This chapter covers lodging, tickets, meals, maps, and attractions. There is also information on water parks (Typhoon Lagoon, Blizzard Beach and Wet 'N Wild) as well as a guide to Downtown Disney (soon to be renamed Disney Springs).
Planning a trip is the first step of your journey and half the fun!  Make your planning enjoyable and informative by using the Unofficial Guide: Walt Disney World with Kids 2014!
Sponsored Ad:  Would you like to help support The Mouse For Less website in continuing their mission of being THE Disney vacation planning resource?  You can do so by purchasing The Unofficial Guide to Walt Disney World with Kids 2014 in paperback from our affiliate link through Amazon.