This post may contains affiliate links for your convenience. If you make a purchase after clicking a link we may earn a small commission but it won't cost you a penny more! Read our full disclosure policy here.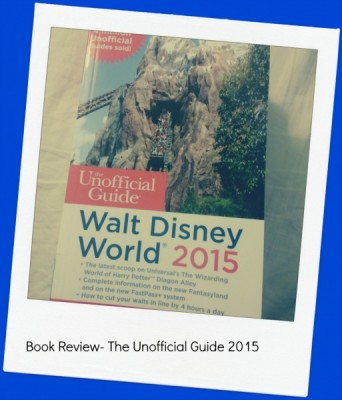 I recently picked up a copy of the 2015 Unofficial Guide in order to assist with our next Walt Disney World trip, and, once again, I am incredibly pleased with the book. This is the fourth edition which I have purchased/read, and I continue to consider it the gold standard of Disney World planning books.
The authors of the Unofficial Guide, Bob Sehlinger & Len Testa, apply a series of mathematical and statistical tests within the parks in order to provide readers with detailed information regarding wait times for attractions, projected crowd estimates, and travel times from place to place. This type of information can be invaluable when planning your vacation, especially for the first time traveler.   Additionally, the book is stocked with useful information you may otherwise need to search for while you're on vacation, such as important phone numbers, maps of the parks and of the local area, and brief descriptions of each attraction along with suggestions as to what guests would enjoy the ride.
However, what sets this book apart from other travel guides is the delivery of the material in a way that is humorous and engaging. For a guide with a mathematical approach, which could have easily dissolved into a sleep inducing read, this book is surprisingly entertaining. Although you will not find a plethora of color photographs of the parks, you will find a smattering of hand drawn, comic book style pictures, which are sure to make you chuckle. Another unconventional method of the book is to include many reader comments/reviews. I found some of these comments more useful than others, but they do a good job of breaking up the travel guide trope with personal experiences which may relate to you and your travel style.
For those unfamiliar with Walt Disney World, or those who have not visited in several years, it is important to read this book in order, as it is thoughtfully put together with the planning process in mind. In the first section, the authors provide a detailed introduction of important terminology, facts, and an explanation of additional resources for Walt Disney World travelers. Much of this information is integral to fully understanding some of the later chapters.
The Unofficial Guide goes on to provide a great amount of information regarding on and offsite hotel options, including room layout diagrams/descriptions, quality scores, pricing, maps, travel times, contact information, and recommended rooms at certain resorts. Their presentation is unbiased and straightforward. Restaurants are treated in a similar manner, with information provided for locations both onsite and in the local Orlando vicinity. The guide also provides instructions as to if, how and when reservations should be made.
When it comes to the parks, The Unofficial Guide is in its element. Each attraction is assigned a score, notifying you of how important it may be to attend. Then, the attraction is rated for different age groups, from preschoolers to seniors and everything in between. In addition to a ride description, the guide provides information about when to attend, ride duration, loading time, and will provide special comments about the ride which may factor into your experience (ie motion sickness, small seats, height minimums).
Again, where the book could have stopped after providing this general information, it does not. You will find special chapters related to touring with special needs, dietary restrictions, young children, senior citizens, on special occasions, etc. There is a brief chapter regarding what items you need to bring with you, and where to purchase them if you forget. There are tips for driving around Walt Disney World, and section of the book devoted to other activities in the area such as golf/mini golf, spa facilities, boating/fishing, and shopping. The authors also provide similarly detailed information for attractions and theme parks outside of Walt Disney World, including Universal/Islands of Adventure, Seaworld, Wet & Wild, and Disney Cruise Line.
I would be remiss if I failed to mention the content of the last 25 pages of the book. This is where the Unofficial Guide lists its "Touring Plans." These plans give step by step instructions as to where to go in the parks and in what order to see the attractions, as well as when to schedule FastPasses. The book has touring plans for different types of groups (adults, young children, teenagers) and for different lengths of time (half day, one day, two day). I have used touring plans on prior vacations and will be using them again in 2015. True and tested, these plans save a great deal of time and maximize your day, especially when the parks are crowded.
Needless to say, I highly recommend "The Unofficial Guide: Walt Disney World 2015".
Sponsored Ad:  Would you like to help support The Mouse For Less website in continuing their mission of being THE Disney vacation planning resource?  You can do so by purchasing "The Unofficial Guide to Walt Disney World 2015 in paperback from our affiliate link through Amazon.