This post may contains affiliate links for your convenience. If you make a purchase after clicking a link we may earn a small commission but it won't cost you a penny more! Read our full disclosure policy here.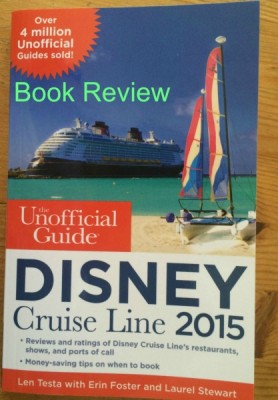 The Unofficial Guide Disney Cruise Line 2015
One of the items on my Amazon wish list last Christmas was the Unofficial Guide to the Disney Cruise Line 2015. I'm planning my first ever Disney Cruise (first ever CRUISE, period, in fact) and I knew I wanted some honest advice on my best options. I was very happy when this book wound up in my Christmas stocking.
The Unofficial Guide is written by Len Testa, Erin Foster and Laurel Stewart. The 2016 Guide is due to be released on December 15th, 2015. After thoroughly reading the 2015 Guide, I'll probably be picking that one up, too.
When you first open the book, you will come to eight pages of color, glossy photos of the exterior and interior of the ships, Castaway Cay, and some of the ports of call. I'd never known the Unofficial Guides to either WDW or DL to include color photos, so this was a pleasant surprise for me.
One of the most informative sections is called Dollars and Sense. One of the first things I wanted to know was what was included in the cost of my cruise, and what I'd need to budget spending money for. This section goes into that in detail.
The section entitled Planning Your Cruise goes into all the itineraries, how to book the cruise you want, how to save money, and what preparation you should do before you step aboard your ship.
The next section is devoted to Staterooms. I'm telling you, the number of different cabin types on each ship overwhelmed me at first. But this section clearly described each category of stateroom for each ship. It includes easy to understand diagrams so you can examine each stateroom and decide what you think would work best for your family.
The next section is called Arriving, Getting Your Sea Legs, and Departing. It covers important details such as transportation to and from the terminal, whether or not you should stay in a hotel the night before your cruise, and the best times to board the boat.
Next up is Special Tips for Special People. This section talks about specific advice for certain people, such as singles, parents, people with different body types, expectant mothers, and children. It's very clearly marked and easy to skip over the sections you don't need to know about to get to the parts you do.
Next is The Ships at a Glance. Here, you will not only find detailed descriptions of the four ships in the Disney fleet, but the editors' opinions on which ships are better than the others. This section includes pages of deck by deck diagrams of each ship so you can get an idea of the layout.
The Dining section is not only extremely detailed, but full of the editors' opinions on which dining experiences are not to be missed, and which can be skipped. They also talk about Disney's rotational dining, in which you eat at a different venue every evening, but your wait staff goes with you.
The next section is devoted to entertainment and nightlife, and includes all the theater shows, nightclubs, holiday entertainment and sports offerings. This section ranks the shows in much the same way the restaurants are ranked, with a star section that you can glance at to see how well a show is ranked. If you want more detail, you can read their opinions (which are sometimes hilarious) to see whether or not particular show should make your "don't miss" list.
The chapter called Activities, Recreation and Shopping is quite extensive, and covers activities for the whole family, those only for children, and those only for adults. Sections are devoted to each ship, Castaway Cay, and in port.
There is a short but useful section on Castaway Cay, which describes the activities there, what you should bring with you, and what is available for everyone in your traveling party.
The section on Ports is quite extensive. It is laid out so you can read everything about all the ports if you're undecided on what cruise to take, or, if you already have your cruise picked, it's easy to skip to the section that describes your ports.
The Port Adventures section does more than describe the port excursions you can book through the Cruise Line. For some of the ports, the editors share walking tours that they suggest as an alternative to the "official" adventures offered by Disney.
The book is very clearly indexed. There is a detailed itineraries index at the back of the book where you can look to compare different cruises. Keep in mind, however, that Disney does occasionally change itineraries after they've been announced.
After reading this book, I can't imagine another source that could possibly have this much information AND informed opinions. It's refreshing to see a guide book that has been this thoroughly researched, written by people who clearly enjoy cruising with Disney and want to help us all have the best possible experience.
Have you picked up a copy of The Unofficial Guide Disney Cruise Line 2015?