This post may contains affiliate links for your convenience. If you make a purchase after clicking a link we may earn a small commission but it won't cost you a penny more! Read our full disclosure policy here.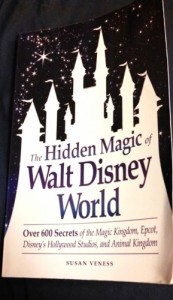 I must preface this post with the following: First, I have yet to visit Walt Disney World (WDW), but I am in the early planning stages for a family trip for next year (yay!). Second, this book/guide was published in 2009, so some of the information is out of date. With that said, I really enjoyed the book. It is full of history of the parks as well as the many hidden gems all over the parks. It not only is full of tips and treasures valuable for both first timers and experienced WDW guests, but it also gives me a greater appreciation for all the incredible work put into the design and building of each park.
The book covers the 4 major parks in WDW (water parks and Downtown Disney are not included in the book) and is divided up into 4 chapters, one for each park (The Magic Kingdom, Epcot, Disney's Hollywood Studios, and Disney's Animal Kingdom). Within each chapter are several sections for each section, or land, within each park; there is also a section at the end that details each parks "timeline" covering the various additions and changes within each park over the years. There are also little sections called "Imagine That" and "Fascinating Fact" inserted into the text that offer extra tidbits of history or background on the particular attraction. The book is full of so many cool and interesting things and hidden gems to find. It is hard to narrow it down to the most interesting but here are some of my favorite tips, details, history and hidden gems the author writes about in each of the parks.
The Magic Kingdom
"In keeping with Walt's desire for authenticity, there are no restrooms in Liberty Square, except for those required inside the full-service restaurants, just as there would have been no indoor toilets during colonial times (pg. 22)." What a random yet completely amazing design detail that largely goes unnoticed (unless you really have to go I suppose).
Epcot
"Future World represents both the living world … and the world of innovation … Notice the smooth, curved lines of the curbs, pathways, rocks, and landscaping on the right of Future World and the more angular, well-defined lines on the left? Making the distinction between nature's flow and science's requirement to operate within specific lines is a small design element that enhances the complete theme (pg. 68)." Another mostly unnoticed design detail, but the best and most effective details usually go unnoticed on purpose.
Disney's Hollywood Studios
"Muppet* Vision's preshow holding area is filled with jokes, … Just after you enter the room, look up at the net filled with red and green squares of Jello. It's a pun on the name of Mickey's famous Mouseketeer, Annette Funicello. Get it? A net full of Jello (pg. 156)." Maybe it's just because I appreciate a good pun now and then, but this gave me a good laugh and groan.
Disney's Animal Kingdom
"As you exit the show [It's Tough to Be a Bug], turn left rather than following the crowds off to the right. A lovely, winding trail affords a spectacular view of the Tree of Life's carvings most guests never see (pg. 187)." What a great place to enjoy a little quiet exploration time!
All in all The Hidden Magic of Walt Disney World was a good book, with valuable information for first-timers and park veterans. However, it is in need of some updating (especially in the Magic Kingdom chapter). Good news, however, I did some checking and there is a new version (titled:  The Hidden Magic of Walt Disney World Trivia: A Ride-by-Ride Exploration of the History, Facts, and Secrets Behind the Magic Kingdom, Epcot, Disney's Hollywood Studios, and Animal Kingdom) coming in November of this year! So if you are looking for more up to date information you may want to wait for the updated version. The author also recently published The Hidden Magic of Walt Disney World Planner: A Complete Organizer, Journal, and Keepsake for Your Unforgettable Vacation. Will definitely be purchasing it in the near future in anticipation of our possible trip next summer!
Sponsored Ad:  Would you like to help support The Mouse For Less website in continuing their mission of being THE Disney vacation planning resource?  You can do so by purchasing The Hidden Magic of Walt Disney World from our affiliate link through Amazon.