This post may contains affiliate links for your convenience. If you make a purchase after clicking a link we may earn a small commission but it won't cost you a penny more! Read our full disclosure policy here.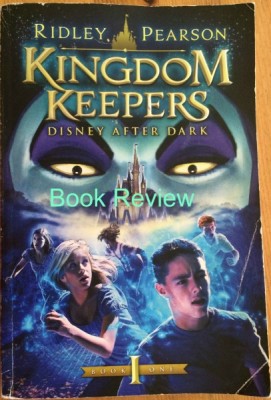 cover art copyright Disney Hyperion Books
My 9 year old daughter spied a used copy of Kingdom Keepers: Disney After Dark at a library used book store. I had heard of the series and let her know that it was a mystery series that takes place at Walt Disney World. She grabbed it almost as quickly as she would grab a Mickey bar.
325 pages later, she handed me the book and said, "Mom, you've got to read this. It is so good." It is rare when my daughter suggests I read one of her books, so I gladly obliged. She marched off to add the remaining books in this series to her Amazon wish list!
Kingdom Keepers: Disney After Dark is the first book in the Kingdom Keepers series, and is written by Ridley Pearson. It is a suspenseful, exciting tale of five middle school children who find themselves secretly fighting to save Walt Disney World – and the world.
The protagonist is Finn Whitman, a middle school student who found himself with the job opportunity of a lifetime. In the story, Disney Imagineers use his likeness to recreate a holographic tour guide of the Magic Kingdom – a DHI. Four other children are also selected for part of this program.
Finn is very excited to be part of this program, until he goes to sleep at night and finds himself in a deserted Magic Kingdom – with no idea how he got there. Little by little, the children realize that they all are starting to appear in Walt Disney World after the park is closed. Even more startling, an aging Imagineer explains to them that they have been chosen to save the parks from evil forces called The Overtakers who are trying to, well, take over.
Lucky for them, Walt Disney knew this day might come. When he designed his "Florida Project" he made sure clues were hidden throughout – clues that would help to defeat the forces of evil.
Die hard Walt Disney World fans should note that this book was printed in 2005, so certain references are out of date. (For example, the process where the children are scanned for their holograms takes place in a soundstage in the Disney-MGM Studios.)
However, fans of Disney theme parks will no doubt be thrilled to recognize all the locales. In one scene, the children are chased through the Haunted Mansion, and it was amazing to picture in my mind exactly where the children were, step by step.
This book is aimed at middle grade readers, although I left the middle grades in the Reagan administration and loved every page. Keep in mind that the tone of the book is quite tense. If you think your kids would be freaked out by the dolls in it's a small world slowly leaving their places and trying to pull you out of the boat into the murky water below, definitely don't give them this book.
But if you've ever fantasized about just what happens when the parks close, about climbing up Splash Mountain, fighting Maleficent for control of Walt Disney World, finding secret clues left behind by Walt Disney, or mysteriously finding yourself in the Magic Kingdom with no idea of how you got there, this book is bound to thrill you!
Have you read Kingdom Keepers – Disney After Dark? What are your thoughts?
Incoming search terms:
kingdom keepers disney after dark summary