This post may contains affiliate links for your convenience. If you make a purchase after clicking a link we may earn a small commission but it won't cost you a penny more! Read our full disclosure policy here.
Dream it! Do it! is the story of Marty Sklar's 54 year long career with the Disney company. During his career, Marty got to see the opening of 11 Disney parks as well as many other amazing milestones along the way. He shares the first-hand account of his journey in the pages of this book.
Marty's career began as a student sportswriter at UCLA. While he was still a student, he was called for an interview at Walt Disney Studios. That interview was the first step toward what would become a very remarkable career. Marty went very quickly from writing sports news to writing pieces for Walt Disney himself!
This story is told not only by someone with many years of experience with the company, but by a man who knew and worked with Walt Disney on a regular basis. His personal stories give a very candid look at what Walt was like with his coworkers and friends. He shares conversations that he had with Walt throughout the years and I almost felt like I was getting to know Walt personally through Marty's words.
Marty saw a lot during his career with Disney, including the development of Walt's first theme park, Disneyland. He was there the day that Disneyland opened and talks openly about his memories of the day now referred to as "Black Sunday." It was interesting to read about the opening and think about how much has changed over the years as Disneyland celebrates its 60th anniversary.
Marty worked with Walt and many other Disney Imagineers to create the attractions for the World's Fair that would someday make their way to Disneyland and eventually, Walt Disney World. Although the final result of their work was magnificent, a lot of blood, sweat, and tears went into perfecting attractions like It's a Small World and The Carousel of Progress. Imagine the frustration they all must have felt when absolutely nothing worked in The Carousel of Progress just 6 hours before the first guests were set to see it!  Marty shares both the joys and the disappointments of working through such projects. I found myself celebrating accomplishments that he made and sighing in frustration over hardships as I read.
Though Marty shares memories from his own perspective, he also mentions many others who were a vital part of the planning and development of the Disney parks. I suspect that you will recognize many of the names, like I did, because many of them appear in various Disney attractions! I have looked at the names on the ferry boats and Main Street windows at Disney World many, many times and I knew that they were named after people who were involved in the development of the parks, but I never knew exactly what role they played. It was great to learn more about who those people were. It also gave me a new appreciation for their hard work.  I think I will pay better attention to the windows next time I walk down Main Street!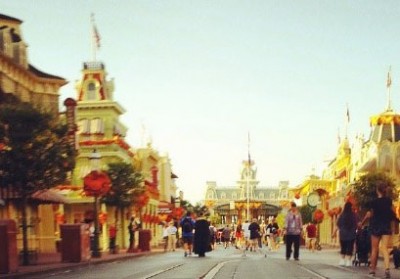 Many Imagineers are honored on the Main Street windows
This book takes you through many years and memories of the Disney company. Marty talks in detail about making Walt Disney World a reality in the wake of Walt's passing and how changes in the company's leadership affected everyone involved. I most enjoyed reading about how Walt's original idea for Epcot evolved into what it is today.
Marty moves through his entire career in a little over 300 pages and you are along for the ride. If you are a fan of Disney history, this book is for you. If I had the opportunity to meet with someone like Marty I would be thrilled. This book is really about as close as you can get to having a one-on-one conversation with him. I truly enjoyed it!
Have you read Marty's story? What did you enjoy the most?