This post may contains affiliate links for your convenience. If you make a purchase after clicking a link we may earn a small commission but it won't cost you a penny more! Read our full disclosure policy here.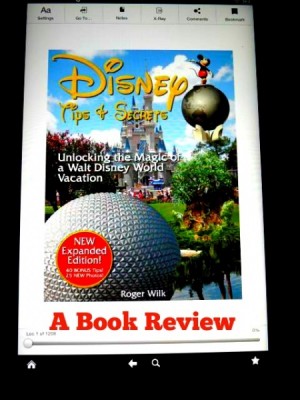 I recently read a book entitled Disney Tips & Secrets: Unlocking the Magic of a Walt Disney World Vacation, written by Roger Wilk.  At just over 120 pages, it was a quick read, as well as being enjoyable.  One of the best things for me is that it is currently offered for free for Amazon customers that have signed up for Kindle Unlimited.  This option is quite convenient and risk-free, available for many books, and saves you the disappointment of having bought a book that you didn't care for.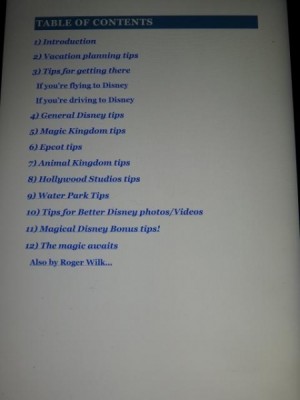 As you can see from the Table of Contents, this book offers tips on each of the parks, as well as travel tips, photo tips, and more.  Each tip is numbered for a total of 240 tips, and the explanation for each one is very detailed and thorough.
While most of the information is accurate, there is the occasional mistake.  For example, tip number 64 discusses FastPass+ reservations, stating that onsite Disney guests may make their choices up to 60 days in advance, while offsite guests can make their choices upon entering the park on their day of visit.  The truth is that off-site guests may make their choices 30 days prior to a park visit, as long as they have pre-purchased park tickets and loaded them to their My Disney Experience account.
The very next tip states that park guests are limited to between two and four FastPass+ reservations per day, which is another inaccuracy.  Making your choices in advanced, the Disney system has you choose three FastPass+ choices per day, and then guests might be able to get more on the park day after those choices have been used.
As this is an e-book, I would think it should be a simple matter of fixing the few errors and sending out updates to the Kindle owners.  Over the course of the last year, there have been many changes to Disney's FastPass+ system, and while Disney veterans tend to keep up with the changes, new visitors only know what they read and hear from others.
My favorite part of this book is the portion that gives tips on photos and videos.  It discusses how to take different shots, which settings to use, using unique perspectives, and much more.  This one section alone is worth purchasing and reading the book.
All in all, this is a great little book.  New Disney vacationers will learn much, and any inaccuracies can be corrected by looking at another source, such as Disney's website.  Experienced Disney vacationers will likely learn a little something that they didn't know before, making for what could possibly be a more magical vacation than they would've had.  Sometimes learning one little thing makes a world of difference.
I'm sure that by reading this book you'll find something that speaks to you!