This post may contains affiliate links for your convenience. If you make a purchase after clicking a link we may earn a small commission but it won't cost you a penny more! Read our full disclosure policy here.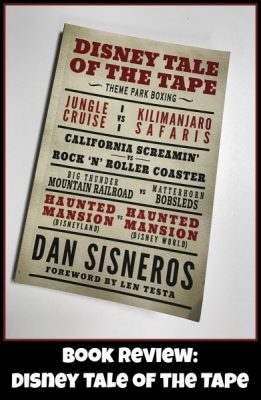 We all love to read books that are related to Walt Disney World. Any way we can get our hands on something where we can get information about the parks, resorts, dining, and more is certainly up my alley. (And also most everyone reading blogs like this.) So if you are looking for a fun and entertaining read, then you may want to consider picking up this new book from author Dan Sisneros. Called "Disney Tale of the Tape", this book is a unique look at some of the things we know and love at the Disney parks.
Instead of being a traditional guide book, this book takes the interesting stance of pitting two beloved Disney things and pits them in a boxing match. Wait….she said boxing match….yes I did! You see, the author, Mr. Sisneros is a former boxing judge who has judged over one hundred professional boxing matches, but he also happens to be a passionate Disney fanatic.
While it may sound a little strange, this book pits some of your favorite Disney attractions, restaurants, and resorts against each other. Matches can involve Disney favorites from both coasts and sometimes, will pair something that you don't think should be paired together. (For example, there is one match that pits The Many Adventures of Winnie the Pooh against Dinosaur…ok….but trust me…after reading the match up, you'll see how it works.) Other "Disney Tale of the Tape" matches include Jungle Cruise vs Kilimanjaro Safaris, Haunted Mansion (Disneyland) vs Haunted Mansion (Walt Disney World), and Dole Whip vs Mickey's Premium Ice Cream Bar. Just when you think you know which contestant is going to win based off your initial impression, you may be surprised when you really boil things down.
So, how is the book broken down? Well "Disney Tale of the Tape" really is set up like a traditional boxing match! there are 14 different matches that pit one Disney favorite against another. Each favorite is compared in different rounds based on the type of the clash of the titans that it is. Examples of rounds include queue, location, ride vehicles, imagineering, theming, history, fan reaction, value, and intangibles.
Of course, you can't have a boxing match without the judges. There are three judges for each match. Judges include theme park experts (such as The Unofficial Guide's Len Testa) and traditional boxing judges, such as Gary Merritt. These judges take the rounds and score them, just like they would in a traditional boxing match. At then end of each round, a winner is proclaimed based of this traditional boxing scoring of which favorite really is the best of the best in each match.
Overall, this book takes the different aspects of a Disney favorite and really boils them down in an extremely creative way. The way "Disney Tale of the Tape" is laid out, because of its boxing take, it is allowed to be really cute and original with the banter. (The book almost makes these favorites into living beings who actually are being trotted out for a real boxing match.)
I love the pitting of the different judges against each other simply because you really don't know who will pick what….and trust me you too will have an opinion. (And the judges will sometimes sway your opinion as they are sharing their thoughts, making you change your mind.) Many times for these judges, the reasons for their choices of each round are personal and heartfelt, but sometimes they are extremely logical; you just never know what will sway their opinion.
I do think you get more out of the book if you know boxing, but if you don't there is an appendix in the back that teaches you the basic rules of boxing.  The winners of the matches are, of course, subjective. They are based off the feelings and desires of the judges, which makes it all fun. Because you really don't know who is going to win, you are certainly anxious to find out the results. You may agree with the judges or you may think they are off their rockers!
This book is a great and easy read because you can pick it up and start at any section. Because of its nature, you certainly don't have to read it in any kind of chronological order. That's why I think this a great book for those going on vacation! "Disney Tale of the Tape" is an overall fun read.
For those who are looking for a lighthearted and unique book to pick up based on Disney theme parks, this is most definitely it!
Do you want to win your own copy of "Disney Tale of the Tape"?  Well, guess what, you can! We're giving away a copy of this great book. Yay!  Just enter on the Rafflecopter link below. Remember that you can purchase a copy of "Disney Tale of the Tape," which will help to support The Mouse For Less website!
Rules: Giveaway starts at 12:00 a.m. Eastern on April 14, 2017 and ends at 12:00 a.m. Eastern on April 21, 2017. Open to U.S. residents 18 years old and older.  No purchase is necessary to win. Void where prohibited. Odds of winning depend on the number of entries collected. The winners will be chosen by Random.org via Rafflecopter and the winner will have 5 days to respond after being contacted by email.  Please make sure to use a valid email address. Facebook, and Twitter, and Pinterest do not endorse this, nor sponsor this giveaway. Nor are Facebook, Twitter, or Pinterest affiliated with this giveaway in any way.
Disclaimer:  I received a free copy of "Disney Tale of the Tape" for the purpose of this review.  The opinion stated above is my own.