This post may contains affiliate links for your convenience. If you make a purchase after clicking a link we may earn a small commission but it won't cost you a penny more! Read our full disclosure policy here.
Mickey's Not So Scary Halloween Party (MNSSHP) is a fun activity that you can enjoy at the Magic Kingdom every autumn.  Ticketing information and dates for the party can be found in this link.
We have attended the party on three different trips and have enjoyed it each time!  Our kids liked the party when they were young, and still enjoy it as teens!  My advice to those doing MNSSHP is to plan a day of relaxing activities before the party starts.  We like to do a character breakfast and then pool time before heading to MNSSHP.  You can get into the Magic Kingdom at 4:00 with your party ticket.  If you stay until midnight, that's a full eight hour "day" in the park, and you want energy to party all night!
There are many fun activities during Mickey's Not So Scary Halloween Party!
Costumes!  Some people wear costumes, some wear Halloween themed clothes, and some wear regular clothes.  Costumes are a lot of fun!  Keep in mind that it's likely to be warm weather when selecting a costume and you do want to be comfortable throughout the evening.  For the last party we attended, we wore homemade tie-dye shirts and were "hippies," fun and comfortable!  In the past, I've worn a Disney themed Halloween shirt and the kids wore costumes.  Some families dress with themes, such as The Incredibles family,  a pack of Crayons, etc.
The decorations are amazing, and there are special lighting effects during the party that make festive Halloween designs on Main Street buildings and spider webs in Tomorrowland.  Savor the atmosphere with the lighting and the Halloween music!
Trick-or-Treating is a must do for ALL ages!  At home, my teens outgrew trick-or-treating years ago.  It was magical for me to watch them trick-or-treat at the party!  Even adults trick-or-treat!  There are trails with candy clearly marked with orange balloons.  You'll get plenty of candy!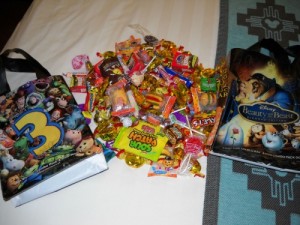 The Boo To You Parade is my favorite parade!  Before the parade, you may be entertained by the Creepa Crew, a pre-parade dance party, or the Barbershop Quartet decked out in Halloween Costumes.  They are fantastic!  The parade starts with a Headless Horseman, and my favorite part of the parade is the Grave Diggers.  Here is the Barbershop Quartet!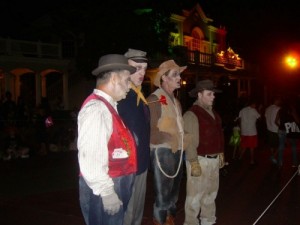 HalloWishes is another must-do!  This is a spectacular fireworks show in which the Castle  has Not-So-Spooky images, a festive soundtrack plays, and fireworks surround the area.  It ends with a scream!
The Villain's Mix and Mingle Show is fun to watch, and after the show the characters come down for autographs.
Throughout the night, there are opportunities to see characters in Halloween costumes and rare characters, such as Snow White with all Seven Dwarfs.  Line up early to meet the rare characters.
Dance parties in Frontierland and Tomorrowland give guests the opportunity to dance along with favorite characters!
Special merchandise is available to purchase during the party such as collector's pins and a CD with party music.
As if all of the festivities are not enough to keep you busy, most attractions are open during the party!  Lines are very short.  We were able to enjoy Big Thunder Mountain Railroad several times in a row without waiting at all.  Select dining locations are open if you'd like to grab a quick meal or snack.
New for 2013 will be Phineas and Ferb joining the Creepa Crew, a Monstrous Scream-O-Ween Ball dance party in Tomorrowland, and appearances by Jack Skellington and Sally from "The Nightmare Before Christmas."
Every Mickey's Not So Scary Halloween Party Night night is packed with Halloween fun and offers so much to do!   If you attend one of the parties, have a blast enjoying the Not-So-Scary festivities!
You can find information about Mickey's Halloween Party at Disneyland here.  Come join in our discussion of Mickey's Not So Scary Halloween Party at Walt Disney World here.