This post may contains affiliate links for your convenience. If you make a purchase after clicking a link we may earn a small commission but it won't cost you a penny more! Read our full disclosure policy here.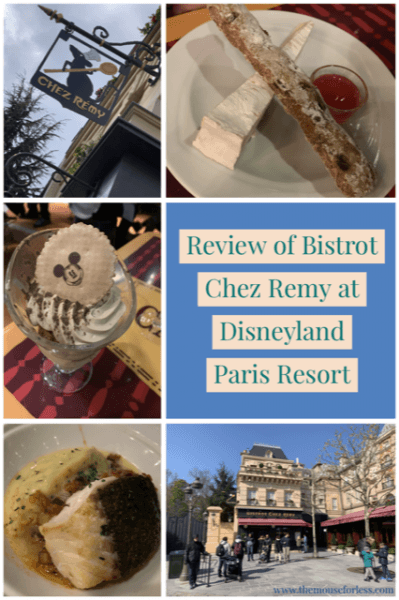 One of the things I very much wanted to do on my Disneyland Paris vacation was to be able to eat at two very special restaurants. One was Walt's and the other was Bistrot Chez Remy. Unfortunately, Walt's was closed for refurbishment on my vacation, so that was out. As far as Bistrot Chez Remy, well, I was unable to make any dining reservations because in Disneyland Paris, they don't have the ability to make reservations by the website. You can only make them by calling and I wasn't about to spend all that money to call France to make this dining reservation. So, I figured, it's ok….I'll just figure out somewhere else to dine.
Then we get to the day of our visit to the Walt Disney Studios park, which is where the Ratatouille section is. (And where the attraction that we're getting for our France Pavilion in Epcot is located.) We had wandered around the park for most of the morning and afternoon and we'd pretty much accomplished seeing everything we'd wanted to see. (And then some!) I wanted to ride Ratatouille: L'Aventure Totalement Toquée de Rémy one more time before we left the park to head back to Parc Disneyland, so we headed back over to this section of the park.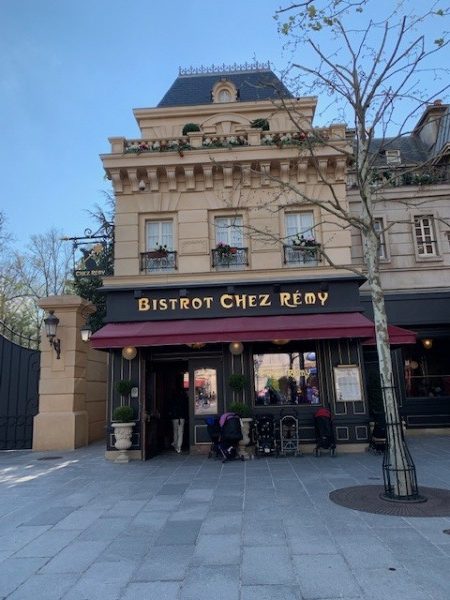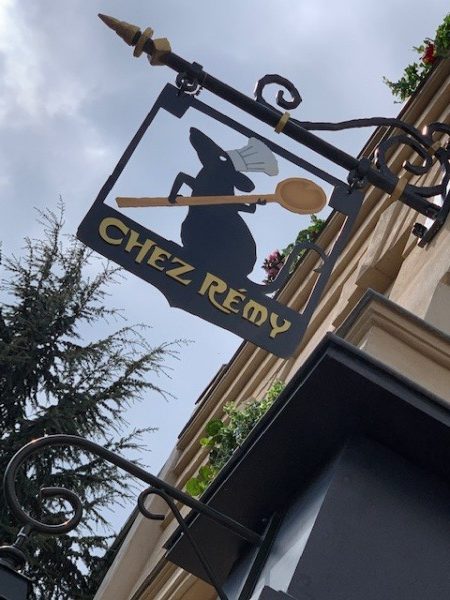 It was mid afternoon and me and my husband were feeling hungry. We decided to take a peek into Bistrot Chez Remy and see if there was any opening, just in case. Luckily, there was!!! (I think we caught it just before they closed for lunch.)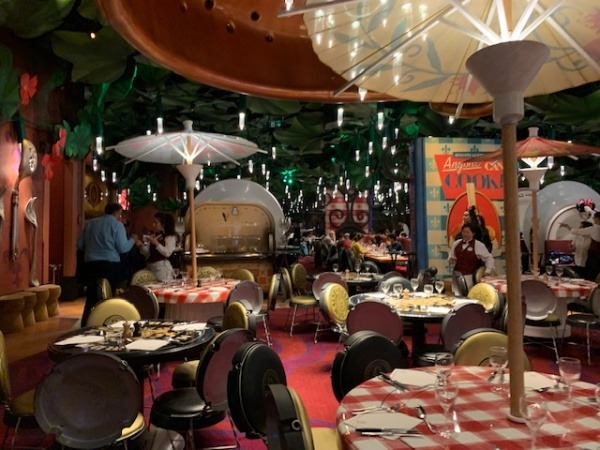 We waited about 10 minutes or so and then they called us back to our table. We walked past all the adorable tables with the larger than life plates, silverware, bottle caps, tiki umbrellas, and we were seated at, what I think, had to be one of the best tables in the house. You see, Bistrot Chez Remy has tables that overlook the exit of the attraction. It was so cool to get to see people exiting their ride vehicles. (And with the new table service creperie announced for Epcot, I wonder if something similar will happen there.)
Bistrot Chez Remy offers "two" prix fixe meal options. (At least for lunch). There's the Remy or Emile option and then there's the Linguini or Gusteau option. We both decided to get the Emile option.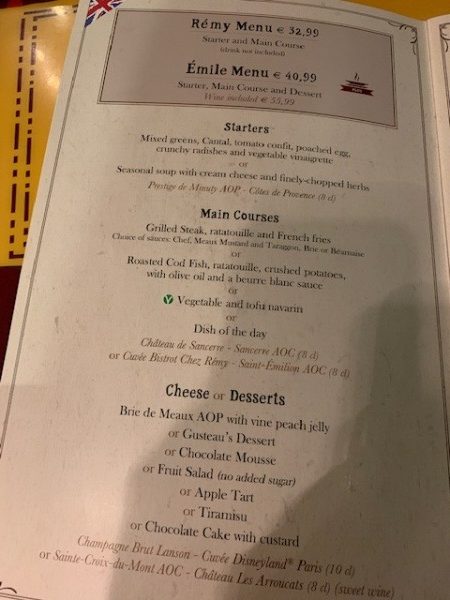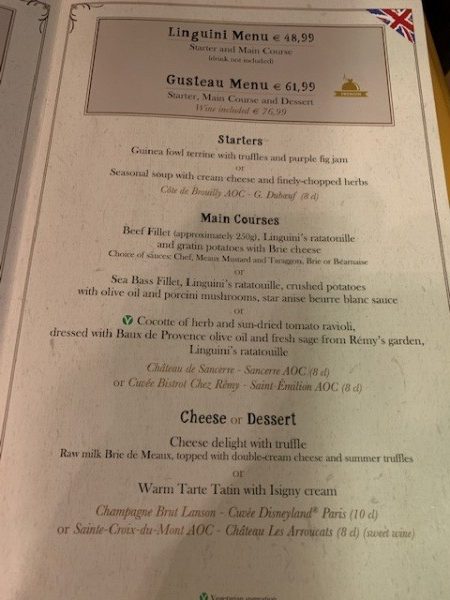 Both of us started with the seasonal soup, which was carrot! This was quite delicious. A little similar to a pumpkin or butternut squash soup. I thought it was rich and creamy.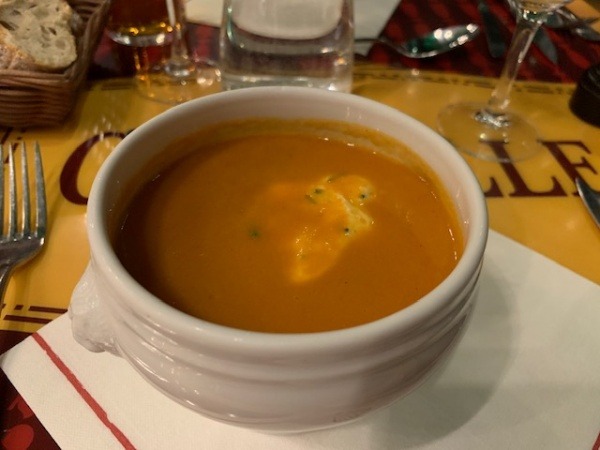 For my main course, I got the roasted cod fish, served with ratatouille, crushed potatoes with olive oil, and a burre blanc sauce. The fish itself was decent. It didn't stand out as outstanding though. It was quite filling, but overall bland. (Though it was cod…) The ratatouille was very flavorful though and I thought the crushed potatoes were yummy.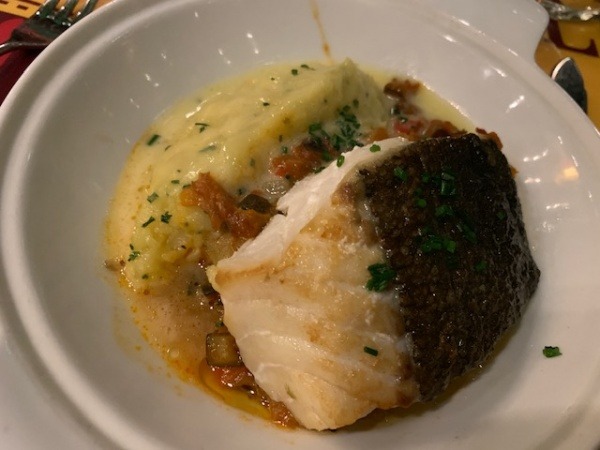 My husband got the grilled steak, ratatouille, and french fries. He loved his meal. It was simple, but it was classic. The steak was cooked very well and the fries had enough heft to them.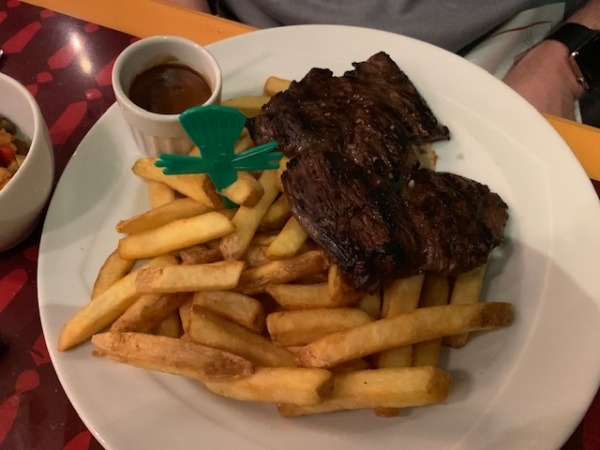 Let's move to dessert!
My husband doesn't love dessert, so he got the very French option of the cheese plate. This was huge! It was a giant hunk of brie cheese and a large piece of bread to go with it.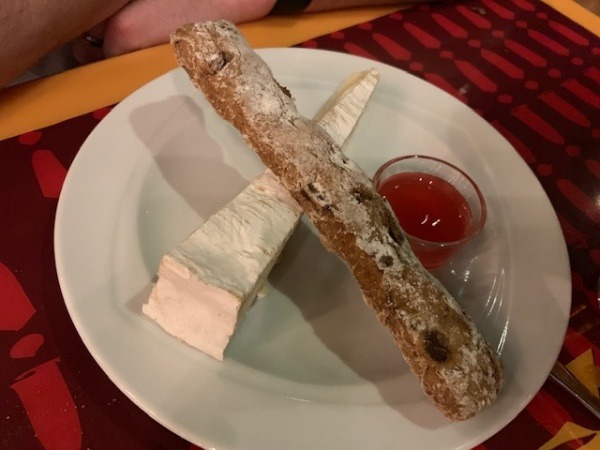 I opted for the tiramisu. This had a great coffee taste it and I could still taste that the alcohol hadn't been completely burnt off, but it was a wonderful finish.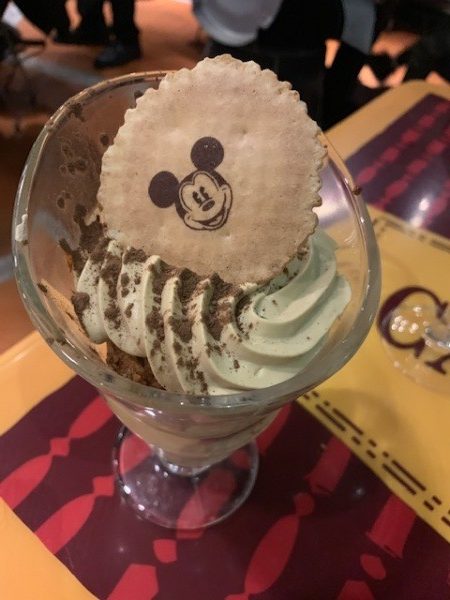 This isn't a quick meal, so if you are looking to get back to the theme parks, Bistrot Chez Remy may not be the best option for you. But if you're looking to enjoy a meal like the French do, leisurely, this is a wonderful option. We spent about an hour and a half there and the whole experience was wonderful. I would definitely go back to Bistrot Chez Remy on a subsequent trip to Disneyland Paris.
Have you dined at Bistrot Chez Remy? Share your experience with us in the comments or on Facebook or Twitter! 
Did you like this article? Make sure to share it with your friends! Check below for easy ways to share!
Want to visit the Disneyland Paris Resort? Contact The Magic for Less Travel for more information and a free, no-obligation quote.

Incoming search terms:
gusteaus disneyland
https://www themouseforless com/blog_world/bistrot-chez-remy-review/