June 30, 2010
This trip was one where I was crossing things off my "haven't done" yet list.  One of the places which I have been walking by for years is the Bistro de Paris.  I'm pretty much a regular at Les Chefs de France and can count on stopping in there for lunchat least once or twice during a one week trip, but confess to having the menu—and the prices—at the upstairs restaurant frighten me.  (I can walk out of Chefs for less than $15 per person for lunch—the Bistro is significantly more than that for dinner.)
My daughter is a fan of all things France and was begging for a meal at the Bistro.  Since I had no plans for dinner and didn't really want to do quick service we just popped in to the restaurant  around 8:30pm.  We were asked which place we wanted and I said "upstairs", fully expecting to be turned away as we had no reservations.   The gentleman at the podium said it would not be any problems to dine at the Bistro.  Since there is a dress code I asked if our park attire was acceptable (we weren't looking like slobs but we hadn't exactly dressed for a fancy meal either), we were assured that we were fine, and they brought us up to a beautiful and elegant—and very quiet—Disney restaurant.  "Beautiful" and "elegant" are two adjectives which describe any number of Disney restaurants, but "quiet" at a dinner in a Disney theme park was a new thing for me.  The utter peace and calm that enveloped the dining room of the Bistro de Paris set the tone for what was to be a wonderful meal with my daughter, who was just bursting with happiness to finally be taken to a "fancy French restaurant."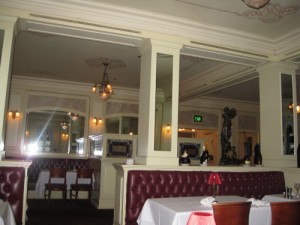 The décor of the restaurant is turn of the century 20th century Paris and service staff were French and had to "earn" their way upstairs to the Bistro from the other locations in the France pavilion.  Our server, David, was great at describing the menu and made some appropriate substitutions for Suzanne.  (For example, her entrée came with an item which was not appealing to her, so we were able to get mashed potatoes instead.)
After much pondering I decided to live it up and do the Prix Fixe dinner ($54) with the extra cost wine pairings ($35).  For my appetizer I selected the grilled shrimp, entrée was the pork tenderloin, and dessert the chocolate almond cake.  Suzanne ordered the beef filet ($39) and an Orangina soda ($5.50).
After we placed our order the bread girl brought the amuse bouche of the day, which was a cold cream of asparagus soup.  While I enjoy soup, this was just "too much" for me.  It was a beautiful minty green color but incredibly rich.  There was about ¼ cup of it in a small ramekin, but I couldn't do much more than take a small taste.  So while it was beautiful and quite flavorful, it was not for me.  She came back shortly thereafter for the cups and asked me how I liked it, and I told her it was flavorful but just too rich.  I was having flashbacks of a bowl (not cup) of mushroom soup from Artist Point—which I consumed during another trip and had to walk around for about three hours because it was just too rich.  That mushroom soup pretty much has scared me away from cream based soups at Disney—because they really ARE made from cream.
We had some bread with butter (I don't do cream but I sure as heck enjoy real butter) and my first wine arrived, which was a Chardonnay (from the Burgundy region of France, Macon Bouchard Aine & Fils, 2008.)  While normally I do not care for Chardonnays, it really was a nice pairing and worked well with the food.  I found it to be light and crisp and easily drinkable.  I would order this wine in a restaurant or even buy a bottle to have at home.  Suzanne had some of my food and she thought it was quite tasty.   The shrimp was grilled and the little crab cake was quite good.  While I ate she gazed out the window at the World Showcase as we were about five minutes from the fireworks and the torches were turned on.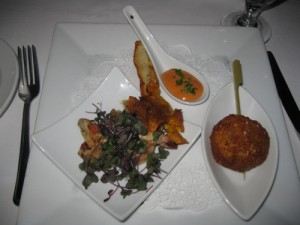 After my appetizer I finished the wine, and the server brought out my next glass, which was a red (Chateau St Columbe Cotes de Castillon 2005).  I don't care for most Burgundy wines, but have had some I enjoyed.   (Sidenote:  A dinner at Club 33 in Disneyland a couple of years ago had one of my tablemates drinking my red wines during that pairing.  Group dining is fun with a bunch of travel agents and there are rarely no leftovers.) This wine was pretty tasty too, and went well with the beautifully presented pork tenderloin the server put in front of me.  Suzanne also had a yummy beef tenderloin too.  We both became members of the "clean plate club."  Would also like to add that the glass plates they used at the Bistro were very nice—I would like them in my home.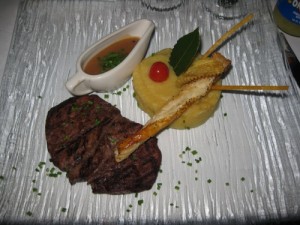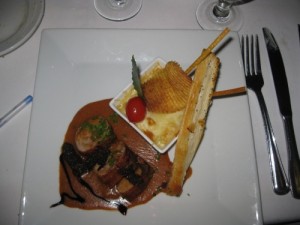 By now the fireworks were exploding and I've probably seen illuminations over 100 times—but it was very nice to see them from the Bistro.  I gave Suzanne the "good" seat, and I sort of scooted around so I could see some but mostly just enjoyed my daughter living in the moment and doing something special at Disney.    As she was enjoying her evening I'm just thinking that she had better do something useful for a living so she can afford to travel in the style with which she has become accustomed.  Thankfully she's thinking about physical therapy or being a physician.
We were both done with dinner and somewhat full, and I still had dessert to come.  Rather than crème brulee (which is all over Disney) I ordered the chocolate almond cake.  It really was delicious, and it was accompanied by a glass of Champagne Pommery Brut, which I have had several times.  Can't go wrong with chocolate, berries, and champagne.  By now we were the last guests in the restaurant.  We split the dessert , I paid my bill and we left around 10pm to an almost empty park.  Some other late diners were also wandering around too.  We really enjoy those parks when they're empty and I would do another late dinner just to be one of the last people to leave.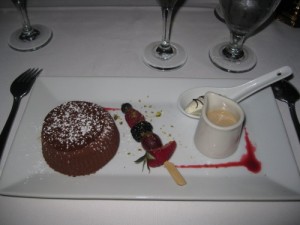 A couple of observations about the Bistro:  the food was not what I would call very expensive, although it was "up there" in pricing with some of the other Signature restaurants.  The French wine list was extensive, with several wines offered by the glass.  However most were bottles only.  If you like French wines, this would be a good place to dine.  There are also some wines sold in the pavilion itself too.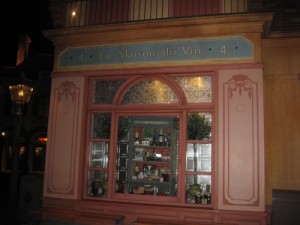 Disney's Dining Plan is NOT accepted in the Bistro, which explains why it was so empty.  Another odd thing is that there is no background music—it is very quiet in the Bistro.  Like all Disney restaurants, tables are somewhat close together but this irrelevant when the restaurant is mostly empty.
I thought the food was quite good for what I ordered.  The sauces were excellent—nothing too salty.  Service was very good too, and I appreciate being able to substitute things without a problem.    I never heard piece of silverware clatter, or plates clunking together as they were clearing off the tables.  Nor were we rushed out of there.    It really was "fine dining" in a theme park.
What could Disney improve in the Bistro?  Well, they really should consider piping in some background music.    It also would have been great if there was some way to clear the condensation from the windows—obviously they were not insulated but I'm quibbling.   The hot muggy air outside, and the cool air conditioning inside made viewing the fireworks a bit hazy because of the water droplets.
We really enjoyed the Bistro de Paris and I made another reservation for my December trip.  Most likely I will do a Prix Fixe dinner again, so hopefully they will have some changes to the menu.