This post may contains affiliate links for your convenience. If you make a purchase after clicking a link we may earn a small commission but it won't cost you a penny more! Read our full disclosure policy here.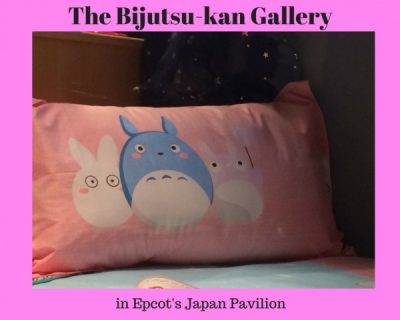 An exhibit in the Bijutsu-kan Gallery in World Showcase
Japan has such a rich culture. When I think of Japan, my mind conjures up images of noble samurai warriors, serene temples, cherry blossoms, kimonos, and a tradition steeped in the concepts of honor, revering one's elders, and loyalty to one's people.
The Japan pavilion in Epcot's World Showcase pays homage to this vision of Japan, as evidenced by the stirring performances you can see and hear when you visit. For example, these drummers: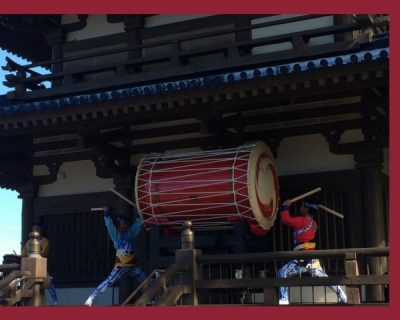 Drummers perform in Japan
As ancient as the Japanese civilization is, it's always looking to the future. Tokyo is one of the most vibrant cities in the world. Japanese street culture is finding its way into the American collective consciousness, and anime characters are very familiar here.
So it shouldn't come as a surprise that the same country that gave us karate and samurais should also give us something called kawaii – the culture of cute.
My family recently visited the Bijitsu-kan Gallery in World Showcase to see a bright, colorful exhibit on kawaii culture. The word kawaii means "cute." In fact, if you watch the special features on the Toy Story 3 Blu-Ray, you can see a Japanese commercial for Lots-o'- Huggin' Bear, in which a little girl exclaims, "Kawaii!" when she sees the toy.
At the exhibit, you will see Hello Kitty merchandise. Hello Kitty is perhaps the most famous example of kawaii culture that's made its way over to America. There is also a large statue of a girl, made by artist Sebastian Masuda, made of clear plastic and stuffed with toys, candies, and jewelry.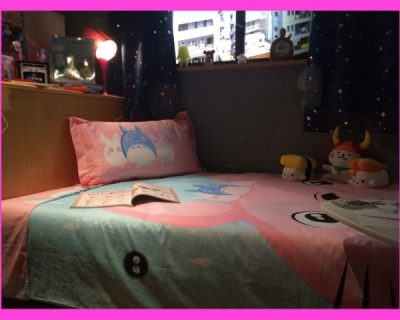 replica of an apartment decorated in kawaii style
My favorite part of the display was the replica of a Japanese apartment decorated entirely in kawaii style. A lot of the décor was based on the characters from films by Hayao Miyazaki, including Kiki's Delivery Service and My Neighbor Totoro. (If you or your kids find these characters adorable, there are lots of stuffed versions of them sold in the nearby Mitsukoshi Store.)
This bedding set is emblazoned with Totoro himself, along with some of his friends and the soot sprites. The bathroom, not to be outdone, features Totoro slippers, a rug, and a toilet bowl brush that looks like a cat tail. (The cat looks just like Jiji from Kiki's Delivery Service.)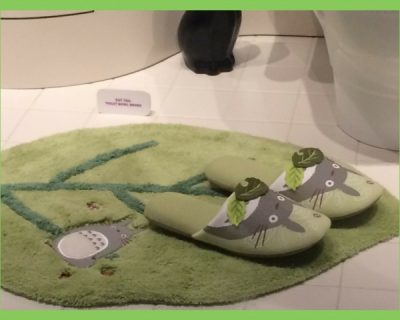 Rug and slippers decorated with Totoro
Even the package of toilet paper is adorned with colorful, cheerful characters!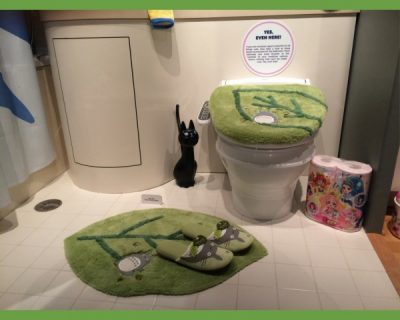 Check out the toilet paper!
The exhibits at Bijutsu-kan in the Japan Pavilion change frequently, so this collection may or may not still be on display when you visit. The Gallery is a great place to escape the heat and/or rainstorms of summer, and a great place to learn a little something about the fascinating culture of Japan.
Have you stopped at the Bijutsu-kan gallery in the Japan Pavilion before? What do you think of the current kawaii exhibit? Share in the comments, or on Facebook or Twitter.
Did you like this article? Make sure to share it with your friends! Check below for easy ways to share!