This post may contains affiliate links for your convenience. If you make a purchase after clicking a link we may earn a small commission but it won't cost you a penny more! Read our full disclosure policy here.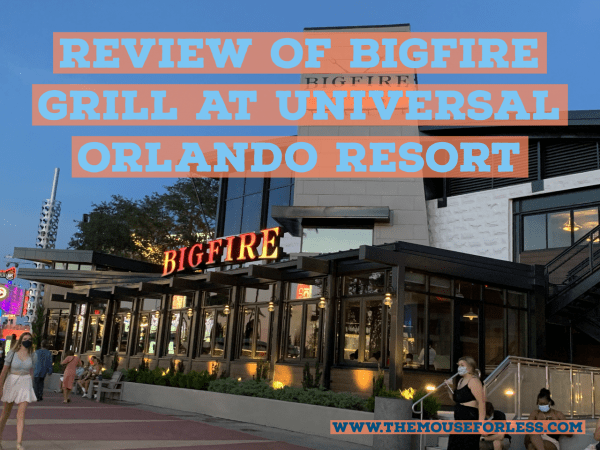 One of the newest restaurants to open at the Universal Orlando Resort's CityWalk is Bigfire Grill. Located in the former location of Emeril's, Bigfire is pretty much front and center. It's large white building is a gorgeous, welcoming sight.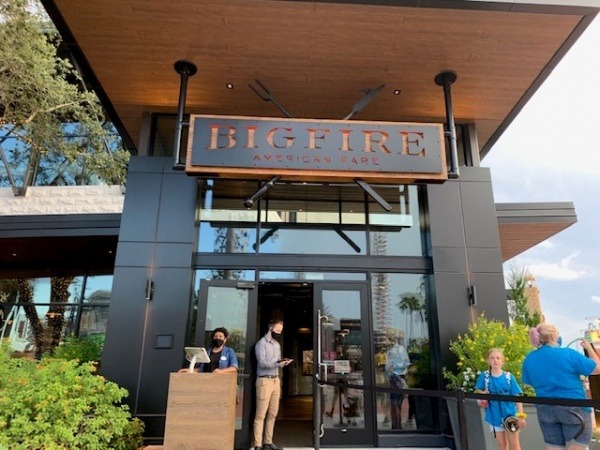 I had been wanting to try Bigfire since it opened, back in June 2019, but the siren song of Toothsome Chocolate Emporium has always called me. I mean, who can resist a restaurant themed around chocolate and other deliciousness? But on my recent trip, I decided to do some things that I hadn't done before, so Bigfire made the list!
Once we were seated (and yes, the restaurant was practicing social distancing, with tables very far apart from each other), I looked and the menu and marveled over what to get. Now, due to COVID, the menu (which was paper) had been paired down a little, but trust me when I say that everything offered looked delicious. Also, due to COVID concerns, it was nice to see that each person got their own little baggie to put their face mask into while dining.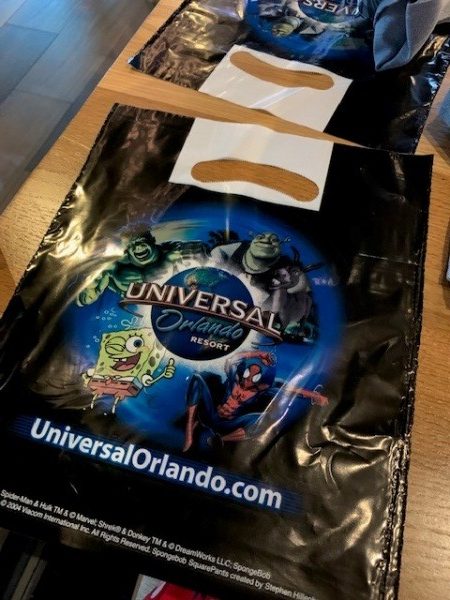 We all placed our orders and I marveled over the feel of the restaurant. It felt very elegant, yet also homey.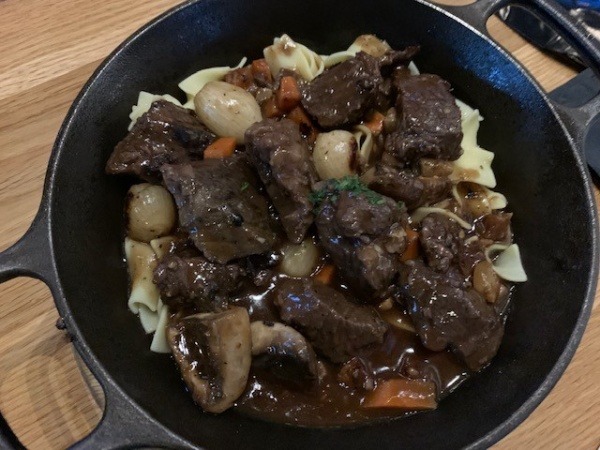 First, things first, we got the Beef Burgundy, which included red wine, mushrooms, bacon, pearl onions, buttered egg noodles. This was so yummy! Lots of savory flavors!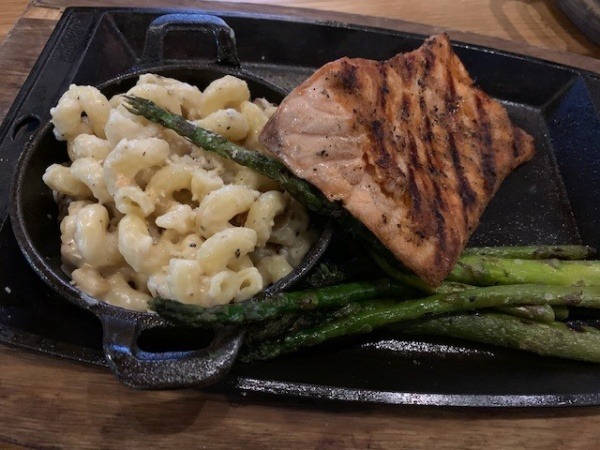 If you are looking for something a little lighter, maybe consider the Wild Salmon. This is served grilled and with the choice of two sides, which we chose the pork belly mac and cheese and the asparagus. The salmon was fantastic, as was the pork belly mac and cheese (though I did expect bigger chunks of pork belly).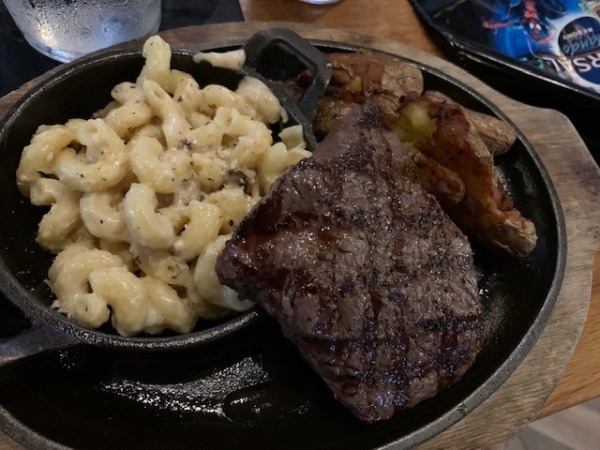 Finally, we opted for the 6 oz filet mignon. It was served with the pork belly mac and cheese and the smashed potatoes. The filet was cooked to perfection. I am really hard on steak…meaning I prefer it to be closer to the rare side when asked for it to be prepared medium rare and it was absolutely on point. In addition, the smashed potatoes weren't what I was expecting. Instead, they were skin on potatoes, but they had a delightful flavor. Almost a little sweet.
Of course, at a restaurant like this, you have to try their famous dessert, which is their smores. The table side smores are served with regular marshmallows, housemade marshmallows, graham crackers, chocolate, and peanut butter cups. It's served for two, but you can add on additional servings for more Guests. This was the only "miss". Not that it wasn't good…it was….but I feel like for the money that was paid, it wasn't really a good deal. I would say, skip dessert here and head over to Toothsome where I can get a much bigger dessert for a little more money, per person.
Overall though, I was quite impressed with Bigfire and I will definitely be back again!
Have you tried Bigfire Grill before? What were your thoughts? Share in the comments or on Facebook or Twitter!
Did you like this article? Make sure to share it with your friends! Check below for easy ways to share!  
Want to visit the Universal Orlando Resort? Contact The Magic for Less Travel for more information and a free, no-obligation quote.

Incoming search terms:
https://www themouseforless com/blog_world/bigfire-grill-review-universal-orlando-citywalk/
bigfire restaurant review
bigfire universal review