This post may contains affiliate links for your convenience. If you make a purchase after clicking a link we may earn a small commission but it won't cost you a penny more! Read our full disclosure policy here.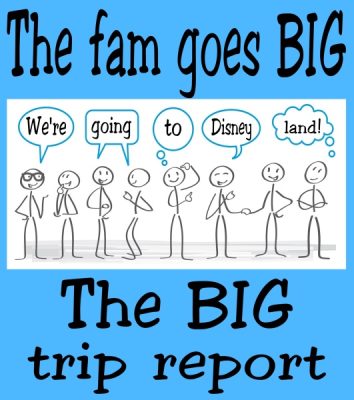 With the twists and turns of planning a BIG Disneyland family reunion complete, we headed off to California and our much-needed vacation. Since I'm here to tell the tale, we all made it through the parks and many attractions where things "unexpectedly" go wrong. Here's our BIG Disneyland trip report on what we did and what we thought of this first post-pandemic trip to Disneyland.
BIG thumbs up
Early June — While I had originally hoped to go in March, waiting until just after Memorial Day had some benefits. Character greetings were back, as was nighttime entertainment. The weekdays were busy but not mobbed.
Staying directly across Harbor Blvd — I second-guessed myself several times before our trip on the extra cost versus staying longer in our farther rental home, but this definitely paid off. Almost everyone left the park in the afternoon at least once during our two days — planned and unplanned, and we staggered home each evening in staggered fashion.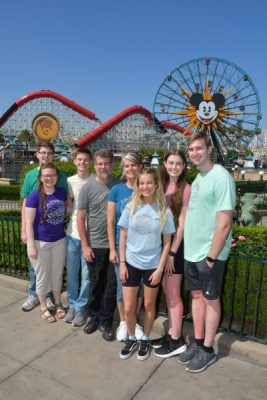 Rope drop — That first morning getting out of our house to check into our Harbor Hotel at 7:15, and into the parks was tough on my teens and young adults. But it was well worth it, as both days we rode the wave of standby for the first 90+ minutes with short lines.
Single rider lines — We used it on WEBSlingers instead of buying eight Individual Lightning Lanes, and on Incredicoaster and Matterhorn multiples times.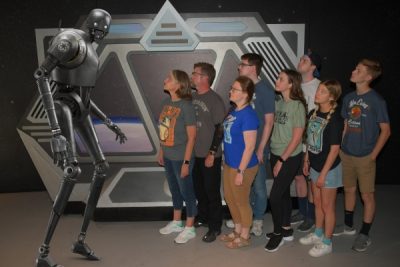 Genie+ — While I'd rather have the old MaxPass back, we did effectively use Genie+ and its Lightning Lanes to ride headliners in late morning and early evening. Combined with rope drop, afternoon "your-choice" touring, and single rider lines, we did our favorites multiple times and fit in everything without hardly any long lines. The (included at Disneyland) PhotoPass made it easy to get great family photos.
Afternoons on your own — After getting up early and playing hard all morning, we split up soon after lunch both days. Individually and in small groups, we shopped, napped, used single rider lines, took photos, re-rode favorites in standby, watched entertainment and ate favorite snacks. We met at our pre-dinner Lightning Lane late in the afternoons.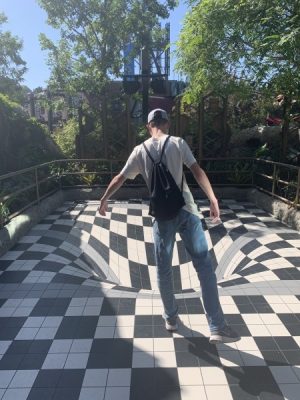 Optical illusion in Avengers Campus
Avengers Campus — The number of characters we saw throughout the day — walking around or in shows — was high. Those not riding Guardians of the Galaxy hung out here and enjoyed it. I didn't get a chance to sample any of the food.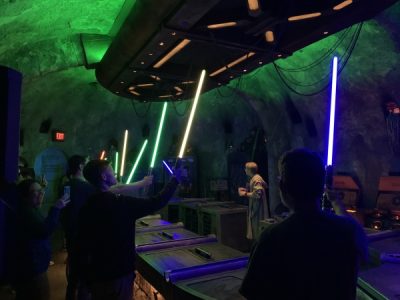 Savi's Workshop — This and a couple of good pictures were my husband's priorities for our trip. Building four lightsabers isn't cheap but they all enjoyed the experience and we enjoyed being able to watch them and take pictures.
BIG thumbs down
Ride closures — Headliner Radiator Springs Racers was down for about 10 days — including our visit — after a car started smoking during the ride sequence. Toy Story Mania was also down part of the day and we never got to experience it. A couple in our party don't do big drops or spinning rides, and California Adventure's lack of depth really showed with those two attractions closed. We were disappointed that Pirates of Caribbean and the treehouse were both still closed as well as those are family favorites.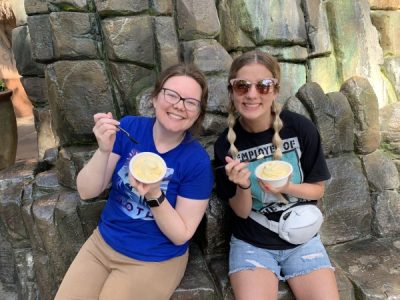 Food options — We ended the days well-fed but not without challenges feeding eight appetites. I was disappointed that the toppings bar wasn't available at Smokejumpers Cafe and the mobile order didn't let you customize a burger very much. Luckily I didn't feel like we really needed mobile order during the times we ate and we walked up to order most places. We all wanted ice cream about 9:30 one morning — both Dole Whip locations were open but none of the ice cream carts nearby were!
Entertainment — Many of the smaller entertainment groups had "no showtimes today" posted in the app, including the new Tales of the Lion King show. It felt empty without much of the atmospheric entertainment usually present in Disneyland.
Other Disneyland notes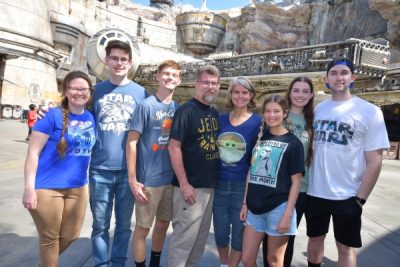 Current top Christmas card contender
Rise of the Resistance — We knew we weren't shelling out $160 for Individual Lightning Lanes for eight people. So this was our only really long line — 90 minutes late morning. We were prepared for the wait but not the lack of shade in what looked like a regular (non-extended) queue. We stuck it out and everything in the ride experience was perfect, but we needed more cover.
BIG Splash — I planned our water rides for just before our afternoon split so everyone could choose if they got wet. We got barely splashed on Grizzly River Run but absolutely drenched on Splash Mountain. (Pro tip we ignored: lighter people in the front keeps the log from nosing down so much). After the waves of water, my husband and I made our unplanned trip back to the hotel for dry clothes.
Untamed Tigger — Our tradition is taking a family picture with Tigger.  We caught him right before he left, but there was no PhotoPass photographer. Tigger was having fun bouncing around, but we didn't end up with very good photos as he was blocking someone in almost every shot and the lighting was uneven.
Overall it was BIG fun and a memorable vacation for all. I feel bad for our next group get-together, having to compete with our memories of this BIG Disneyland family reunion.
Did you like this article? Make sure to share it with your friends! Check below for easy ways to share!  
Want to visit a Disney Destination? Contact The Magic for Less Travel for more information and a free, no-obligation quote.

Incoming search terms:
https://www themouseforless com/blog_world/big-disneyland-trip-report/