This post may contains affiliate links for your convenience. If you make a purchase after clicking a link we may earn a small commission but it won't cost you a penny more! Read our full disclosure policy here.
Do you have a daughter between the ages of 3-12?   Do they love dressing up and playing Disney princess?  Well Disney has created an experience for them that is out if this world!  I wish this was around when I was a kid. For a little girl to experience this, compare it to how you felt on your wedding day. You were pampered, dressed up in a beautiful gown and were the focus of everyone's attention. That's what happens when you have an appointment at
Bibbidi Bobbidi Boutique
. They have a location in the Magic Kingdom right in the castle and they also have a location brand new location in Disney Springs.
We have a daughter and a son and when my daughter was 3 she had the honor of being pampered at Bibbidi Bobbidi Boutique for the first time.  We made it a point to do this every Spring when we went on our family vacation.  She was Cinderella the first year, Rapunzel the second year and Elsa the third year.  If you want to make your daughter feel like she is the star of the show and feel like all her dreams are coming true then you have to take advantage of this experience. My daughter has outgrown the princess phase of her life so we still take part in dress up events at Disney but we do it at the Pirates League instead!  More to come on that in a future blog post!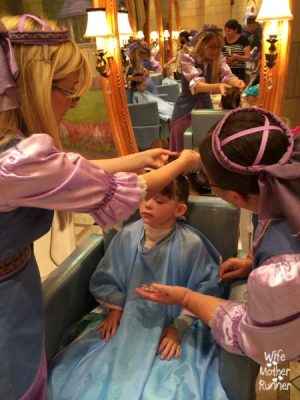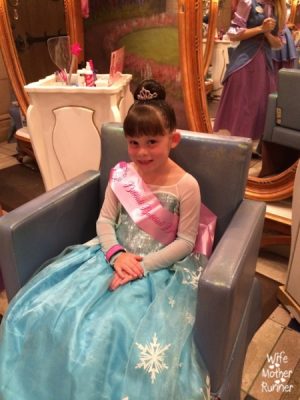 Right now Disney running this special offer through September 5th for select guests only at the Disney Springs location.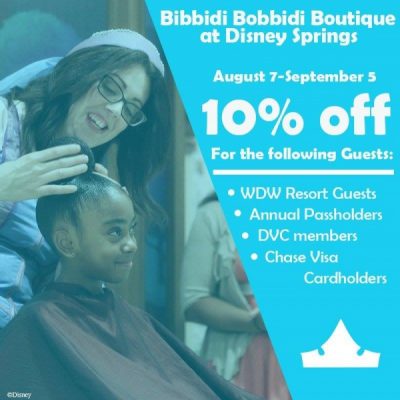 When making your reservation for Bibbidi Bobbidi Boutique you call (407) 939-5277.   At that point you can select which experience you want to have.  The choices are:
Fairytale Princess
Disney Diva
Color Star
Then select your package for that experience.  Each package comes with special offerings.
The Crown Package (starting at $59.95 plus tax)
Hairstyling
Shimmering make-up, face gem
Princess sash and cinch bag
Nail polish
The Courtyard Package (starting at $99.95 plus tax)
Hairstyling
Shimmering make-up, face gem
Princess sash and cinch bag
Nail polish
Bibbidi Bobbidi Boutique T-shirt
Trendy tutu
The Castle Package (starting at $199.95 plus tax)
Hairstyling
Shimmering make-up and face gem
Princess necklace, sash and cinch bag
Nail polish
Disney Princess gown of your choice (shoes not included)
Wand
Crown
Girls are the only ones who can feel special during this experience.  There is also The Knight Package ($19.95 plus tax) for boys which includes:
Hairstyling with gel
Mighty sword and shield
Confetti
Please note: All prices are subject to change without notice.
Have you ever done the Bibbidi Bobbidi Boutique? Share your experience in the comments! 
Incoming search terms:
Bibbidi bobbidi boutique dark blue
Bibbidi bobbidi boutique frozen
bibbidi bobbidi dress elsa