This post may contains affiliate links for your convenience. If you make a purchase after clicking a link we may earn a small commission but it won't cost you a penny more! Read our full disclosure policy here.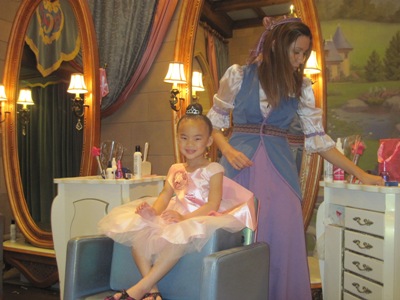 By: Kristi Letsinger
I remember getting excited that my daughter, then 3, was going to be made into a princess at the Bibbidi Bobbidi Boutique.  I had grand thoughts that she was going to love. I thought she would be so excited about the process and the final beautiful product.  I was so wrong.  At three she did love the polish, the make up and the attention but was not pleased with the final transformation.  I tried to make her love it and even asked her to smile for the pictures.  She was kind enough not to rip the extensions out of her hair until after the photo shoot.
Fast forward two years.  She did not know that she had an appointment at BBB.  We were sitting at lunch at Tony's and in walks a cast member with a present for her.  (I had put the present in a locker without her knowing and then retrieved it during lunch.)  Her eyes get big as she reads the card: "Kaylene, you have a royal appointment at Bibbidi Bobbidi Boutique at 1:30 pm.  Love, Cinderella"
She quickly tore open the package and saw a soft pink dress with ruffles and sparkles inside.  Her eyes lit up and she was hooked!  We had great conversations about what they would do for her with polish and make-up.
The time finally came for our appointment. She dressed in her pink dress (from Cinderella) and waited. The Fairy Godmothers in Training spoke with her and took her to her station.
When you walk into BBB at Magic Kingdom it seems as though you are entering a different space. It is cozy but the colors are soft and comforting. The tone is relatively calm and quiet for the busy work that is occurring. The girls (and some boys) have huge smiles on their faces.
The Fairy Godmother asked her about her hair. She looks at me and I encourage her to pick whatever she would like. She chooses an updo without extensions. Now we wait.
The Fairy Godmothers give her lots of attention. They speak to her about her dress, her day and her Disney trips. They ask lots of questions to get her talking and she loves the attention.
The time finally came for her reveal. She beamed. Her eyes sparkled and she couldn't control a smile that covered her face for hours.  My eyes teared up as I saw my already beautiful girl enjoy a special time just for her.
We still talk and laugh about the first trip to Boutique.  We also talk about this last trip.  The pink dress hangs in her closet and every once in a while she goes over and looks at it.
Many people ask if BBB is worth the money.  For me, the special treatment and the fantasy of being transformed in the Castle was worth every penny.  I will always remember the smile that she had the moment of her reveal and the look of excitement in her eyes.
Though our first time at the Bibbidi Bobbidi Boutique was not a huge success we still gave it a second try.  She is now asking to do it again.  This is just one more bit of magic that Disney can add to your trip.
To make an appointment, call 407-WDW-STYLE and you can make reservations up to 180 days out.  There are boutique located at both the Magic Kingdom and at Downtown Disney. More information at: http://disneyworld.disney.go.com/tours-and-experiences/bibbidi-bobbidi-boutique/