This post may contains affiliate links for your convenience. If you make a purchase after clicking a link we may earn a small commission but it won't cost you a penny more! Read our full disclosure policy here.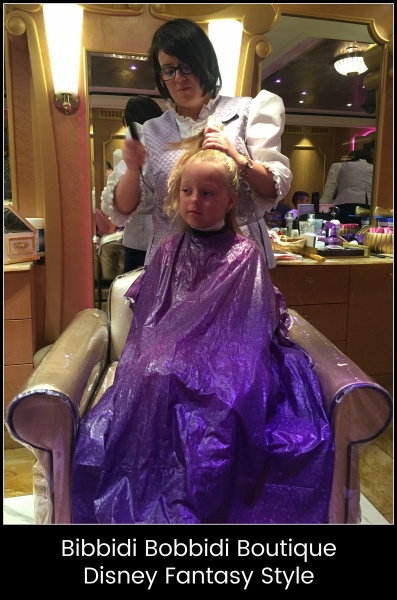 My family booked a trip with The Magic for Less Travel Agency and we sailed on the Disney Fantasy over the summer.  Because of the fabulous shipboard credit we received from our amazing agent, we were able to add some extra fun to our vacation. Our first full day was a sea day so I booked my daughter for the Bibbidi Bobbidi Boutique (BBB) during the online check-in process. I chose this day because it was formal night and she wanted to look "fancy".  After careful consideration of my daughters love for the Aquaduck and pools, I decided to book her appointment for 4:00 PM as our dinner time was 5:45.  I knew she would not be happy if she had her appointment early and she couldn't do water activities all day long.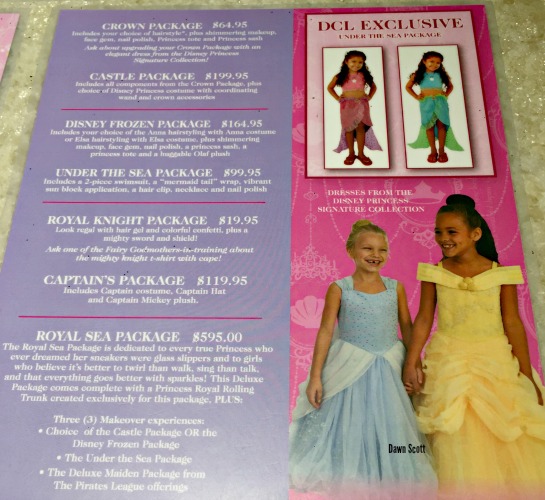 As you can see from the picture there are several packages to choose from when you book your appointment. Because we had purchased a special dress before we sailed, I picked the Crown Package.  This package includes choice of hairstyle, shimmering makeup, face gem, nail polish, a Princess Tote Bag, and a Princess Sash.  This option is currently $64.95.
Up to $1,000 Onboard Credit
Deal
Receive up to 5% of your cruise price in shipboard credit exclusively from The Magic for Less Travel when you book any new Disney Cruise Line Sailing. This is not a rebate or check you will receive after you cruise; this is a shipboard credit you can use on your cruise! Use your credits for shopping, shore excursions, spa treatments and more. Restrictions apply. Request a no-obligation quote today! Read More
More
Less
On the brochure they show two options for hairstyles. One is the Fairytale Princess which gives you the option of a full top bun or a half-up bun. Both of these include a shiny tiara and a Mickey shaped barrette.  The second option is the Disney Diva and this includes styling your hair with sparkling Mickey hairpins and a color coordinated hairpiece. As my daughter's dress was inspired by Belle's dress, my daughter chose the half-up bun. Our Fairy Godmother in Training was Ashlie from the United Kingdom. She wrapped a cape around my little girl and started the transformation.
The first step  was to brush out my daughter's very long hair. She then pulled up the top half into a ponytail. Now we watch a lot and I do mean a lot of youtube videos of BBB on both the ship and the parks thanks to my daughter's obsession.  This is the reason I was pleasantly surprised that their hairstyling process has changed.  In all the videos, the Fairy Godmother in Training added lots and lots of gooey gel to complete the bun process. But, now they use the mesh bun holders to form the bun.  Then, they wrap the hair around the bun holder and tuck in the hair.  Finally, a hair net that matches the child's hair color is placed on top of the bun. I believe many families are rejoicing as you read this blog. No more washing a child's hair for hours to get all that gooey mess out. The crown is added to the top of the bun and the Mickey barrette is added to the back of the bun.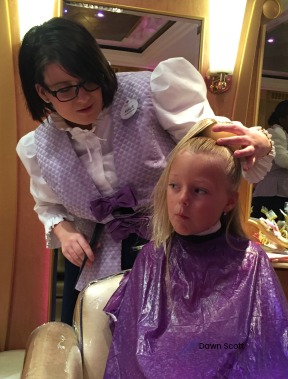 Once the hairstyle is complete, it is time for makeup. First Ashlie applied polish to my daughter's fingernails. Next, she added blush to her cheeks. Then, she let her choose her eye shadow and lip gloss colors. Ashlie then let my daughter choose which face gem she wanted and applied it up near the side of my girl's eye. Finally it was time for my daughter to make a wish as Ashlie sprinkled pixie dust over the top of her head.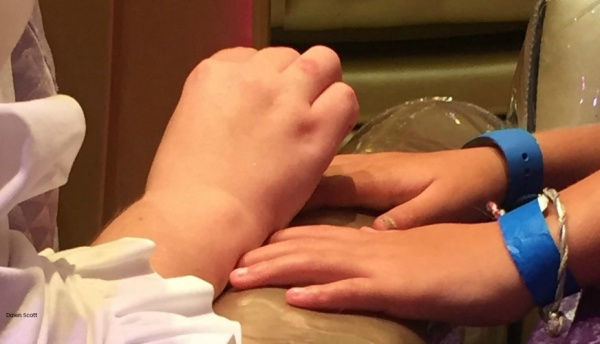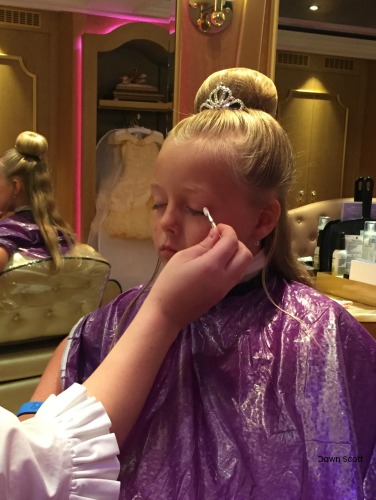 After that, the cape was removed and a sash was fastened over my daughter's shoulder. She was given a cinch bag that not only contained the remaining face gems and make-up but also a shampoo sample and a make-up remover cloth.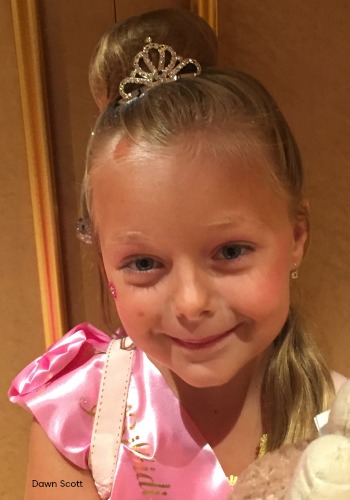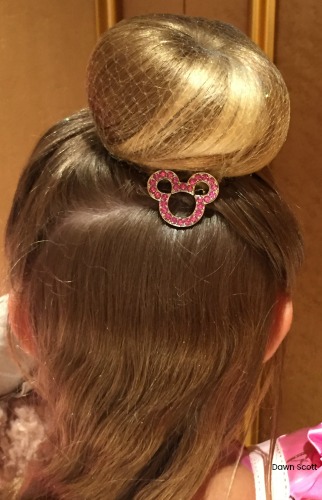 I was very pleased that Ashlie engaged my daughter throughout the whole process so that she would stay comfortable.  Any other parent out there that has a child or children with super long hair knows the struggle with tangles. At home, my daughter would scream and cry at the slightest tug of her hair but at the Bibbidi Bobbidi Boutique she never even winced.  Even though my daughter's hair was a little lopsided, I was still pleased with the final look. I was ecstatic when I found out that the gooey gel was a thing of the past. My daughter was over the moon that she looked so "fancy" on formal night.  She enjoyed the experience very much and has already put the Bibbidi Bobbidi Boutique on her wish list for our next visit to either Walt Disney World or another Disney Cruise.
Have you had an experience with the Bibbidi Bobbidi Boutique? What did you think? Share your thoughts in the comments.
Did you like this article? Make sure to share it with your friends! Check below for easy ways to share!
Incoming search terms:
https://www themouseforless com/blog_world/bibbidi-bobbidi-boutique-disney-fantasy/
when is the best time to book bibbidi bobbidi boutique on fantasy cruise