This post may contains affiliate links for your convenience. If you make a purchase after clicking a link we may earn a small commission but it won't cost you a penny more! Read our full disclosure policy here.
By Erica Colmenares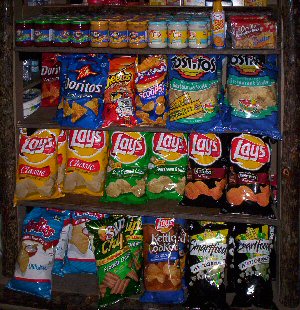 With all of the restaurants Walt Disney World has to offer, why would anyone need more food? Well, after a long day at the parks, you may want to have a little snack in your hotel room. Maybe you want some breakfast items on hand to save time and money. Or there is that picky toddler (or husband) who can't do without their favorite foods. Whatever your reason, you may want to find a way to get to get some groceries for your stay. There are many options to consider for getting the food you need and pay reasonable prices in the process.
Bringing everything with you is an option, but it might not be the best or easiest. Are you flying? As we have unfortunately learned lately, regulations on what is and is not allowed on planes can change quickly. Currently, TSA regulations allow food items in checked luggage, some airlines (notably Southwest) take exception. Some dense items (think that jar of peanut butter) look fishy during the security screen, and can increase the chances that your luggage is hand-searched. For an up-to-date look at prohibited items, consult http://www.tsa.gov/index.shtm.
You also have to take practicality into account when flying. On the con side, a six-pack of soda in a suitcase could cause a bit of a mess. However, taking some snacks might have a hidden benefit. As you eat the treats you packed, you gain space in your luggage for all of those new souvenirs you are going to be collecting!
A little easier than dragging your food through the airport is shipping it ahead. Beverages may still be a problem, but you can easily pack a box of dry foodstuff and send it to your resort. Disney resorts will accept packages for their guests. Simply address the box to your resort. Remember to include your name (or the name the reservation is in), your reservation number (in case your name doesn't pull up your reservation) and your date of arrival. The resort will hold the package until you arrive.
If you are using a towncar service to get to your hotel, inquire about a grocery stop. Most towncar services will give you about a half an hour to grab your groceries from a local store. This added service is either free of charge, or available for a nominal extra charge. Sometimes a towncar driver will lend you his/her store discount card. It doesn't hurt to ask. Consider faxing your order to the grocery store ahead of time. We have done this at Albertson's, and when we get there, a helpful clerk has already assembled our requested groceries – for free. Be sure, however, to double-check your cart, and make sure you are happy with the contents. We tend to fax ahead for the easy stuff (cereal, specific brand name items) and then take 5-10 minutes to get the items that are trickier for someone else to chose for you (fruit, bread, wine).
If you have a rental car, or have your own transportation in town, you have many choices. Goodings (http://shop.goodings.com/) is a long time Disney spot located in the Crossroads Plaza, although not necessarily for the budget conscious. Goodings will also deliver to a resort with a $50 minimum order for a fee. You can even place your order online with them. Besides Goodings, three other grocery stores are just north of Crossroads on Apopka-Vineland Road: Winn-Dixie (www.winndixie.com), Publix (www.publix.com) and Albertsons (www.albertsons.com). Along that same road is also a Walgreens. From Downtown Disney, the grocery stores are no more than a 5-15 minute drive and easy to find. Go east on Hotel Plaza Blvd. It dead ends into Apopka-Vineland Road (535). Turn north on Apopka-Vineland Road (535) and just keep going north. Stay on Apopka-Vineland Road, as 535 will make a sharp turn to the west and Apopka-Vineland Road just continues north. If you turned south on Apopka-Vineland Road (535), you would run into the I-4 Lake Buena Vista exit!
There are many other grocery stores in Kissimmee and south, but may be a bit time consuming for a typical vacationer. There is a Super Wal-Mart south of Disney property. A more detailed list of these stores is located at the bottom of this article.
No transportation? No problem. There are also online services that may help you get what you need. Netgrocer.com delivers nonperishables, and two Disney-area shopping services, WeGoShop.com and GardenGrocer.com, may be especially useful if you need perishable items. Many on-line users report these services are professional, dependable, and well worth the modest fees charged.
Netgrocer (www.netgrocer.com) is an online grocery store. You can have your nonperishable items shipped to your resort just as you would if you were shipping them yourself, without looking for a box and remembering to take it to the mail center.
WeGoShop (http://www.wegoshop.com/) is a national company with a Disney-area franchise. Internet reviews have been generally favorable. Customers recommend very specific descriptions when ordering (e.g. "16 oz. crunchy Skippy peanut butter," instead of just "peanut butter"). With this delivery service, you may choose the grocery store used and you pay the actual cost of your groceries. They may also use coupons, and split the savings 50-50 with you. For grocery purchases up to $100, WeGoShop charges $22 plus a $2 gas surcharge. Check their website for a full listing of rates. Customers may pay by cash, check or credit card at time of delivery.
Garden Grocer (http://www.gardengrocer.com/) is a local Florida company. Their site lists specific products they deliver with their prices. Groceries not listed (such as beer) can be ordered by emailing the company. Their fee is $10 for a $50 minimum order, and they will do a second delivery of items you may have forgotten for no additional fee. You may pre-pay, through PayPal or calling in your credit card information, or you can pay cash on delivery.
The Disney Vacation Club resorts have limited (and expensive) grocery delivery for their members. There is a five dollar delivery charge, and orders must be placed at least three days in advance. Orders will be delivered to your room- they may even be waiting for you there when you arrive! Each DVC location has their own selection; here is an example of offerings from Saratoga Springs: Grocery Order Form
If all you really need is bottled water to take to the parks with you, Staples.com http://www.staples.com/ is your best bet. They deliver 24-bottle cases of water for a reasonable price (under $7), and if you sign up for their reward program before placing your order, delivery is free (subject to change, of course).
Perhaps all of this pre-ordering and such is giving you a headache? Remember that the Disney resorts have some convenience items available- soda, small milk cartons, some snack food. Disney Vacation Club properties and Fort Wilderness will have a bit bigger selection of food items, including prepackaged lunch meat and frozen items. These items are found in the gift shop of the resort, so guests staying in a hotel connected to a DVC property benefit from this as well. This may not be the most cost-effective way to get your munchies, but at least there is a back-up plan for a forgotten item. Selection is very limited but should work in a pinch.
Armed with all of this information, it should be easier to pick an option that best suits your needs. Now you don't have to worry about stocking that mini refrigerator or coming up empty when searching the room for a late night snack. Happy eating!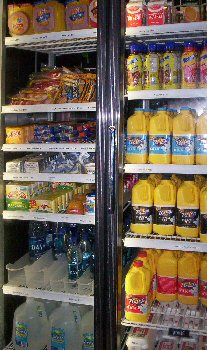 Grocery stores convenient to airport-WDW route:
Albertson's
12981 South Orange Blossom Trail, Orlando 407-857-5666
SuperTarget– http://www.target.com
2155 Town Center Blvd, Orlando 407-251-5133
Orange Blossom Trail & Town Center Blvd.
Open Monday through Saturday 8 am to 11 pm, Sundays 8 am to 9 pm
Winn Dixie– http://www.winndixie.com
4161 Town Center Blvd, Orlando 407- 851-2271
Open from 6 am to midnight
Publix– http://www.publix.com
3972 Town Center Blvd, Orlando 407-850-4351
Open from 7 am to 10 pm
Walgreens– http://www.walgreens.com
13880 Town Place Blvd, Orlando 407-851-8059
Open from 8 am to 10 pm (not a full-service grocery)
Wal-Mart Supercenter– http://www.walmart.com
1471 East Osceola Parkway, Kissimmee 407-870-2277
Open 24 hours a day
Groceries at/near the Crossroads Shopping Center The Crossroads plaza is at the intersection of SR 535 and Hotel Plaza Blvd in Lake Buena Vista, near Downtown Disney. Goodings– http://www.goodings.com
12521 State Road 535
407- 827-1200
Open 24 hours a day
Winn Dixie– http://www.winndixie.com
11957 South Apopka-Vineland Rd (north of Crossroads), Orlando 407-465-8600
Open 6 am to midnight
Publix– http://www.publix.com
4870 S Apopka Vineland Rd
407-909-8080
Open from 7 am to 10 pm
Albertson's– http://www.albertsons.com
8801 Conroy-Windermere Road
407-909-8900
Open from 6 am to midnight
Magically Speaking Featured Article
Library of Congress ISSN:1556-3863