This post may contains affiliate links for your convenience. If you make a purchase after clicking a link we may earn a small commission but it won't cost you a penny more! Read our full disclosure policy here.
The Mouse For Less Blog welcomes Monica! She shares what she thinks is the best part of a Walt Disney World vacation.
So many things come to mind when I think about a trip to Walt Disney World – lots of fun, great rides and attractions, delicious food, Mickey bars, Dole Whips, meeting favorite characters, and, if I'm being honest, lots and lots of walking.  But the main thing that comes to mind when I'm planning a Walt Disney trip is, quite simply, MAGIC.
And so, my best tip for anyone experiencing the World is simple:  Take the time to enjoy the magical moments that will undoubtedly be a part of your trip.
I honestly can't think of any other place I've ever been that evokes those same wondrous, magical feelings for me or produces the same excitement that I feel when I begin preparing for my next trip.  Nothing even comes close.
What, you ask, is so magical about Walt Disney World?  EVERYTHING!
From the fantasy of the Magic Kingdom to traveling around the world in EPCOT, from the glitz and glamour of Hollywood Studios to the nature that surrounds me in the Animal Kingdom, a Walt Disney World trip is all about magic.
From the moment I step onto Disney's Magical Express, it begins to envelop me.  I have traveled to Walt Disney World often in the last few years, and my next trip is just a couple of weeks away, when the World is full of the holiday spirit.  Each time, I've stayed on property in what I refer to as my little Disney "bubble".  The outside world and all of its responsibilities and chaos begin to melt away the closer I get to my resort, so that, by the time I arrive and hear the words "welcome home", I am no longer focused on the outside world, but rather, totally immersed in the World instead.
For me, the magic truly gets underway as soon as I walk into the Magic Kingdom, my favorite of the four parks.  It's nothing less than pure magic as soon as I walk under the train station and onto Main Street.  It's like being transported to another era, to a simpler time.  Main Street is stunning, a beautiful array of colors, sounds, smells all working together to entice all of our senses, easily spinning its magic all around.  And, there, at the end of Main Street, is the most magical setting of all – Cinderella's Castle – rising up to the sky, one of the most beloved landmarks by Disney fans everywhere.
Come with me, and let me point some of the magic out to you…
Nowhere is the magic felt more than in Fantasyland – particularly, in Belle's Cottage.  No spoilers here, but check out the enchanted mirror!  And is Lumiere actually moving and talking to us?  And is Madame Wardrobe really doing that???  Yup – you guessed it… Magic!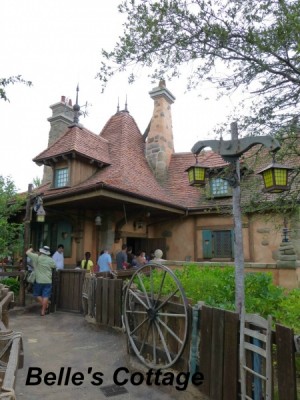 There are so many magical moments at the Magic Kingdom (after all, the name says it all, doesn't it?), some of them obvious and some of them so small, yet so amazing.  It always tugs at my heartstrings when I see a child excitedly meeting their favorite character.  Can you imagine turning the corner and seeing the big Mouse himself, and then having him put his arms around you, dance with you, kiss you, and pose for pictures with you?  I've witnessed that for myself with so many children, but one in particular, and it brought tears to my eyes.  How can you ever explain or describe those incredible moments of pure Magic when your child's eyes light up like never before?  It's indescribable.
On one of my recent trips, I witnessed an older woman patiently wait her turn to meet Chip 'N' Dale, and, when it was her turn, this woman hugged them and kissed them, and there were tears streaming down her cheeks.  She was having a magical moment, and it was so heartwarming to witness an adult have that experience.  You just can't get that anywhere else.  From Peter Pan's Flight, to the Pirates of the Caribbean, to the Haunted Mansion, the magic is everywhere.  Take in those special moments and enjoy them.  It will make your trip that much more memorable and special.
And the Magic Kingdom isn't the only place to enjoy the magic.  EPCOT has its own magic to impart.  With eleven countries represented in the World Showcase, how else could you have breakfast in Norway, lunch in Mexico, and dinner in Japan if not through that Disney magic?
Take the time to enjoy what each country has to offer, allowing each to immerse you in its own special kind of magic.  Stand in the middle of the plaza in the Italy Pavilion, for instance, and feel the magic of it wash over you as you behold authentic replicas of the campanile in St. Mark's Square, Doge's Palace, and the bridges and gondolas of romantic Venice.  Where else could you sit for a moment and take in all of that at the same time?  And it continues all throughout EPCOT – from one country to another, from the streets of France and the Eiffel Tower, through the winding alleys of Morocco, and over the cobblestone streets of the United Kingdom, each country offering countless opportunities to enjoy the magic each has to offer, momentary whispers that will make your trip unforgettable.  Take the time to snap a picture of that window, that fountain, whatever it is that will bring back to mind the magic you felt when you were in EPCOT.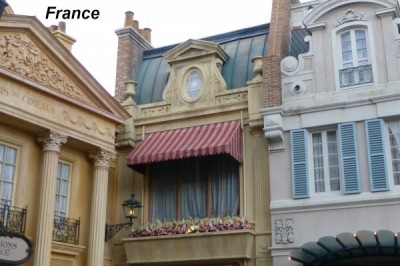 There's no shortage of magic over at the Hollywood Studios.  After all, this park concentrates on the magic brought to us on the silver screen.  As you stroll down Hollywood Boulevard, you become engrossed in the Hollywood of yesteryear, highlighted by street performers known as the Citizens of Hollywood.  If you can, take a moment to enjoy the "streetmosphere" these performers create.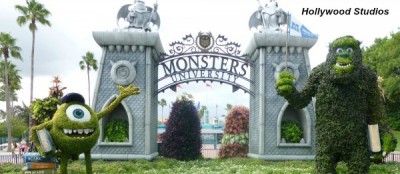 Hop on the Great Movie Ride and move magically through some of our most beloved movies – Casablanca, Mary Poppins, The Wizard of Oz, Indiana Jones, among so many others.  And who can forget Fantasmic, a nighttime spectacular where Sorcerer Mickey uses his imagination to save the day.
And the magic doesn't stop when you enter Disney's Animal Kingdom.  Here, you feel like you've been magically transported to the jungles of Africa and Asia.  Between an early morning safari ride that will have you believing you're on a different continent to Broadway quality shows, be sure to linger over the sights and sounds of this unique park and all it has to offer.  You'll be sure to find a little bit of magic sprinkled throughout.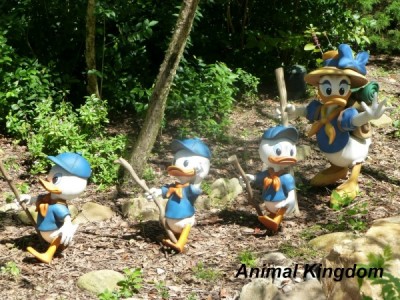 Yes, Walt Disney World certainly provides a trip full of wonder, fun, and adventure, but to me, it's the magic that makes it so memorable.  Take a moment, take in your surroundings, and let the magic sink in.
You'll be happy you did.