This post may contains affiliate links for your convenience. If you make a purchase after clicking a link we may earn a small commission but it won't cost you a penny more! Read our full disclosure policy here.
A Walt Disney World vacation can get expensive. Between meals, souvenirs, and other special treats (not to mention flights, park passes, and hotels!), it's easy to spend like you've never spent before. Heading to the parks each day of your trip is not the only way to enjoy your Disney vacation; in fact, there are plenty of activities to do on Disney property that don't require park admission at all. Finding the occasional free activity can feel like hitting the Disney lottery, both for your bank account and for making memories.
Because I love free so much, I'm bringing you my top 5 best things to do for free at Walt Disney World.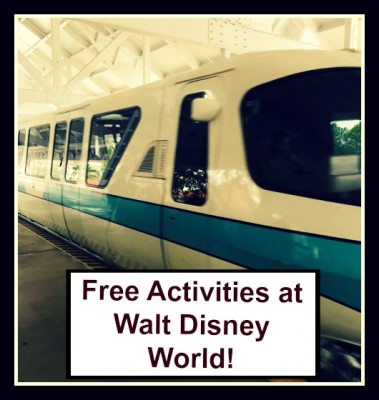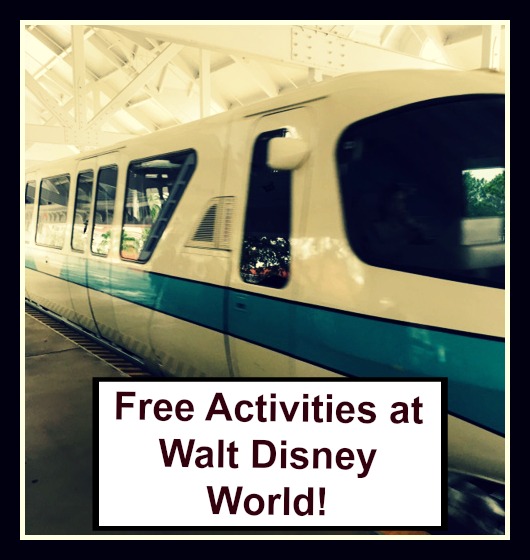 1.
 Head to Disney Springs
.
Disney Springs
is my favorite destination when I don't feel like spending a bunch of money. Free parking is available, and no park admission is required to visit. As Disney Springs is in the midst of a major refurbishment (transitioning from Downtown Disney to Disney Springs is a big undertaking!), more and more shops, street performers, and outdoor seating seem to be popping up.
Every time I go to Disney Springs, I see something new and exciting. If you enjoy window shopping and browsing for souvenirs, Disney Springs certainly does not disappoint. Stop by Star Wars Galactic Outpost, Lefty's (a store for left-handers like me!), the Marketplace Co-Op, or Pop Gallery to find unique items, and if you feel like splurging, go ahead and pick something out! Ghirardelli Ice Cream and Chocolate Shop offers you a free piece of chocolate upon arrival to their store, too!
If window shopping isn't your style, don't worry, I've got you covered. There are plenty of places to sit, relax, and people watch at Disney Springs, too. Head to the Waterside Stage, an outdoor performance center (no admission required!) to catch a unique performance. Dance parties, cheerleading, and dance troupe performances often bring the stage to life, and there's an abundance of seating. You can also grab a seat at one of the many benches located along the shopping center. Be sure to check out Disney Springs in the evening; you'll usually be able to catch quite a few live musicians playing!
2. Check out the Resorts. Walt Disney World offers plenty of modes of transportation. From buses, to boats, to the classic Monorail, there's no lack of ways to get around. One of my very favorite things to do is hop on the resort Monorail from the Transportation and Ticket Center (TTC) and go explore the different hotels on the Monorail resort loop. These 3 hotels (the Grand Floridian Resort and Spa, the Polynesian Village Resort, and the Contemporary Resort) are easy to get to, and they're all beautiful in their own, unique ways. If you're near Epcot or Disney's Hollywood Studios, you can easily walk to the Boardwalk Inn, the Yacht Club Resort, the Beach Club Resort, or the Swan and Dolphin Resorts. Wander around the properties, check out the great theming (bring your camera!), and do some exploring. Bonus: The Walt Disney World resorts go big during the Christmas season; if you're visiting Disney during December, go check out the lavish decorations and gigantic Christmas trees! The Grand Floridian even has a gigantic gingerbread house.
 If you're staying on property, enjoy the many amenities your resort has to offer! Many resorts offer complementary "
Movies Under the Stars
," or, nightly outdoor movie screenings. If you're staying at the Beach Club Resort and Villas, enjoy your movie on the beach! Many resorts offer nightly campfires where you can roast marshmallows. Be sure to ask the front desk if this is an option at your resort. If you head to The Grand Floridian in the evening, don't miss the jazz band playing in the lobby (there are lots of comfy chairs to sit and enjoy!).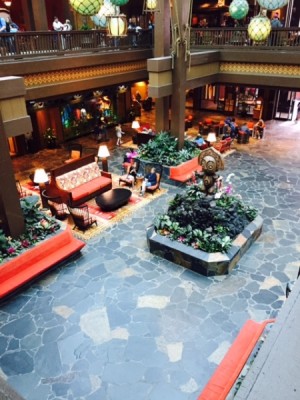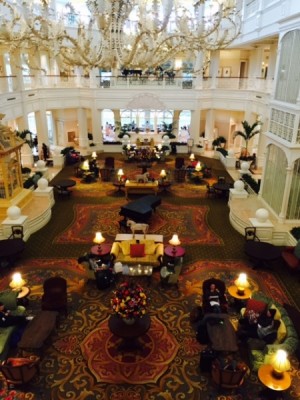 3. Go for a Ride. We all know that Walt Disney World can get hot. I relish the opportunity to sit down, cool off, and recharge my batteries in the middle of a scorching Florida day. Now, you could find a hotel lobby or a bench to sit down on, but I recommend kicking it up a notch: Hop on the Epcot monorail and enjoy the view! Walt Disney World has 3 Monorail tracks: one that takes you directly from the TTC to the Magic Kingdom, one that makes "local stops" at the Magic Kingdom and it's 3 resorts, and one that sends you from the TTC to Epcot. Riding a Monorail is iconic Disney (listen for the famous "por favor" when you board!). My very favorite monorail route takes you above Future World in Epcot, giving you a spectacular view-from-above of the park. If you're visiting during the Epcot Flower and Garden Festival, this is a fantastic way to view the flowers surrounding the lake!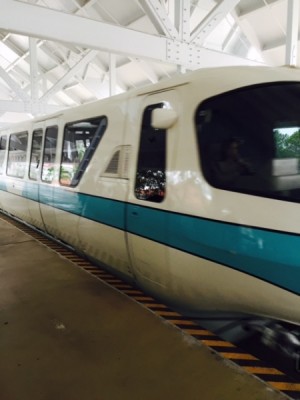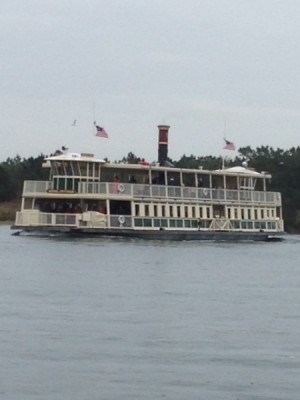 If the Monorail isn't your style, how about a boat ride? There are plenty of places to hop a boat and go for a ride at no cost on Walt Disney World property. These boats are intended to move guests from Point A to Point B, but I enjoy hopping on a boat and taking in the sights! The kiddies will also enjoy the opportunity to get out on the water, regardless of the destination! My favorite boat trip is the ferry ride from Disney's Port Orleans Riverside Resort to Disney Springs. Taking a boat gives you the opportunity to see some new sights, relax, and enjoy the breeze!
4. Take a Hike. I mean that literally! The Walt Disney World property boasts quite a few wonderful walking or jogging paths. If you're a runner, bring your running shoes, because you're going to love your options for getting that workout in. If you're a walker, grab a bottle of water and hit the trails. My very favorite walking option is the 2.5 mile trail that connects the Wilderness Lodge to Fort Wilderness Campgrounds. This hidden gem is a great place to check out if you're ready for a break from the crowds. You just might see a deer or two along the way, so bring your camera!
Another great walking path connects Epcot (at the International Gateway, back behind the France and UK pavilions) to Disney's Hollywood Studios. This is a shorter walking path, probably about 1 mile long, and isn't secluded like the Wilderness Lodge trail. Starting at Epcot, you'll stroll past the Boardwalk and Yacht and Beach Club Resorts, and keep wandering along the waterway that connects the two parks (wave hello to the boats as they pass!). I like to take a walk over to the Boardwalk at dusk, find a bench, and enjoy Illuminations without the crowd!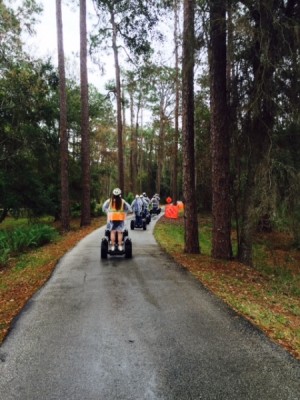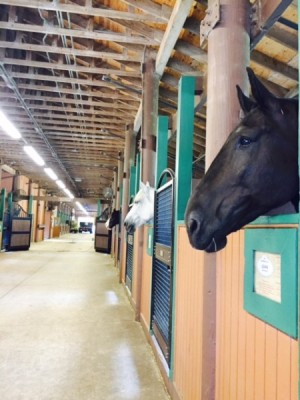 5. Catch a Complementary Tour. Here's a little-known Disney fact: A few Walt Disney World resorts offer complementary hotel tours, open to any guest! Among these resorts are the Wilderness Lodge (my personal recommendation), Animal Kingdom Lodge, and the Grand Floridian. These tours are lead by a knowledgeable Disney cast member; you'll learn all about the resort, and you may even be shown some interesting details or Hidden Mickeys that you might have otherwise overlooked! Check with the concierge or front desk to learn more about where and when these tours are being held. Some tours require advanced reservations, so go learn more on the first day of your trip. That way you'll be sure not to miss out!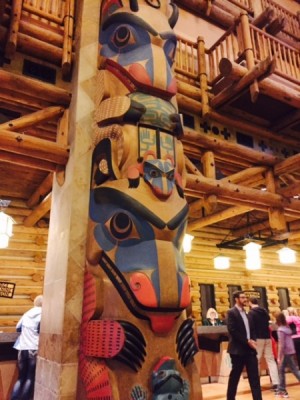 Bonus Freebie Tips for Inside the Parks:
– If you have a Disney Chase Visa card, you're entitled to one free 5×7 character photo at Innoventions West pavilion in Epcot. This is a special meet & greet area for cardholders only, so the lines are typically nice and short!
– You can always request a free cup of ice water at any counter service restaurant, regardless of whether you're making a purchase or not! Just go to the cashier and ask for a cup of water, and you're all set, no MagicBand or credit card required!
What are some of your favorite free activities on Disney property?