This post may contains affiliate links for your convenience. If you make a purchase after clicking a link we may earn a small commission but it won't cost you a penny more! Read our full disclosure policy here.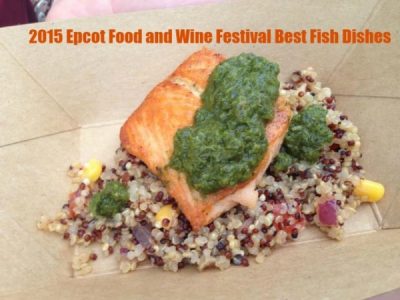 The Epcot Food and Wine Festival is a great opportunity to try new dishes, since you do not have to invest in a whole table service entree in order to try items from the various kiosks. On our last vacation, we were able to try many of the kiosk dishes, including some delicious fish selections. I hope this list of our favorites will provide recommendations for upcoming festival visits.
1. Olive Oil Poached Salmon with Fresh Corn, Bacon and Pepper Jam from the Chew Lab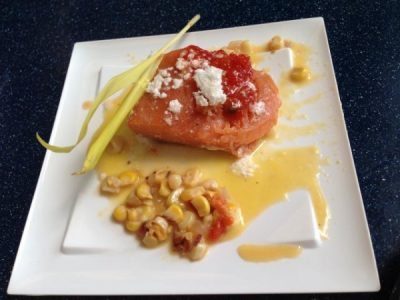 The presentation on this salmon was top notch, and the beautiful plate was unexpected coming from a food kiosk. The surprises did not stop there. The pepper jam provided a really nice kick of flavor for this fish, which was cooked perfectly. The side of corn added a nice sweetness and the bacon some saltiness, which rounded out a great set of flavors. We were sad to see this item removed from the 2016 menu, but hope that it may return in the future.
2. New England Lobster Roll from the Hops and Barley Kiosk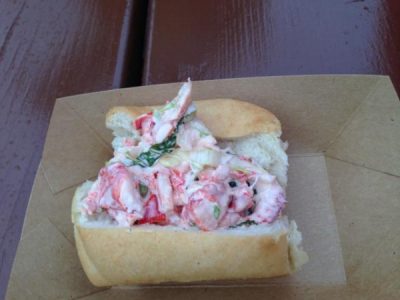 The New England Lobster Roll is one of the more expensive selections at the Food and Wine Festival, but with good reason. It is loaded with delicious lobster. This is not a sandwich full of "filler". Rather, we found it to be full of sweet claw and leg meat, with a light mayo coating, inside of a soft bun. This was my favorite seafood item, and something I would line up for year after year. The lobster roll retails for $7.75 or one snack credit in 2016, and is one of the best financial uses of a snack credit that you will find.
3. Roasted Verlasso Salmon with Quinoa Salad and Arugula Chimmichuri from the Patagonia Kiosk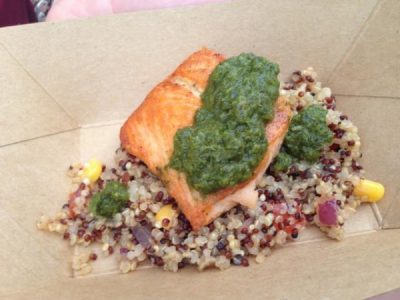 This was another beautifully prepared salmon dish. We were surprised that the kiosks were able to cook salmon in bulk with such success. The salmon from the Paragonia Kiosk was flaky but moist, and the chimmichuri added a fresh herbescence. The quinoa salad was very tasty as well, and made this dish filling enough to be a good item for sharing. In 2016, this dish costs $5.50 or one snack credit.
4. Seafood Fisherman's Pie from the Ireland Kiosk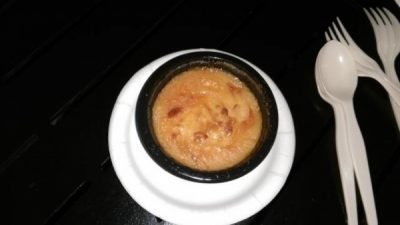 The Fisherman's Pie is an old standby on the Food and Wine Festival menu, and probably my husband's favorite dish year after year. This option is a lot like a standard pot pie, but filled with lobster and scallops instead of chicken or turkey. It is rich inside, but with a flaky, buttery crust on the exterior. If you like shellfish, I definitely recommend this item. We have had it many times, and it never disappoints. The Fisherman's Pie retains for $6.50 or one snack credit in 2016.
Honorable Mentions:
Grilled Sweet and Spicy Bush Berry Shrimp from the Australia Kiosk- $5.00 or one snack credit
Spicy Hand Roll from the Japan Kiosk- $5.75 or one snack credit
Pescado Con Coco from the Dominican Republic (now Islands of the Caribbean Kiosk)- $4.75 or one snack credit
Do you have other seafood favorites at the Food and Wine Festival? Let me know which of your favorites are missing by posting a comment.