This post may contains affiliate links for your convenience. If you make a purchase after clicking a link we may earn a small commission but it won't cost you a penny more! Read our full disclosure policy here.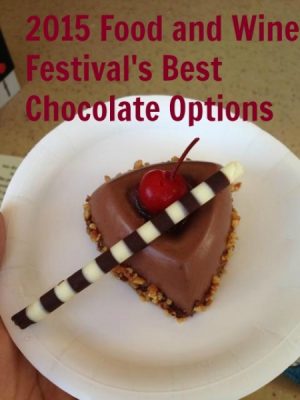 One of my favorite things to eat is chocolate, so when we visited the 2015 Epcot Food and Wine Festival, I was determined to try as many chocolate delicacies as I could get my hands on. Today, I'm sharing my favorite chocolate treats and recommendations for future festivals.
1. Ghiradelli Drinking Chocolate from The Chocolate Experience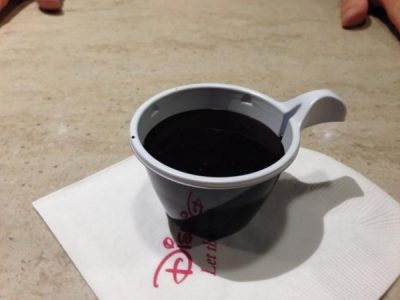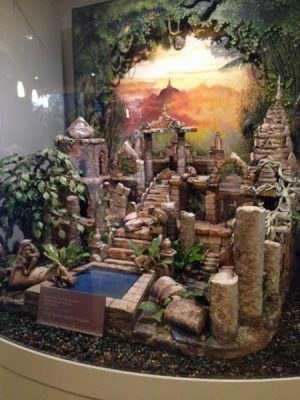 Finding this kiosk may be a chore, but it is worth the trip. The Chocolate Experience is located in the Festival Center- at what used to be the Wonders of Life pavilion. The exhibit needs to be indoors as it includes some amazing chocolate sculptures which would melt without the proper climate control. Even if you are not a chocolate lover, the sculptures make interesting viewing. However, for those who love chocolate, the drinking chocolate is a must-have item. It is thicker, creamier and more chocolatey than your normal hot cocoa, and similar to drinking a melted chocolate bar. While one family member decided it was "too rich" for her, I thought it was perfect and had no problem finishing off the cup. I was unable to find the 2016 pricing for this item, but in 2015 it was $2.50 or one snack credit.
2. Belgium Waffle with Chocolate Ganache and Whipped Cream from the Belgium Kiosk
The Belgium kiosk revolves around its signature waffles, and for a good reason. They are all delicious. The waffles have the perfect amount of bite with a sweet and soft interior, and the chocolate ganache on this version is bittersweet perfection. With a generous dollop of whipped cream on top, this is a dish that the whole family will love. While this may not be the most adventurous item at the festival, do not discount it, because it is done well, and not an item to skip. This dish retails for $3.75 or one snack credit.
3. Liquid Nitro Chocolate Almond Truffle with Warm Whiskey Caramel from the Chew Lab Kiosk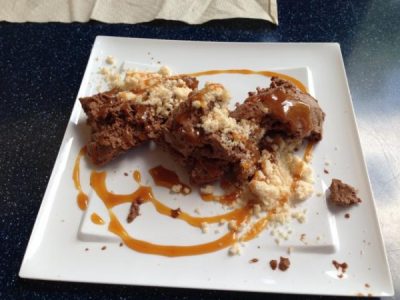 This unusually prepared dessert wound up being one of my favorite items at the whole festival. This truffle was flash frozen in liquid nitrogen when we ordered it, and then cracked open before our eyes. While it looks like a mess on the plate, it was a delicious mess. The chocolate was frozen like ice cream. It melted quickly, but tasted just as good when it melted as it did when it was frozen. I likened it to a frozen Almond Joy. The truffle can be found at the Chocolate Studio kiosk in 2016, and retails for $4.50 or one snack credit.
4. Chocolate Cherry Explosion from the Dessert & Champagne Kiosk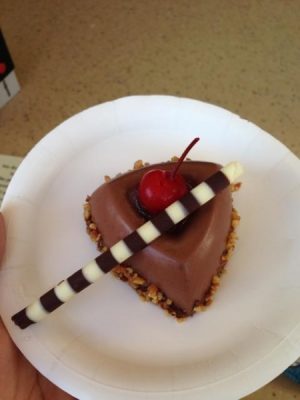 The Dessert and Champagne kiosk is always a popular stop, but it's not the generic Guylian chocolates that caught my eye. Rather, the chocolate cherry explosion seemed like a more interesting option. This cool, mousse-like dessert displayed some of the more subtle chocolate flavors on my list. The cherry flavor was a nice addition, and the nutty bottom added a nice crunchy texture. I was surprised to see this item was not on the 2016 menu list, but did notice that a chocolate raspberry torte was added to the Chocolate Studio. I suspect these items will be similar, and would recommend giving it a try.
5. Warm Chocolate Pudding with Kerrygold Irish Cream Liqueur Custard from the Ireland Kiosk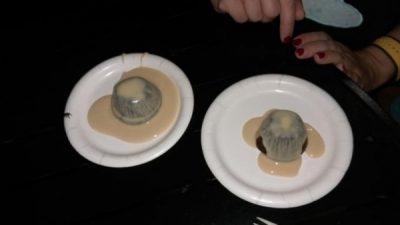 The warm chocolate pudding has been on the festival's menu list for a long time, and continues to be a crowd favorite. If you like chocolate lava cake, this is very similar. It is a small rich dark chocolate cake with a liquid chocolate interior and a warm cream topping. I have learned my lesson with this item and am sure to order extra so that I can keep one of these for my own! This dessert is $3.75 or one snack credit.
Do you have a favorite chocolate treat that didn't make my list? Please comment and let me know.