This post may contains affiliate links for your convenience. If you make a purchase after clicking a link we may earn a small commission but it won't cost you a penny more! Read our full disclosure policy here.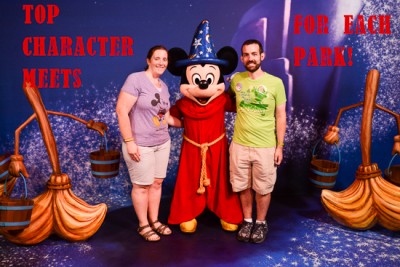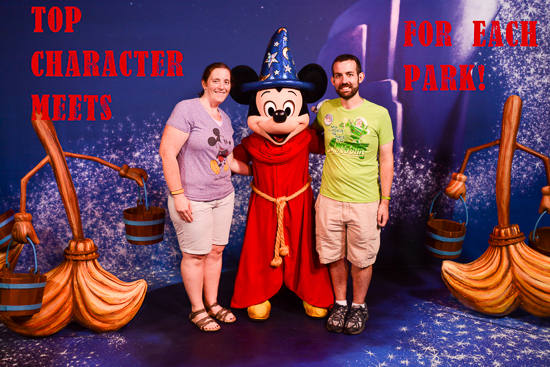 Walt Disney World is a magical place – from the theming to the shows and attractions, visitors to the parks are surrounded by wonder and magic. A big part of that is the plethora of characters you can meet all over the property. As such, I wanted to share my favorite character meet in each of the four major parks.
First a few grounds rules, all of these experiences are available on pretty much any normal day without having to go to a special event or meal. I'll share some thoughts on those characters too, but only because I can't resist.
Animal Kingdom
Disney's Animal Kingdom, the newest of the parks, has a lot of unique greeting experiences on a regular basis. These options cover everything from Pocahontas and Tarzan to Flik and Br'er Fox. However, my top character meet in the Animal Kingdom is Dug and Russell from the Pixar film "Up."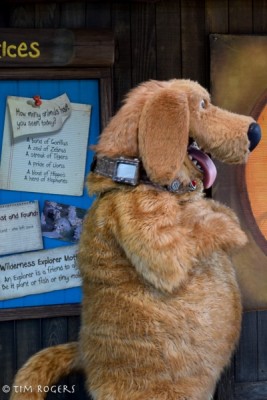 This meet is set up on Discovery Island with it's own special meeting area. It is themed to Russell's Wilderness Explorers activity and seems fun from the start. The characters themselves really make this meet, though. Both Dug and Russell are incredibly responsive and playful and it makes it a bunch of fun to meet them.
Disney's Hollywood Studios
The former MGM Studios is going through a lot of transition this year, but there are still a lot of fun characters to meet. Those with little ones might head over to visit with some Disney Jr. friends, and one of the favorite traditions my wife and I share is a visit to Sorcerer Mickey (who has a wonderful new meeting space as of late). To get to my top meet in the Studios though, you simply need to walk down Pixar Place.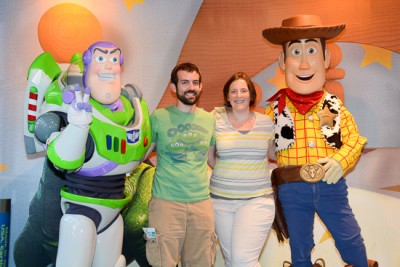 While you can find Buzz and Woody separately in other parks, when you meet them here you get them both at the same time. One of the first things that makes this meet great is the themed queue. While winding through the line, there are several opportunities for candid pictures with Toy Story themed props and backdrops that can occupy time while you are in line.
The characters themselves provided what is one of my wife's favorite Disney memories ever. Essentially, we tried to get in line at Toy Story Midway Mania right after rope drop, the line there was already an hour so we met Buzz and Woody. We were probably the second people in line and I happened to wear my Green Aliens shirt that day, which they noticed, and then delighted in practicing their best "The Claw!" on me. And I'm ticklish. A lot.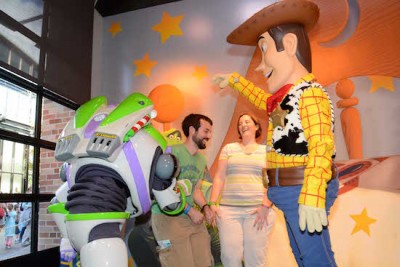 This is a really fun meet and I highly recommend it.
Epcot
Epcot is a really interesting place for characters. In Future World you can run into Pluto and Chip and Dale while walking around, and the World Showcase has meets with many of your favorite Disney Princesses. On top of that, Baymax has a new meet and the Character Spot is an incredibly economical way to meet several favorite characters quickly. (Bonus, Joy and Sadness from Inside Out will soon be meeting here too!)
Unexpectedly, though, I accidentally ran into a character meet while walking toward the International Gateway, and it was Practically Perfect in every way.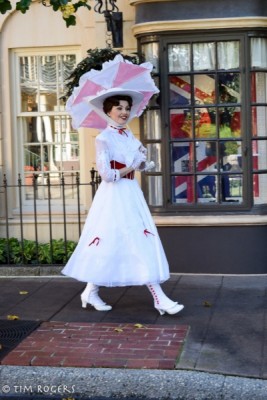 Of course, I am talking about Mary Poppins in the U.K. While her meet can be a little tricky to find (the sign is out on the main walkway, but we met her down in the street closer to where the British Invasion plays), its also a lot of fun. Mary has a bunch of personality and isn't afraid to show it, and she somehow has a great ability to give guests a bunch of individual attention while not holding up the line for an extraordinary amount of time.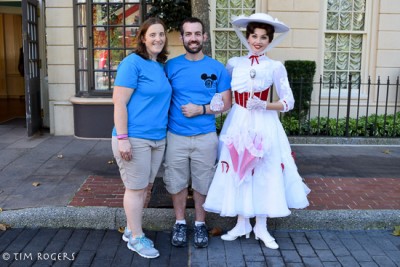 A bonus for Mary is that the structure of the greets means that if you watch the schedule and watch out for the photographer, you can sneak into line just before she arrives and not have to wait much at all. So grab your umbrella and go!
Magic Kingdom
When I started thinking about this subject, and specifically the Magic Kingdom, I kind of hit a roadblock. Part of the problem with picking a single character meet in the Magic Kingdom is that there are so many great ones to choose from. As an incredibly incomplete rundown, you can see talking Mickey, visit Anna and Elsa, find circus versions of Minnie, Daisy, Goofy, and Donald, and run into great characters like the Stepsisters from Cinderella or Gaston from Beauty and the Beast and even Rafiki (a great find on our last trip).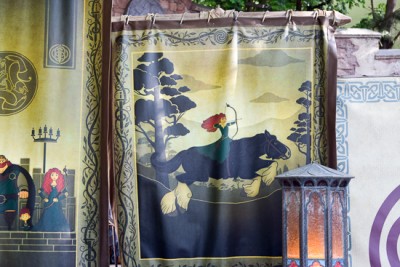 When I started to try to narrow it down to one, I had to settle on Merida. First, this is the only place you can meet her. More than that, however, is her space itself. Merida's meeting space on the edge of Fantasyland and Tomorrowland is fantastic. It really gives to a sense of the world she lives in, and includes lots of little touches and a few mischievous bears.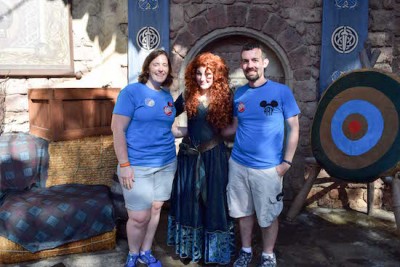 As a tip, Merida comes out several times during the day, but the first time is usually only a short time after park opening. On a recent trip, my wife and I decided to go straight to Merida as the park opened, and while we had to wait a few minutes for her to arrive, we were first in line and got to see her right away, so having an early FastPass scheduled, then seeing Merida right before hand can be a great use of time.
Honorable Mentions
Of course, only listing four of the many characters leaves a bunch out, especially with the rules I set out at the beginning. So here are a few favorite meets that don't quite fit in elsewhere.
Favorite Character Meal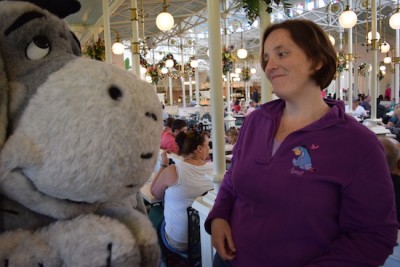 One of the best ways to meet a bunch of characters at the same time is to eat at a character meal. There are many great ones, from the Safari Friends and exciting flavors at Tusker House to the Princesses at Cinderella's Royal Table and Akerhaus. If you have a wife who is in love with Eeyore and you enjoy some Breakfast Lasagna, however, you go to Crystal Palace every single trip.
Favorite Special Character Meet
Last year I had the opportunity to go to Star Wars Weekends for the first time. Since that time, the future of Star Wars in the parks has changed a bunch, but thankfully my favorite part of the event will still be around. Of course, I am talking about Chewbacca.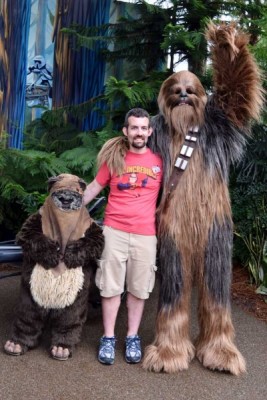 While I visited him as a part of this special event, with the opening of the Star Wars Launch Bay, Chewbacca is now meeting much more regularly, so be sure to check that out.
Favorite Party Character Meet
One of the best parts of Mickey's Not-So-Scary Halloween Party and Mickey's Very Merry Christmas Party is the special character meets during those events. While these can all be fantastic, and allowed me to fulfill my dreams of meeting both the Genie and the Seven Dwarfs, my choice for the best Party meet was actually a surprise to me at the time. That is the greet with Scrooge McDuck, Daisy and Donald during Mickey's Very Merry Christmas party.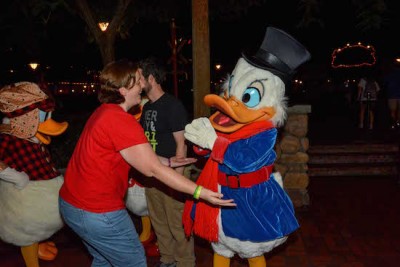 When we got in line for this meet it seemed short, but we could quickly see why it moved slowly, and that is because they were perhaps the most interactive group of characters I have ever seen. In the course of our brief time with them, Daisy tried to run away with me, Donald tried to steal my wife in response, and Scrooge got exasperated by the lack of attention towards him. It was fantastic.
Obviously, this is just the surface of character greeting at Walt Disney World, but hopefully I've inspired you to find a new friend next trip, or reminded you of a favorite memory from the past.
What is your favorite Character Meet at Walt Disney World? Share in the comments, or comment on Facebook with a favorite picture!
Incoming search terms:
Russell and dug Disney World Florida
russell disney world