This post may contains affiliate links for your convenience. If you make a purchase after clicking a link we may earn a small commission but it won't cost you a penny more! Read our full disclosure policy here.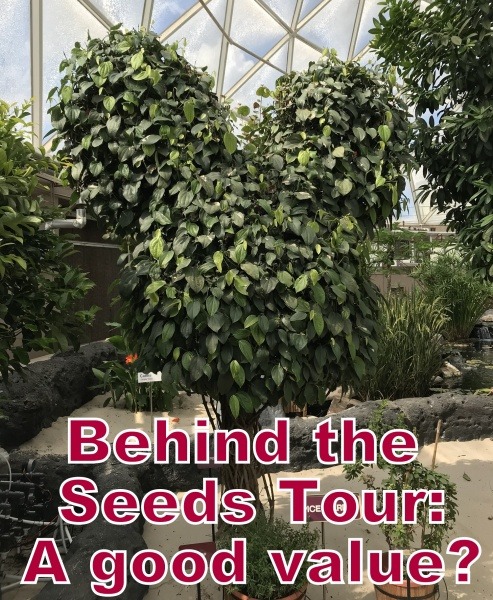 Have you ever wondered if the Behind the Seeds is a good value? In spite of price increases over the years, this tour at EPCOT remains one of the most inexpensive ways to get a peek behind the scenes in Walt Disney World.
Behind the Seeds is one of dozens of tour options at Walt Disney World. I've done this tour three times – most recently just a few weeks ago. Over the years, I've noticed the cost of the tour has inched up a bit while the tour contents have changed. I've reflected back over the three times I've done Behind the Seeds to determine if this tour is still worth it.
My answer is … maybe. If you've never done it before, this plant-loaded tour is still jam packed with information. If you are a gardener at all, think about adding this tour to your must-do Disney list. It's remains one of the few tours that allow photos of backstage areas. Feel free to click away!
What, you may ask, has changed over the years? Some elements of the tour seem to have gone by the wayside, but the core of it remains the same. I'll detail the changes I've noticed, and you can determine if Behind the Seeds would be a good value for you.
What's included – what's changed
I first visited Behind the Seeds 2009 during my Disneymoon. We knew nothing about the tour prior to seeing a sign for it as we exited Soarin'. My husband said, "Let's check it out!" Behind the Seeds seemed like a good value for our Disney dollars. We were able to actually sign up for the tour right then and depart with the next group shortly thereafter.
This is the first thing that has changed. These days, you need to book the tour at least 24 hours in advance. You also pay for the tour in advance. Make sure you call and let them know if you need to cancel because Disney will charge you otherwise!
The second thing that changed is the location where you check in for Behind the Seeds. These days, you check in closer to the exit for Living with the Land. The tour still starts the same way. You get a name tag, and a Cast Member greets your tour group and escorts you to the backstage area.
Behind the Seeds tour basics
The backbone of the tour remains the same every time I've done it. You visit the bug room, you get a peek into the lab, you visit four connected greenhouses, and you get a glimpse of Disney's fish farming operations. You will learn how Disney uses hydroponics, aquaponics, and other interesting techniques to grow an array of herbs, flowers, fruits, and vegetables. Many of those items find their way in Disney restaurants such as The Garden Grill.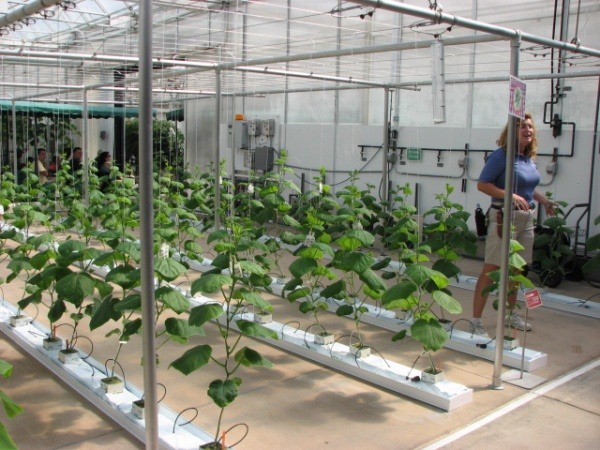 Over the years, however, Disney has done away with a few of the more fun elements of the tour. On our first tour, we received little containers of ladybugs that we got to release later in one of the greenhouses. Disney also had an array of spices in their unprocessed state for guests to try and identify.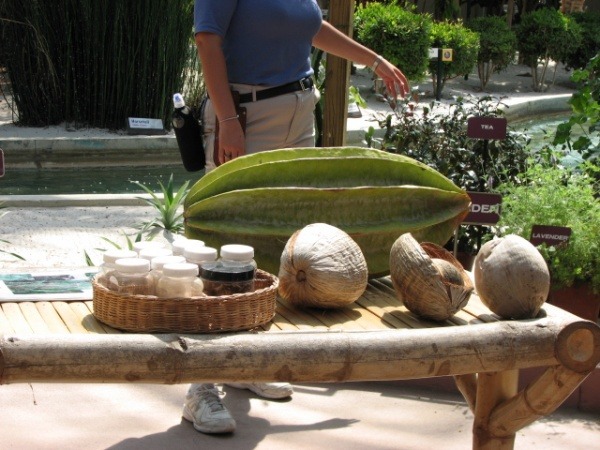 On this most recent tour, we learned about how Disney breeds parasitoid wasps to control other unwanted insects in the greenhouses. However, there was no ladybug release for us.
These changes aren't huge, but it was nice in the past to feel like you were helping out in the greenhouse or to test your spice knowledge.
What about the plants?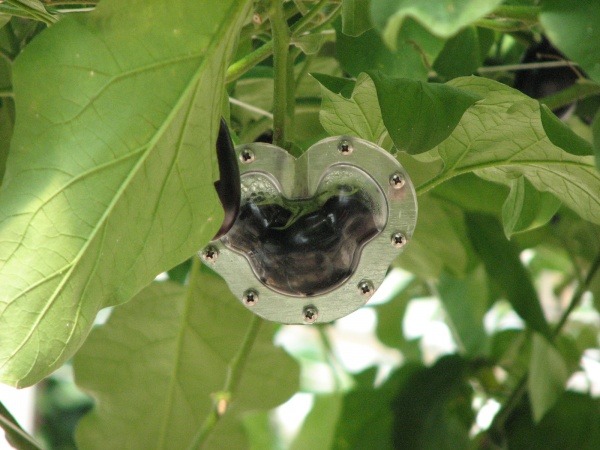 The plants on display have varied every time I've done the tour. This time, I saw sorghum, pomegranates, and snake gourds. In the past, I've seen nine-pound lemons, pumpkins, and Mickey shaped eggplants. For me, the changing display of plants has been a bonus. I love not knowing what I'm going to see this time around. Hint – if you ride Living with the Land before your tour, you'll get a sneak peek at some of what you'll see.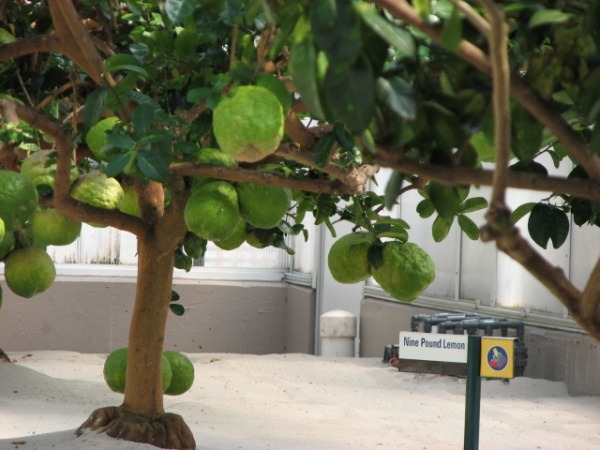 One thing that hasn't changed is that on every tour, we've had a snack. Disney doesn't want to just show you how they grow all those delicious vegetables. You need to taste them. We've snacked on some fresh cucumber grown right there in the greenhouse every time. Another thing that hasn't changed is the opportunity to ask questions.
In the past, the Cast Member leading the tour also handed out information sheets on how to create your own hydroponic gardening system. We didn't receive one this time.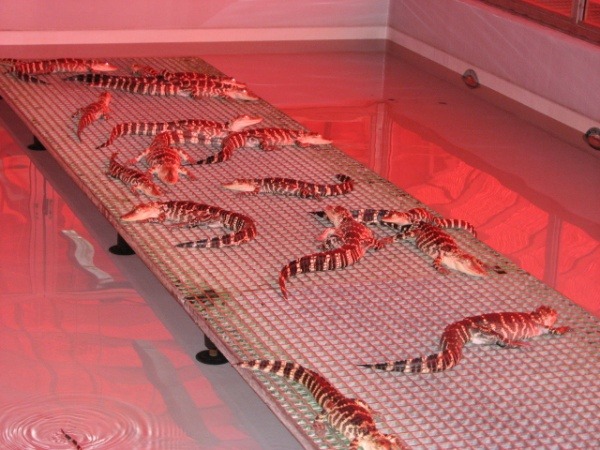 The final change I noticed is that Disney no longer has young alligators on display. Instead, Disney now displays channel catfish. However, you still get to feed the some fish, which is always fun. During our recent tour, we fed some young tilapia.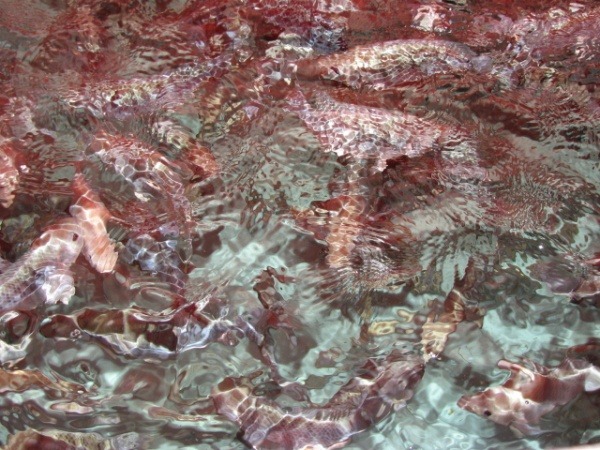 Is Behind the Seeds a good value?
The price of the Behind the Seeds tour has gone up over the years. Our first tour was about $15 per adult, and we received a 15 percent discount by paying with our Disney VISA card. That discount still applies these days, but now the tour costs $25 for adults and $20 for children. There are also discounts for DVC members and annual passholders as well.
Behind the Seeds remains educational and fun for Disney fans of all ages. The tour lasts approximately 45 minutes and includes plenty of opportunity to ask questions. There is seating available about halfway through the tour and several water coolers stationed throughout.
While the cost has increased, I still believe Behind the Seeds is a good value to get a glimpse of how Disney creates some of its magic. Even if that magic is just Mickey Mouse shaped cucumbers.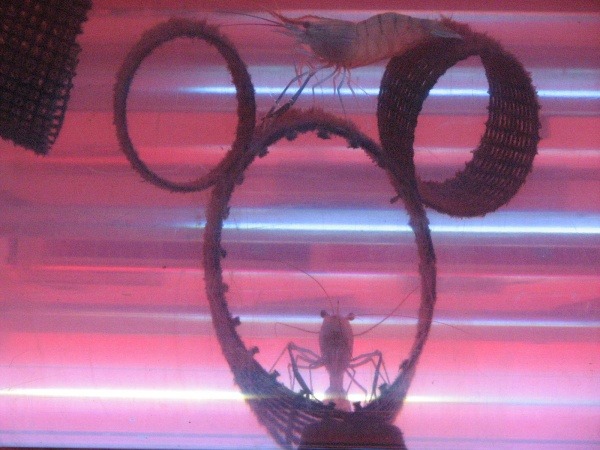 Have you participated in the Behind the Seeds tour before? What were your thoughts? Share your thoughts in the comments or on Facebook or Twitter!
Did you like this article? Make sure to share it with your friends! Check below for easy ways to share!
Want to visit the Walt Disney World Resort? Contact The Magic for Less Travel for more information and a free, no-obligation quote.

Incoming search terms:
https://www themouseforless com/blog_world/behind-the-seeds-tour-good-value/