This post may contains affiliate links for your convenience. If you make a purchase after clicking a link we may earn a small commission but it won't cost you a penny more! Read our full disclosure policy here.
My recent visit to Disneyland's exclusive Club 33
By Binnie Betten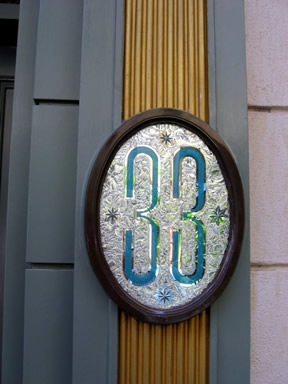 On June 22, 2005, my granddaughter, business partner, our two husbands, and I were lucky enough to receive an invitation to dine at Disneyland's private, pricey and semi-secret Club 33. Very few visitors to Disneyland ever get to enter the legendary establishment. Needless to say, I was excited.
If one was not previously aware of its existence, discretely tucked amid restaurants and shops in Disneyland's New Orleans Square, one would never imagine that something extraordinary lies behind the grayish-green paneled door unassumingly numbered "33." It's rumored that Disney Imagineers actually researched the color spectrum to determine the hue that was least likely to be noticed by the human eye–dubbing the shade of door paint, "No-See-Um Green."
I could walk right by and never even notice the entrance, I silently mused to myself, personally validating the rumor.
Simply named for its address on Royal Street, the famous club was originally intended as a place where Walt could entertain colleagues, dignitaries, and influential businessmen in an ambiance of fine cuisine and distinguished decor, undisturbed by the hustle and bustle of the theme park below.  After Walt's death in 1966, the concept of the club was reassessed.  It opened in 1967 as a private establishment to a limited number of members who could afford the five-digit membership fee and equally costly annual dues.  Membership is so limited, in fact, applicants can remain on a waiting list for several years.
Usage of Club 33 is by reservation only, and it is advisable to obtain reservations well in advance.  Our benevolent, member-sponsor had made our lunch reservations for 11 am, and we were the first party to arrive that morning. Members simply have to place their card keys into a slot to gain admittance, but we needed to locate the "guest" buzzer hidden beneath a small brass door and press it.
As we awaited access to the "inner sanctum," I imagined all of the heads of state, foreign dignitaries, royalty, corporate CEOs, and Hollywood celebrities that had gone before me. According to the Seeing-Stars website, Robert Wagner, Michael Jackson, Tom Hanks, Rita Wilson, Phoebe Cates and Kevin Kline have all recently been spotted dining at Club 33.
Years ago, a rigorous dress code was in place for the exclusive club, but it has become more relaxed over the years. We arrived attired in "dressy resort casual."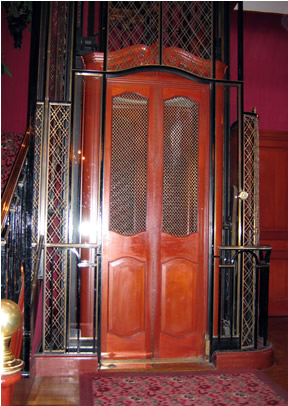 "Gee, I hope we don't look out of place," I mumbled hopefully to no one in particular.
I was worried needlessly, however. While we did see a number of "society ladies" stylishly adorned in Sunday dresses and a variety of summer straw hats (who were clearly in the park only to dine at Club 33), there was also the occasional guest who ventured into the club dressed in shorts.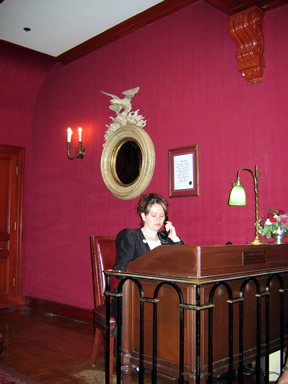 The small, intimate entrance foyer to the club was nothing like I expected. What it lacked in space, however, it more than made up for in regal elegance. After confirming our reservations, the club hostess positioned behind an antique, desk-style podium invited three of our five party members to take the replica of a 19th-century French lift to the main dining area. Linda and Mike opted to take the stairs.
We disembarked on the second floor Gallery. There are lots of interesting things to look at here, including an oak phone booth modeled after the one seen in the Disney film "The Happiest Millionaire." Also to be found are Victorian antiques said to have been collected for the club by Lillian Disney, original artwork by Disney artists, huge vases of freshly cut flowers and a small display cabinet containing various Club 33 logo merchandise. The telephone inside the glass-paneled booth is said to be a working model, and guests are welcome to make calls. The logo merchandise is for sale upon inquiry, but don't expect to see price tags or a cash register nearby; business here is conducted discretely.
Purchase the Club 33 logo pin, I made a mental note to myself, realizing it was sold nowhere else in the park and would make an exciting addition to my Disney pin collection.
We were met in the Gallery by the maitre de who escorted us through Lounge Alley, a small area where the club bar, appetizer buffet, and dessert buffet are located. This area also holds a unique, antique harpsichord hand-painted with a Renaissance-style mural depicting New Orleans's Harbor during the nineteenth century.
Club 33 is the only place in Disneyland where alcohol is available. Here it is served in grand style by award-winning bartenders with access to an extensive wine cellar stocked with a huge assortment of vintage wines and fine liqueurs.
We were seated in one of the clubs' two dining rooms, The Banquet Room, lavishly furnished with rich woods, hand-crafted furniture and elegant chandeliers, all crafted in the First Empire style of the Napoleonic era. I couldn't help noticing the little gold plaque over the entranceway, informing us that the dining capacity for the room is 66.
Cute touch! Definitely by design, I thought.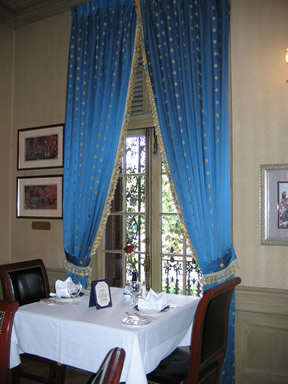 I only got a quick peek at the second, smaller dining area, The Trophy Room. There is a lot of interesting history and speculation connected with this room. Originally, the walls of the room were lined with big game trophies such as spears, African masks, antelope and mountain goat heads, a stuffed owl, various other small stuffed mammals, and a nine-foot-long ivory mammoth tusk. Most of these trophies have since been removed by Walt's family, and now only an animatronic vulture remains. While some will claim that Walt had this room wired with electronic equipment with which to eavesdrop on his guests, the speaker-microphone system that remains visible in the room was installed for a far less sinister purpose. Walt had hoped to entertain his guests with the state-of-the-art audio-animatronic vulture and other animals like those seen in many of the attractions at Disneyland.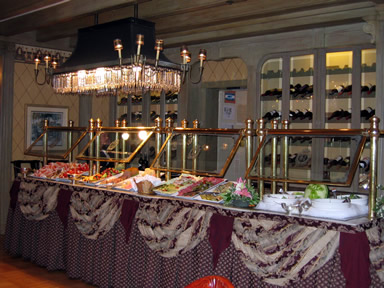 The lunch menu at Club 33 offers classic, continental dishes created by five-star chefs and no stated prices. Each entree, however, was approximately $50–curiously, close to the price of the complimentary one-day hopper passes that came with our reservations. TheMouseForLess.com's Club 33 menu page lists the 2005 spring and summer entree menus, as well as the appetizer and dessert buffet items that were included with our meal.
While I didn't venture onto the club's open balcony, complete with decorative iron railings draped with flowers, I'm told that it offers an amazing view of Disneyland's Rivers of America and a nightly Fantasmic show. If you ever get the opportunity to visit Club 33, consider timing your visit close to evening; meander through the French doors that lead to the balcony, with Mint Julep in hand, and see if it's true.
The number 33 is prominently displayed throughout the establishment. We found it embossed on rich, dark chocolate garnishing desserts, exhibited on foil-wrapped chocolate, after-dinner mints, and printed on the neatly folded linen paper towels.
As we finished the third cup of coffee and prepared to depart the restaurant, Walt's Imagineers had one final Club 33 surprise with which to dazzle us. Designed for royalty, ornate, white, and gold-trimmed, lavatory thrones were installed in the lavish Ladies' room for the use of any princess who is so inclined to drop in during her visit.
Feeling like a queen as I descended the plush stairway, anxious to get started on a fun day in the park, I paused for one last look around.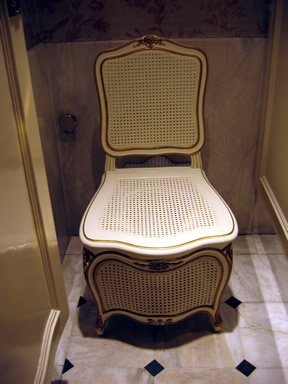 As perfect and as elegant as our service and the surroundings had been, I reflected to myself, it was the rich history and mystique connected with this legendary establishment that had made our visit to Club 33 a, truly, once-in-a-lifetime experience.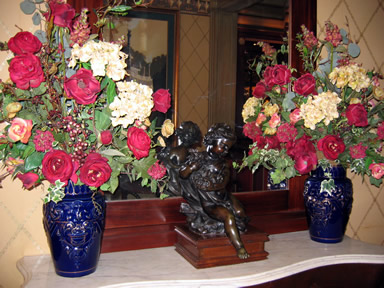 Editor's Note: For more photographs, please visit the Club 33 Photo Essay
Magically Speaking Featured Article
Library of Congress ISSN:1556-3863
Incoming search terms:
https://www themouseforless com/blog_world/behind-the-door-at-33-royal-street/