This post may contains affiliate links for your convenience. If you make a purchase after clicking a link we may earn a small commission but it won't cost you a penny more! Read our full disclosure policy here.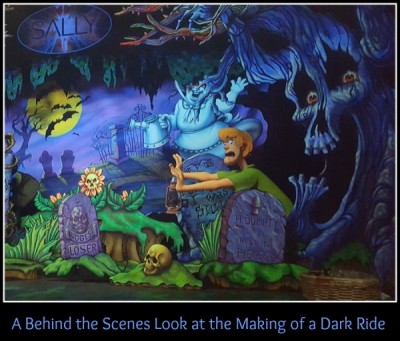 A few weeks ago, I had a really unique opportunity to see what goes on behind the scenes in creating the "dark rides" that are present in theme parks all over the world when I took a tour of the Sally Corporation. Never heard of the Sally Corporation? Neither had I and it is practically in my backyard!
First, I should point out that the Sally Corporation is not in the Orlando area where you might expect to find a company that makes theme park attractions. It is actually located in Jacksonville, Florida so it is a bit out of the way for those that may fly directly into Orlando to visit the Disney parks or Universal Studios. If you happen to be driving south on I-95 to reach your destination though, it is less than a mile off the highway and well worth the stop.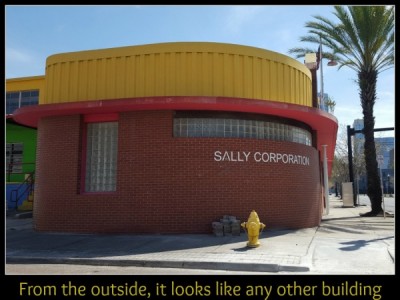 The Sally Corporation sits in a plain building that you could easily drive by without a second glance. As a matter of fact, I had driven by it many times and had no idea what was inside. Even as I walked up to the building, I really had no clue what this place was all about. But I was going to find out!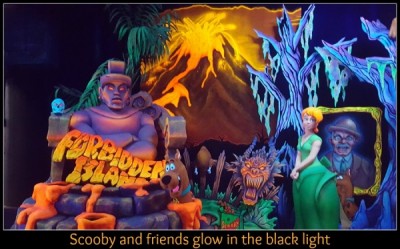 When we entered the building, we were led into a room that looked like a Scooby-Doo movie set. I quickly discovered that it was actually a scene from a Six Flags ride based on the Scooby-Doo cartoon. This particular ride is interactive and guests are able to shoot at various places in the scene to earn points, much like the Buzz Lightyear attraction at Disney World and Disneyland.
Our tour guide allowed all of the children on our tour to try out the game. Once the kids had all had a turn, they asked the adults if they would like to play.  I volunteered of course.  Why not?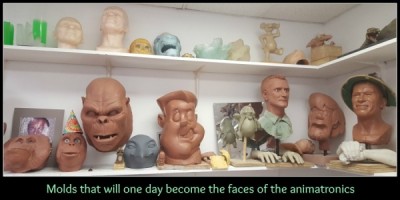 After the game and a brief introduction about what the Sally Corporation does, we headed out into the warehouse to see how the robots, animatronics, and dark ride elements are built.  Although the Sally Corporation does not create rides for Disney (they have their own team of Imagineers to do that), I imagine that the processes that we saw are similar to what goes into creating a Disney attraction.  Minus the pixie dust of course!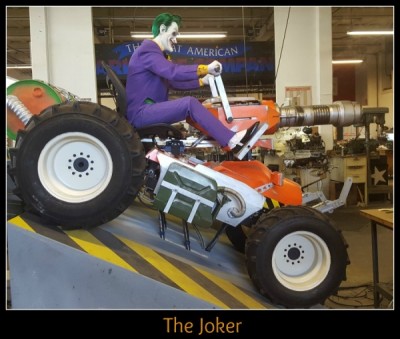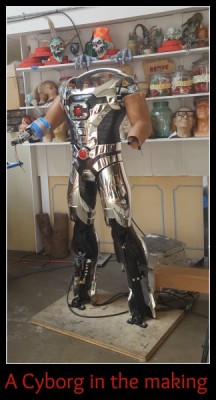 Our guide led us through various parts of the factory where we got an up close and personal look at how everything is made. We saw animatronic versions of the Joker, pirates, cyborgs, birds (that looked a lot like the Tiki Birds), and giant T-Rex.  I also got to stop for a photo op with a pretty creepy looking zombie.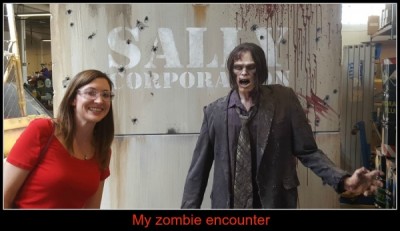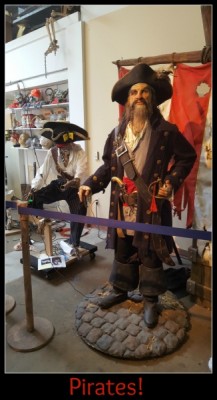 The Sally Corporation does not allow children under the age of 7 to participate in the tours for safety reasons. They only give tours on Tuesday and Thursday and you need to call ahead to reserve your spot as tours fill up in advance. Also, tours do not take place in the summer. That's a bummer, I know, but because parts of the warehouse are not air conditioned, it is simply too hot for tours in the summer months.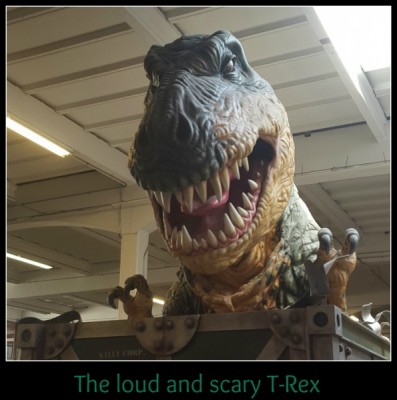 My tour of the Sally Corporation was a fantastic experience. The best part of the tour…it was free! So, if you have the opportunity to stop by, I highly recommend it. Even if you aren't able to take the behind the scenes tour, chances are you may see some of their rides and creations if your travels take you to Legoland or Six Flags parks in the future.
Incoming search terms:
if you want to create dark rides what career would i go into