This post may contains affiliate links for your convenience. If you make a purchase after clicking a link we may earn a small commission but it won't cost you a penny more! Read our full disclosure policy here.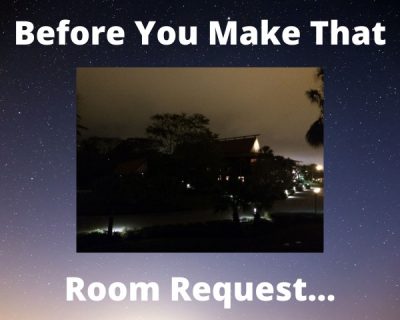 View from the Polynesian Village Resort, 2931
You've picked your Disney resort hotel and booked it. As that magical check-in date comes closer, you're starting to think about making a room request. What kind of a view do you want? How close to do you want to be to all the amenities? Or would you rather be further away from the hubbub so you can have a peaceful vacation? So many things to think about! Here's my breakdown of things you should consider before making a room request:
THE VIEW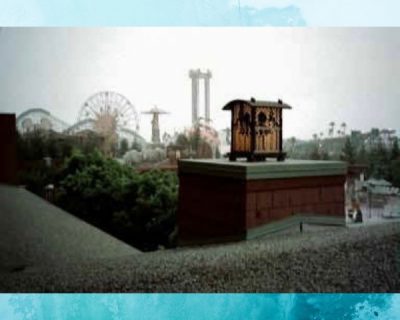 Views at Disney resorts on both coasts can vary widely. You might be gazing upon Cinderella Castle or watching Pixar Pier gleam in the early morning sun while you enjoy your morning coffee. Or you might see a parking lot or the not-so-glamourous rooftops of Anaheim. No matter if you're at Walt Disney World or Disneyland, you're going to want to consider if a view is a big deal to you.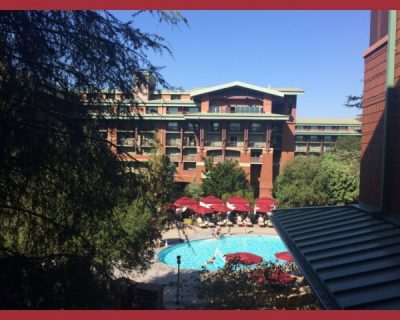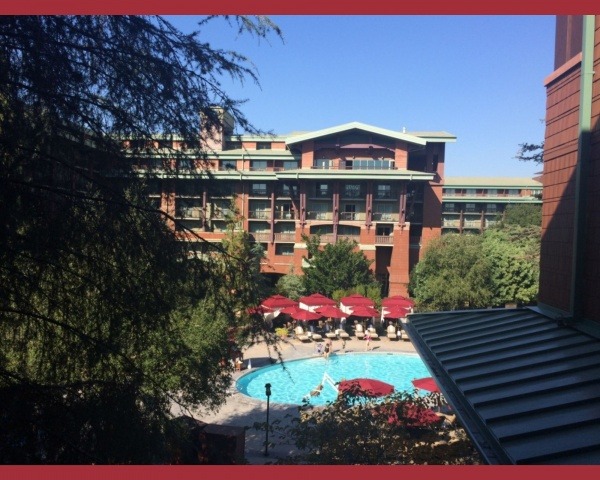 View from the Grand Californian, 3509
There are several different categories of views depending on which resort you're looking at. In general, the least expensive view is the Standard View, which will get you looking at a parking lot or roadways. Pool View is self-explanatory. At the Animal Kingdom Lodge, you've got the unique option of booking a Savanna View, which means you can gaze upon the African wildlife from your room. And some of the more expensive hotels offer Theme Park Views, where you can catch a glimpse of park icons.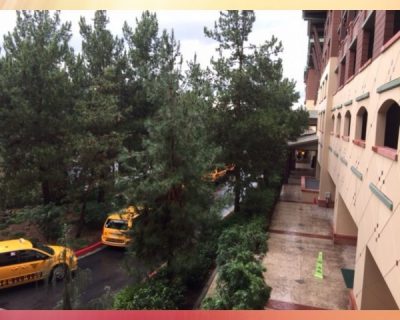 A not-so-thrilling standard view at the Grand Californian
Should you spring for an expensive view? Well, it depends. Do you plan on spending a lot of time in your room? Are you looking forward to enjoying a morning cup of coffee on your verandah? Then you probably don't want to be gazing at a parking lot or a street. But if you're park commandos who use your hotel room as a place to shower and sleep, it doesn't make sense to pay a lot of money for a view you won't enjoy.
Bottom line? My family very rarely asks for any particular view. Out of all the times we've visited Walt Disney World and Disneyland, a full half of the time we requested a standard view and wound up with a really pretty view! Sometimes it was of the hotel landscaping. Other times it was of relaxing greenery. And twice we actually had a view of one of the theme parks, all without paying for it. The other half of the time we got some pretty boring parking lots or roadways.
BEING CLOSE TO AMENITIES

Some vacationers are less interested in what they see when they look at their window and more interested in how close they are to amenities. If you're park commandos, you want to get to breakfast as soon as possible in the morning. You'll also want to be close to the transportation to the parks. Not only could it give you a head start to your day, it can save your tired feet when you arrive back to your resort.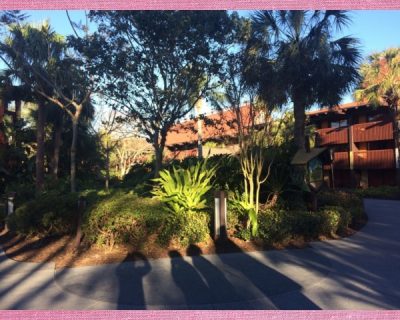 Walking to the bus stop at the Polynesian
For this one, the size of the resort matters. Some of the Disney hotels are massive, especially at Walt Disney World. The more sprawling, spread out hotels can mean long walks to and from the hotel amenities. For example, the guest buildings at the Caribbean Beach Resort and Coronado Springs Resort are set up as separate areas. Getting to the main building, where the restaurants and transportation hub is, might take some walking.

At Disneyland, however, where the hotels are smaller and everything is much closer together, it's less of an issue. For example, even though the walkway into Downtown Disney is easiest to access from the Adventureland Tower, the Fantasyland Tower and Frontierland Tower are so close by that it won't add much time to your walk.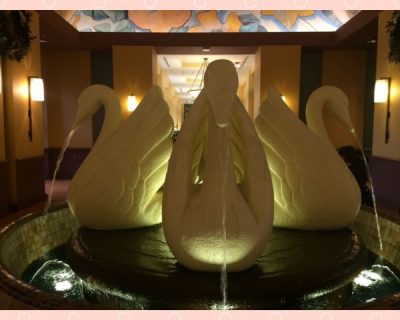 PEACE AND QUIET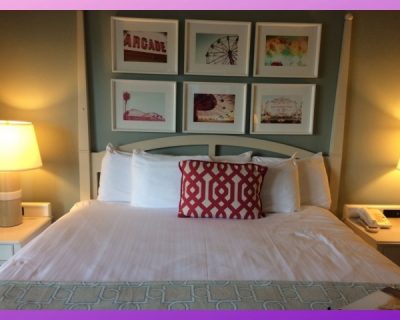 Disney Vacation Club Unit at the Boardwalk
Of course, the inverse is also true. If you want to sleep in, getting a room close to your hotel's pool might not be such a good idea. Guests traipsing to and from the pool throughout the day might annoy you. Staying in rooms close to the Boardwalk at the Boardwalk Inn, or near Downtown Disney in the Grand Californian, could mean being very close to the shops, restaurants and entertainment there. Although soundproofing tends to be good in Disney resorts, some guests do not like walking out of their hotel room to the sound of blaring music and loud guests. The same thing goes for retreating to your room at night. For some, the stimulation of rooms in these areas are too annoying.

In the end, whether or not to make a room request, and what kind of request that will be, will depend largely on your family's vacation style. I hope this gives you something to think about before you decide!
What requests do you make when staying at a Disney Resort? Let us know your thoughts in the comments or on Facebook or Twitter!
Did you like this article? Make sure to share it with your friends! Check below for easy ways to share!  
Want to visit a Disney Destination? Contact The Magic for Less Travel for more information and a free, no-obligation quote.

Incoming search terms:
https://www themouseforless com/blog_world/before-you-make-that-room-request/
room requests grand californian