This post may contains affiliate links for your convenience. If you make a purchase after clicking a link we may earn a small commission but it won't cost you a penny more! Read our full disclosure policy here.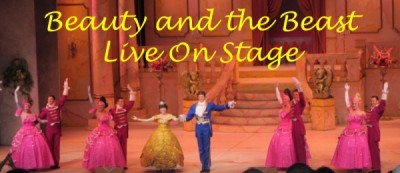 An angry and selfish beast.  A young, innocent, quiet girl.  A story that brings them together and changes them both for a lifetime.  Beauty and the Beast has always been my favorite Disney movie.  I love Belle and her passion for reading and her selfless attitude.  I enjoy all of the songs that are uplifting and catchy as well.  This love for the movie leads to my need to visit Beauty and the Beast: Live On Stage whenever we visit Disney's Hollywood Studios.  I absolutely love this amazing performance and would encourage guests both young and old to take a break from the fast paced world of Disney and be transformed to a magical world where one girl can change the heart of a beast.
This live performance takes place in a 1,500-seat outdoor amphitheater on Sunset Boulevard.   Debuting in 1991 as the first live Disney performance show to debut on the same day as it opened in theaters, this show quickly stole the hearts of guests.  
The story itself sticks closely to the movie story line, however, much is cut out as it is only a 25 minute show.  Opening starts with an old beggar woman asking a selfish prince for help.  When he denies her help, she is transformed into a beautiful enchantress who places a spell on the prince and all of those in his castle.  A beast he will stay until he can learn to love and earn someone's love in return.  He is given an enchanted rose that will countdown his time until he will remain a beast forever.  Until the last petal falls, hope remains that he can break the spell.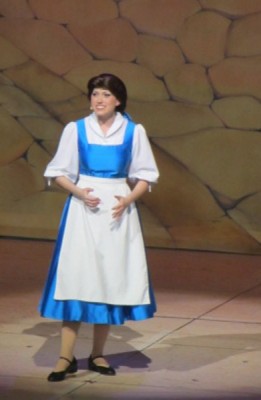 Belle
The story, like the movie, then moves a few years forward to the nearby village where we are introduced to Belle and Gaston.  Quiet and quirky is how Belle is seen whereas selfish and arrogant is how Gaston is portrayed.  This is where the audience is first swept away by the music, costumes and dancing as the cast sings "Belle"/"Gaston"   Through this song we learn as an audience that Gaston is determined to marry Belle at any costs, whereas Belle would prefer to stay as far away from Gaston as possible.  After denying Gaston once again, the audience is quickly taken on a quick and scary adventure landing Belle at the enchanted castle.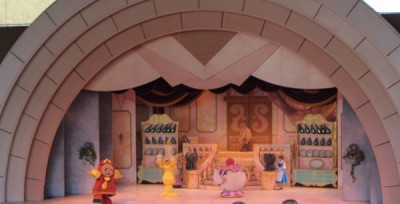 Enchanted Castle
Audience members will be dazed by the amazing costumes that make Lumiere (the candelabra), Cogsworth (the clock), Mrs. Potts (the teapot) and Chip (the teacup) come to life on stage.  These costumes are different than the Broadway production of the show as these characters are seen as costumed characters.  
Belle is quickly swept away by these enchanted friends and invited to "Be Our Guest".  This is the highlight of the show, I feel, as the costumes, dancing and staging is done to perfection making the audience feel like they are truly in an enchanted kingdom.   
The party atmosphere is quickly ended however when the Beast becomes furious at his servants for serving Belle and angry at Belle for disobeying his direct order to stay out of the West Wing where the beloved enchanted rose is kept safely tucked away.  After his outbursts, the Beast is reminded that Belle could be the one to break the spell before the quickly wilting rose loses its' last petal.   His attitude changes as the relationship between the Beast and Belle begins to grow and change as audience members are reminded through the song "Something There" that the two of them are falling in love against all odds.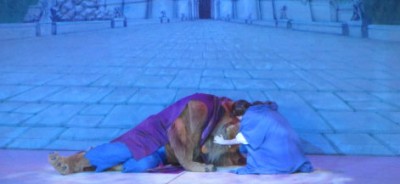 Love for a Beast
Audience members are again transformed back to Gaston who is ready to kill the Beast in order to save the village and claim Belle.  A very moving and overwhelming "The Mob Song" is performed by the cast as the Beast and Gaston fight to what seems like death.  Belle admits, as tears and the last rose petal fall, that she loves the Beast and doesn't want to lose him.  Breaking the spell, the Beast is transformed back into the Prince.  One last song is performed by the cast as the Prince and Belle return for a dance in their traditional costumes.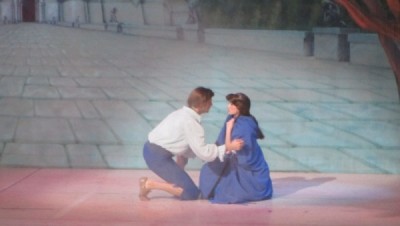 Transformed
This 25 minute musical performance is a magical experience for audience members that I love to sit back and enjoy while we are in Hollywood Studios.  Although it isn't high action like Indiana Jones Epic Stunt Spectacular or full of special effects like Voyage of The Little Mermaid, Beauty and the Beast Live on Stage in a classic that everyone experience while at Disney.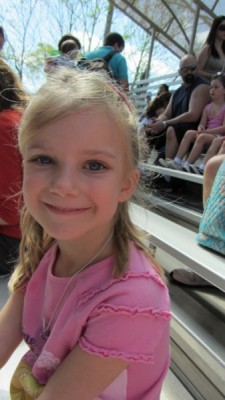 Enjoying the Show
Tips for Beauty and the Beast Live On Stage:
The amphitheater is outdoors and some seats are in the sun, so beware of this when you are choosing where to sit or if you are hoping to get out of the sun

FastPasses are available; however, depending on when you are visiting they aren't always needed to find a seat

Typical times for shows:  11:00, 12:00, 2:00, 3:00, 5:00, 6:00, though this can change. Make sure to check a Times Guide or the My Disney Experience app for more information.


If you are having a special celebration, try to sit close as the Beast and Belle give a rose to one special guest

Seats closer and in the middle are better as you feel more involved in the show
Incoming search terms:
https://www themouseforless com/blog_world/beauty-beast-live-stage/