This post may contains affiliate links for your convenience. If you make a purchase after clicking a link we may earn a small commission but it won't cost you a penny more! Read our full disclosure policy here.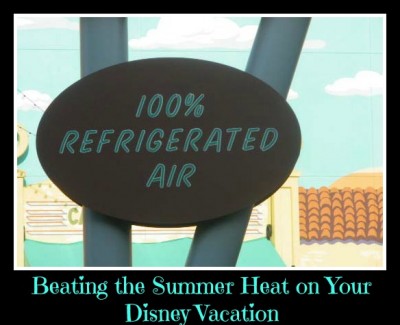 Summer weather can be incredibly hot and has the potential to drag you down on your Disney vacation. So, if you plan to hit the parks this summer, here are some ways to beat the summer heat!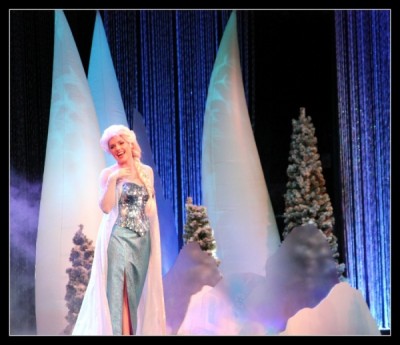 The cold may not bother Elsa, but she never said anything about the heat!
Stay hydrated–Make sure to have water on hand at all times. The cost of bottled water can really add up if you purchase it at the park, so bringing water in with you is a good idea. You may want to freeze a few bottles so that you can have cold water during the day.  Hard case coolers are not allowed, but you can store bottles in soft bags. Make sure to encourage family members, especially the kids who often don't think about it, to sip water throughout the day.
Wear light, breathable clothing–My friends make fun of me because I have what they like to call "Disney outfits" that I wear over and over, but there is a reason that I consistently pack the same clothes for each trip. They are cool and comfortable! I always choose light colors and have several shirts with breathable material (they also dry quickly). Choosing the right clothing can really make a big difference. Also, be sure to protect yourself from the sun with sunscreen, hats, etc.
Visit the outdoor attractions early in the morning or after the sun goes down–There is nothing fun about the Tomorrowland Speedway in 95 degree heat. Not only is the line for this ride outside, but once you make it through the line, you climb into an open car and drive around an outdoor track. Definitely save rides like this one for cooler parts of the day. Many of the lines for attractions at Disney World are indoors or at least covered. You will find more outdoor lines at Disneyland. Try to stay out of the direct sun as much as possible.
Some guests also like to purchase handheld fans to keep cool while waiting in outdoor lines. I purchased an inexpensive one outside of the park, but Disney does sell nice ones with misters. Just be careful of those around you when spraying water!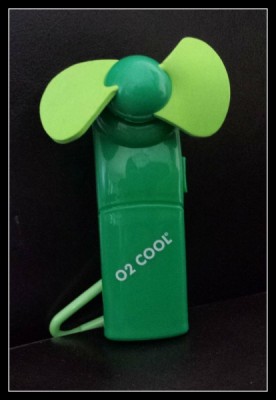 Small, handheld fans can provide a cool breeze
Seek out long, indoor rides during the hottest part of the day–Maybe Ellen's Energy Adventure isn't high on your list of must do rides, but it is 45 minutes of glorious air conditioning! If your family is feeling hot and drained, make a beeline for attractions like this one to give yourself a break.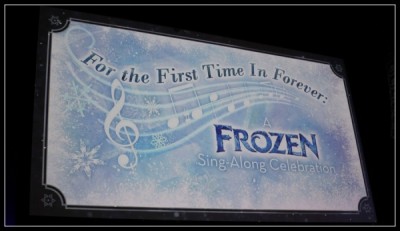 A great place to sit down and cool off
Here are a few other places to cool off and get out of the sun for a little while:
Magic Kingdom -The Tiki Room, PhilharMagic, The Carousel of Progress,The Hall of Presidents
Epcot -Spaceship Earth, Impressions de France, The Land Pavilion
Disney's Hollywood Studios-The Great Movie Ride, Walt Disney: One Man's Dream, The Frozen Sing-Along Celebration
Animal Kingdom– Festival of the Lion King, Finding Nemo-The Musical, It's Tough to be a Bug (may be a little scary for young children)
If you are looking to get wet–Splash Mountain at the Magic Kingdom, Casey Junior Splash N' Soak Station at the Magic Kingdom, Kali River Rapids at Disney's Animal Kingdom or visit one of the water parks: Blizzard Beach or Typhoon Lagoon
Make a late afternoon lunch reservation or take a snack break–If you are trying to cram as much into your visit as possible, you may not feel like sitting down for an hour is worthwhile, but taking a break in a restaurant may be just what your family needs to recharge. You can make an advanced dining reservation for 2:00 or 3:00 in the afternoon to avoid some of the worst heat of the day. If you don't want to commit to a reservation, there are quick service restaurants like the Electric Umbrella at Epcot or Cosmic Ray's Starlight Cafe at the Magic Kingdom where you can grab some lunch or a snack and, of course, some water.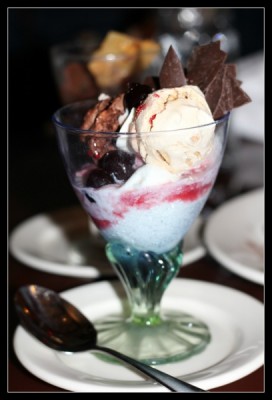 Take a snack or an ice cream break!
Head back to the hotel in the afternoon–If you have some flexibility in your schedule, avoid the hottest, busiest part of the day altogether by going back to your hotel for a break. This is usually easier to accomplish if you are staying on Disney property. A quick nap can help keep kids (and let's face it, adults) from being cranky in the evening. If you plan to stay for the fireworks or a show at one of the parks, a quick nap or swim at the hotel may make for a more pleasant evening.
Avoid visiting during the summer months–Summer is often the most convenient time for families to visit the Disney Parks. If you have some flexibility though, you may want to try and schedule your trip when the temperatures are a bit lower. The crowds are are often lower too if you avoid the summer months and major holidays.
I hope these tips and tricks will help you to have a more enjoyable vacation at the Disney Parks this summer. It may be hot outside, but I still think you will have an absolutely magical time!
How do you keep cool on your Disney vacation? If you have a tip, please feel free to share it in the comments section!