This post may contains affiliate links for your convenience. If you make a purchase after clicking a link we may earn a small commission but it won't cost you a penny more! Read our full disclosure policy here.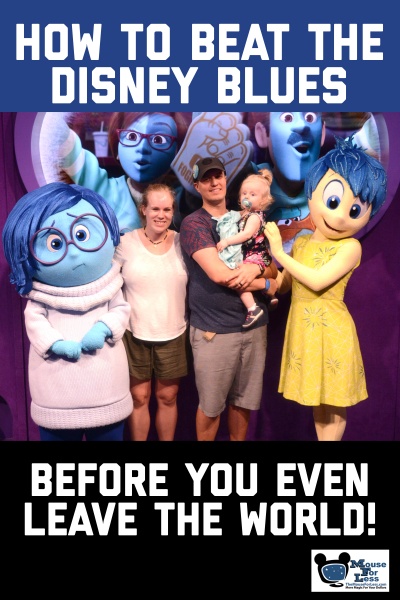 If you go Google "Post Disney Blues" you will find lots of blogs talking about this strange phenomena. It's that feeling when you come home that's akin to your house when you put all the Christmas decorations away. You may also experience it when you step into your house after having a bunch of guests over, or you finish a big project at work with booming success. The common denominator is you had something very big that took much of your attention in the recent weeks (or months) and the experience was magical. Now, after the event, you try to ease back into "normal life," but you can't help but feel like something is missing and life seems to have lost its magical touch.
Specific to Disney, I want to talk about four things you can do while ON your Disney trip that will help you beat the Disney Blues when you get back home from your Disney trip! Hopefully, these things are unique from what you have heard before and can help put the magic back into your every day life!
Number 1: Plan what you will do the day or two you get back home. You have planned every other day of your Disney trip…why not plan the couple of days you have once you get back? Our family has found that when we plan some fun things to do when we get back home, it allows us to have something to look forward to as we travel away from Walt Disney World. 
This specific trip, we had already shopped for the ingredients for breakfast for dinner at home, a favorite in our household! We also watched Tangled while eating said breakfast. The day after, we planned for us to do nothing outside the house so we could rest and enjoy time together before getting back into the swing of things. 
Your family could plan a Disney game night or go see a new Disney Movie if one has come out. It allows you to still share some family time, just like you did at Disney, and makes the transition back to "normal life" a little less jolting.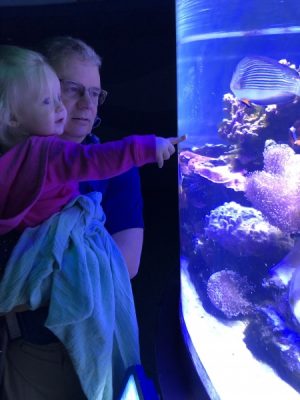 Number 2: Have EVERYONE take photos while on your Disney trip. Include the kids too! No matter their age, allow them to have a digital camera or an old cell phone just for them to take pictures with. Then, when you get home, have everyone use a photo sharing service like Amazon photos, Google photos or Apple Photos to share photos with each other. 
This is not only a twist on what other people suggest when it come to reviewing vacation photos when you get home, but it allows you to see other family member's perspectives on the trip. This is especially interesting with your kids. It not only allows you to see the World through their eyes, but it allows you to see what they thought was most interesting during a trip! Who knows, maybe they even got some great photos that you can hang in your house!
Number 3: Buy merchandise! Now, when I say this, I do not mean buy stuff just to buy stuff. Instead, think about how you will use said merchandise in your daily life to bring that extra magic to your day. I bought myself a new baseball cap because I wear them all the time. Some people collect mugs. T-shirts are another fun way to bring magic into your every day life as well. The idea is to find something that will remind you of the magical time you had on vacation and will add a little skip in your step as you go through your day at home!
This tip also applies to food! Before you leave, pack a special treat from the World that you can enjoy at home the first few days you get back!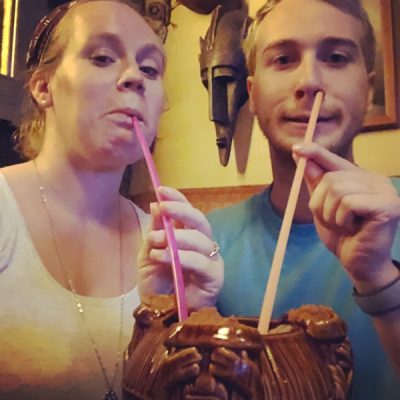 Number 4: Make a list of all the family's favorite things each day on your vacation. Our family asks the question "What was your favorite?" each night at dinner on the vacation. We usually break it down into a favorite food, favorite attraction and favorite experience (eg, show, character meet, etc) each. Take your family's answers home and each week following your vacation, plan a family activity around one of those favorite things.
Here's an example from our family! One of my favorite things we did while at EPCOT was experiencing the Behind the Seeds tour. We learned so much about planting in greenhouses and how Disney manages to grow so much in such a little space! So one of the activities we want to do in the next few weeks is create our own little green house using the things we learned while on the tour.
This can ALWAYS apply to food too! Take one of the favorite things you ate and try to recreate it as a family!
The point of this exercise is to remember an amazing trip while making new family memories together. After all, one of the best things about visiting a Disney destination is that it's a place for families to come together and enjoy quality time while experiencing new things. The magic of Disney follows you home when you can create family moments during "normal life!"
What about you? Do you have anything that helps you beat the Disney Blues when you come home? Let us know as they might help another family get some great ideas! Share in the comments, or on Facebook or Twitter!
Did you like this article? Make sure to share it with your friends! Check below for easy ways to share!
Want to visit the Walt Disney World Resort? Contact The Magic for Less Travel for more information and a free, no-obligation quote.