This post may contains affiliate links for your convenience. If you make a purchase after clicking a link we may earn a small commission but it won't cost you a penny more! Read our full disclosure policy here.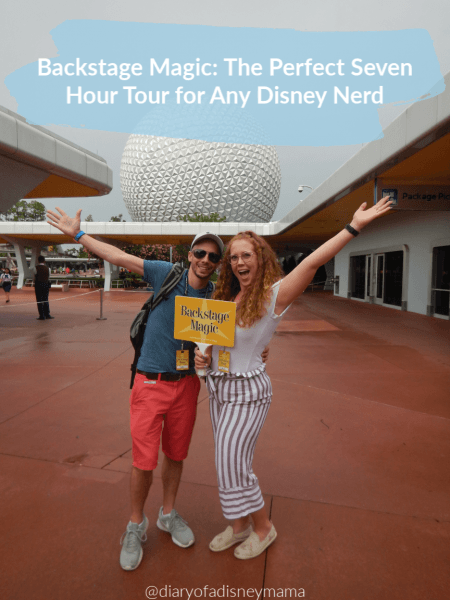 If you have ever wondered how Walt Disney World brings their guests magic on a daily basis, or how they manage to pull off so much magic with such flawless precision, then the Backstage Magic Tour is a perfect fit for you. Personally, I think Disney should rename the tour: Backstage Magic – The Perfect Seven Hour Tour for Any Disney Nerd, but I have a feeling that title is simply too long.
Before getting into pricing and of what the Backstage Magic tour consists, I think it is important to note that to some Disney fans this tour could "ruin" the magic for you. You literally go backstage and get an insider view of how different parts of Walt Disney World work.  I actually had a bit of anxiety about starting this tour. I was simply concerned that it would take away from my excitement of being within the parks. However, I found that seeing the magic and all the hard work that goes into making a trip to Walt Disney World so special only increased the joy and excitement for me.
No Park Ticket Needed
Now, if you have decided that you are like me and going behind the scenes will only enhance your love of all things Disney, here are a few key points to keep in mind. First, you will not need to purchase a park ticket to attend this experience. The tour itself is run by Adventures by Disney and will cost $275 per person. This includes: the seven-hour tour, transportation, bottled water to keep yourself hydrated, lunch at Tiffins in the Animal Kingdom, and a complimentary gift. Your tour will start precisely at 9:00 a.m., but you will need to meet at 8:45 a.m. outside of the EPCOT Main Entrance (on the far right), under the blue and silver "EPCOT Guided Tours Sign". Once there, you will be checked in, given a name badge, asked to select your lunch choice, and then shuttled to your first location!
Other important things to note are: guests must be 12 and older to attend, guests under 18 must be accompanied by a parent or guardian, no open toe or open heeled shoes are allowed, and no cell phone or photography is allowed in any of the backstage areas. Because of the inability to take your own photos, the Cast Members acting as your guides will take several posed photos of you and your family members throughout the day. Later you will be able to download them on the Adventures by Disney site via a code they provide. Lastly, it is important to note that throughout the day there are many restroom breaks, and additionally if you will be bringing a wheelchair or scooter you simply need to note this when booking and the cast member will be able to assist you.
EPCOT: The American Adventure
After taking a short drive around the outer loop of Epcot you will arrive at the American Adventure Pavilion. There, you will be taken inside and get to see the inner workings of the Audio-Animatronics used for the show. You will then travel to the front of the American Pavilion where you will learn details about the building itself from the style, to its sizing, and location along the World Showcase.
Creative Costuming
Leaving EPCOT you will be bused to the Creative Costuming building where you will see how costumes for every Cast Member and character are deigned and handmade. As someone who enjoys dressing up and Disneybounding, this was my personal favorite experience from the day. Just knowing that every outfit from Cinderella's ballgown, to the Cast Member at Casey's Corner was handmade in house is so cool to me!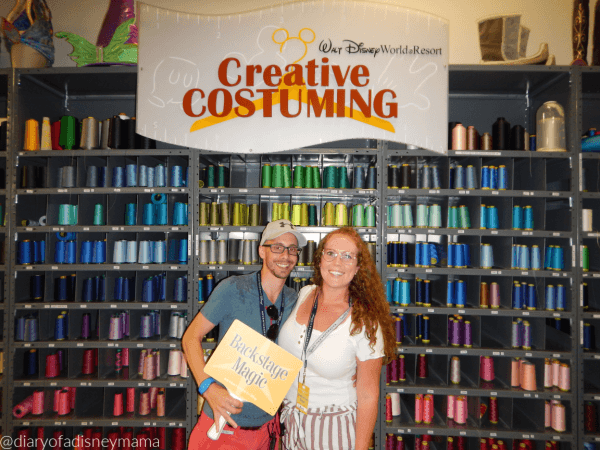 Behind the Scenes at Rivers of Light at Disney's Animal Kingdom
After lunch at Tiffins, which was AMAZING and I highly recommend going, we headed backstage to the Rivers of Light Show. Here we learned about the inner-workings of the show and how GPS assists in putting on the show nightly.  It truly gives you a new found respect for the technology needed to put on these wonderful nighttime experiences.
Central Shops
Central shops was our next stop and I would say it is a huge part of how the magic keeps running smoothly every day at Walt Disney World. This is where most of the maintenance and upkeep happen for all things within the parks. From ride vehicles being repainted and serviced to the animatronics being updated or fixed, Central Shops does it all. I may have even seen our favorite French rodent getting all dolled up for the Food and Wine Festival.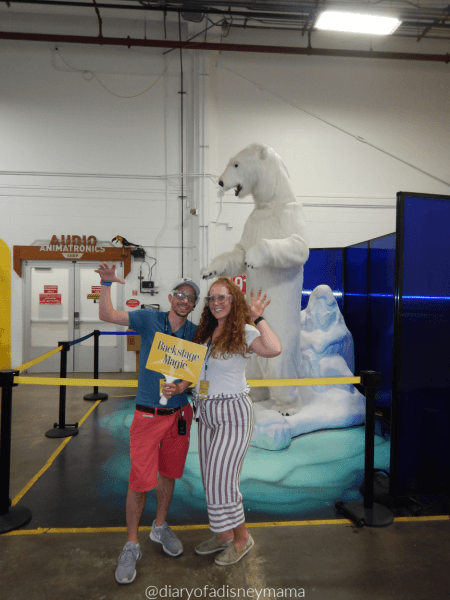 Magic Kingdom
Your final stop is the Magic Kingdom where you will experience the underground utilidor system. If you are a Disney Nerd, this is one of the coolest things to experience. You will get to learn fun facts about Magic Kingdom and different systems that are set in place to make your visit there as magical as possible.
In conclusion
You may have felt that I didn't put a lot of details about the specifics of each stop in this article, and that was intentional. I could expand on the details about each location, but honestly I think it is worth it to experience it for yourself. I don't want to be the one to "ruin" the magic of this tour before you can experience it for yourself. Sean and I both really enjoyed our day of learning new Disney facts and I would highly recommend this experience to anyone wanting to broaden their Disney knowledge. That being said I would suggest booking your Backstage Magic Tour right away, and be sure to let me know if you loved this tour as much as I did!
Have you participated in the Backstage Magic tour before? What did you think of it? Let us know your thoughts in the comments, or on Facebook or Twitter!
Did you like this article? Make sure to share it with your friends! Check below for easy ways to share!
Want to visit the Walt Disney World Resort? Contact The Magic for Less Travel for more information and a free, no-obligation quote.

Incoming search terms:
https://www themouseforless com/blog_world/backstage-magic-perfect-seven-hour-tour/