This post may contains affiliate links for your convenience. If you make a purchase after clicking a link we may earn a small commission but it won't cost you a penny more! Read our full disclosure policy here.
Day 11 – Cadiz, baby!
Ross back on trip report duty – today the plan is to hit the Spanish port city of Cadiz!  For today's port of call we opted to take the Disney packaged tour – "Mountain Villages".  The tour was set to start at 8:00 am, so even my cabin mates were required to get up early today!  Everyone successfully roused themselves; enjoyed yet another awesome sunrise over the Cadiz harbor, hit Lumieres for a light breakfast and then headed to the busses.
McNote:  The first site I saw upon awaking was this view of Cadiz (above).  Definitely the prettiest port we have pulled into at least in the docking area from our side of the boat!
Our first stop on the tour was to Vejer de la Frontera, about 35 miles south along the coast.  Along the way our tour guide (whose name I did not write down, of course) gave us a fantastic running dialog and background on everything we were seeing.  The big surprise for me, though I admit I have had little exposure to Spanish history/background, was that Cadiz is essentially an island connected to the mainland by a long causeway.  It's strategic importance as a port was directly related to its ability to protect itself from land attacks from internal Spanish strife…interesting.  We have all experienced driving through the US heartland and seeing abandoned farm / ranch buildings – wondering the story behind them – you saw the same thing driving through the Spanish countryside, except that the buildings appeared to be 2, 3 even 4 hundred years old instead of 60 or 70…very cool!
Anyway – after about 45 minutes on the bus we arrived at Vejer de la Frontera – a very interesting white village perched on the edge of a cliff – the bus driver did a good job winding his way to the top.  When we arrived we were all pleasantly surprised to see that we were the only tour bus!  That was to quickly change, but nonetheless we seemed to have the place to ourselves from a tourist perspective.
We all gathered and started our walking tour.  If you ever plan on taking this one be forewarned:  lots of steps and lots of hills!  The town is very interesting, your classic EU tight streets – everything is traditionally white – the guide mentioned that this is not mandated by law/covenant, just an unspoken sense of pride.  Initially walking through the streets, they were practically deserted.  Apparently Spanish towns do not "wake up" until approximately 10 am.  It was a quiet stroll through the narrow streets – only occasionally requiring the dodging of cars.  Besides the incredible architecture there were not too many striking highlights on our walking tour.
At the close of the walking tour we had a 30 minute sit-down to enjoy traditional Tapas (see pictures) – they were interesting…J  Our hosts for the Tapas were extremely nice – although they did not speak English they did their best to make us comfortable and were very patient with our fumbling and pointing.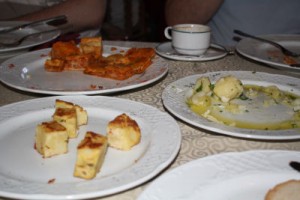 We headed back on the bus (there were now 10+ tour busses!!) we headed to Cape Trafalgar – "marking the bleak headland where Lord Nelson won the Battle of Trafalgar" – a quote from the Disney description…I couldn't have done it better…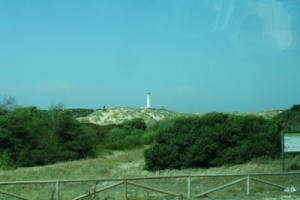 As before, a very nice ride through the countryside as we got closer it definitely felt like we were arriving at a national park type of area – very well maintained and obviously a source of national pride.    When we arrived we essentially parked at the side of the road close to the park area and after being warned we only had 30 minutes, walked the last ¼ mile.  The closer we got – the more sand we were inhaling.  As we got to the entry are of the Cape, we had to make our way around a bulldozer and dump truck.  The wind off of the beaches had been so bad recently that it had covered the walk ways and they were in the process of removing it.  As we moved down the path into the open, we were immediately assaulted by a spray of stinging sand.  I have to be honest, I really have to hand it to the people that live in or have to operate in desert areas – we were there 20 minutes and had sand everywhere!  Whining aside, once we did get out in the open, it was spectacular!  Huge expanse of sanded beaches with (I am assuming) locals flying massive para-kites in the wind.  Not sure whether or not they were actually controlling them or not, but there were dozens flying around.  The Trafalgar Lighthouse itself was far up on a cliff – too far for us to reach in the time we had, but it was quite a site.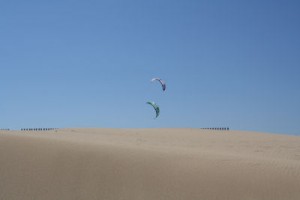 Our final stop today was Conil de la Frontera.   Here we had an hour to wander on our own.  Mic, Melissa and I found a little café and sat outside – enjoying a coffee and beer, watching the people.  The café was off the beaten track, up a narrow (aren't the all?) street.  There were a number of shops around so Melissa and I strolled and did some impulse buying.  Got a couple of postcards and stamps.  The people were very nice – and although there was a mis-match in language, we managed to point and "spanglish" our way without an issue.  Time got away from us a little while – so with some pushing and prodding from me (I hate being late to things), we found a post-box for the postcards, and quick-walked down to the bus – although we did stop along the way for snacks for Mic (with me impatiently tapping my feet), we managed to make it to the bus with no dirty looks from our fellow passengers.  (Mcnote: we were not even the last ones on the bus)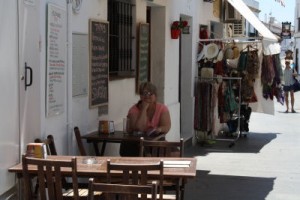 Then back to the ship – again a (thankfully) uneventful drive.  We thanked (and tipped) our tour guide and made our way on board.  After a two-hour break to recover from all the walking we headed out on our own little Cadiz walking tour.
For a while we wandered a bit aimlessly, making our way to the Cortez Plaza and the Constitution memorial.  We had picked up a map and after a few minutes of studying realized that they had walking tours defined on the map.  Differently color coded lines were on the map that indicated tours depending on your interest – medieval architecture, art, shopping, etc.  After a while we realized that not only were the color coded lines on the map, they were actually drawn on the street!  Now, this was my kind of walking tour – completely dummy-proof.  I pride myself on being able to read a map – what guy doesn't? – but this way I could look smart and have proof that we were going the right direction.  After briefly contemplating keeping it to myself so I could really look smart, I showed everyone and we were off.  It should be noted that all signs, site descriptions, etc were in English as well as Spanish.
We actually kept our tour of the City of Cadiz pretty short.  We eventually made a bee-line for the cathedral square and did a quick in-out look at the church.  We opted not to spend the extra euro (5/person) to enter the church and look around, which we later regretted…I blame our fatigue from earlier.  What we did see was breathtaking – the architecture is amazing, especially considering it was built in the 1600s!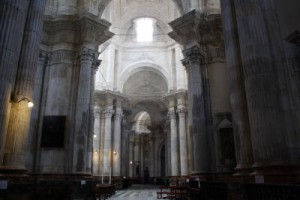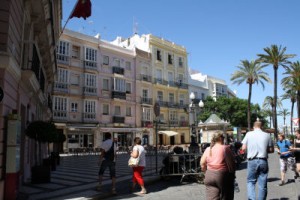 We wandered the streets, but realized that we were doing so during Siesta time which went until about 5/6 or so.  This is a time where the shops close and the owners take a break during the day.  It was pretty quiet, but very nice.  So we made our way to another street café, ordered coffee/beer and did some people watching.  After a while we made our way back to the ship for some more rest, dinner and Flamenco (and rainforest room)!
After a quick shower for final sand extraction, Melissa and I headed to the Flamenco show and Mic headed to the rainforest room for some well deserved relaxation time.
The show was amazing – this is my first exposure to live Flamenco and it was very cool.  The troupe was from Cadiz and obviously very passionate.  I don't have any reference to judge, but I thought they were amazing and I enjoyed the show very much!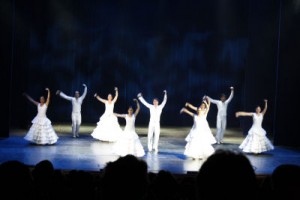 After the show we made our way to dinner – all the characters were dressed in their Flamenco finest!  Mickey, Minnie, Goofy and even Chip and Dale had gotten into the spirit!  McNote: I believe this is the night that Minnie came in and did some flamenco dancing in the dining room as well for us.
After yet another dinner in which we managed to eat ourselves silly…Chris and Ryan have moved up to ordering every dessert on the menu and at least 3 appetizers and entrees…  They are starting to rub off on the rest of us as well.  There are few couples at the table that are satisfied with just a single meal at this point.  However – the Disney kitchens are more than up to the task!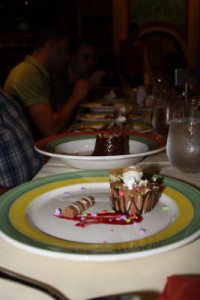 The ship was scheduled to leave Cadiz that night – so we went up on deck to watch the departure.  Cadiz at night was very pretty.  As the ship was pointed bow-in so we expected a bit of a back-up followed by a turn around…the harbor was pretty small.  However we were in for a surprise (at least I was), the Captain proceeded to turn the boat around in the harbor!  Honestly, the area did not look big enough for a ship the size of the Magic to be doing donuts in, but apparently our Captain (or a port Pilot) had a lot of experience, because we whipped around and they floored it – heading out of the harbor and to Gibraltar!
We headed to bed…McNote: I do seem to remember some playing of rummy on this evening with some of my table mates Ryan, Chris and Monique.
Incoming search terms:
https://www themouseforless com/blog_world/back-to-our-transatlantic-cruise-today-we-are-in-cadiz-spain/