This post may contains affiliate links for your convenience. If you make a purchase after clicking a link we may earn a small commission but it won't cost you a penny more! Read our full disclosure policy here.
My husband and I have been runDisney addicts for a couple of years now, so when our son was born we knew he had to accompany us on our first coast-to-coast journey!  Here's exactly what to expect at your child's first runDisney race.
Bib Pick-Up
Bib pick up for another person has been prohibited in recent years for runDisney races, but that restriction does not apply for parents who are picking up their child's bib for the kid's races.  In fact, the only information we had to have to pick up my son's bib was his name and birth date and he did not have to be with us for packet pickup.  I think getting his bib was actually easier than getting our own!
A very important note: Your child's bib will have a tear off strip at the bottom that the parent must have to "claim" their child at the end of their race before the runDisney staff will allow you to leave with the child.  This is required even if you run/walk the race with your child.  We had a family member run the 400m run with their child and they lost their "claim ticket" and the runDisney staff quizzed their child and the parent separately about the child's middle name, address and birthday before they let them take the child out of the secure area.  They're not joking around here!
What's Included?
The price of the kid's races are very reasonable! For the Avengers Half Marathon Weekend in 2015, the kid's races only cost $20 and, per the runDisney website, that fee includes a finisher's medallion, a t-shirt, a personalized bib and post-race refreshments.
The Race
Kid's races at each runDisney weekend are broken into different distances for each age group from birth to 13 years old.  The races include a diaper dash (only about 15 feet), 100m, 200m, 400m and a mile race.  We got a chance to watch the 100m, 200m and 400m runs and there were kids that sprinted the whole time and some who walked (and wandered) through the entire races – so all speeds are welcome!  And don't worry about leaving your child – almost every child in each race had a parent accompanying them (or chasing them!) during their races.  So wear your sneakers!
Our son was about 10 months old at the time, so he "competed" in the diaper dash division.  These races were probably the cutest thing I've seen – the field ranged from babies that were barely scooting around to those that were almost walking!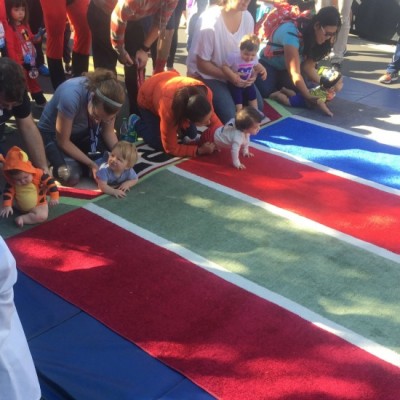 We're ready to race in the green lane!
The announcers did a great job of keeping the energy high and parents and family members were all yelling their child's name to get them to the finish line!  My son is an easily distracted baby so his race went a little like this: crawl forward a bit, turn around and crawl toward the baby in the Tigger outfit, look back at Mommy and crawl toward her for a bit, go back toward the finish line, etc.  But even with all of that he ended up finishing first!  So don't feel like your child is "holding up the race" – the point is to have fun!
My take:
The finisher's medallion is a rubber medal very similar in size and material to the medallions that 5k runners receive at any of the runDisney events.  So if you have an older child that's wavering between the 5k or the kid's races and they are going for the bling (and maybe you want to save a little money), go for the kid's races!
The diaper dash is often the last race of the kid's races.  So remember to check the schedule in the event guide to get a good idea of when your race will begin!  You don't want to get there too early then have to entertain your child for an hour and a half (like we did).
The runDisney website mentions refreshments for the kid's races but we did not see any after our son's race.  Of course, we may have just missed it, but the diaper dash was also last so I assumed that they had already packed up the snack table. If your child is expecting a snack afterward bring your own just in case.
Although the races are suitable for children from birth to 13 years old, the smallest t-shirt size was 2T.  My child is now 15 months old and he still cannot wear his shirt because it's so big.  So don't count on that shirt to be suitable right away if you have a baby!
Don't worry about your child being "focused" on the race – the environment on these races is very laid back so just have fun!
 Has your child participated in any runDisney kids races? What were your thoughts and experiences?