This post may contains affiliate links for your convenience. If you make a purchase after clicking a link we may earn a small commission but it won't cost you a penny more! Read our full disclosure policy here.
I first met my nephew when he was 2 weeks old. The first gift I gave him was a Pluto stuffed animal and I told him about all the Disney adventures we were going to have when he was older. As soon as he was born, I put in my one big request as an aunt: I wanted him to have his first haircut at the Harmony Barber Shop on Main Street USA!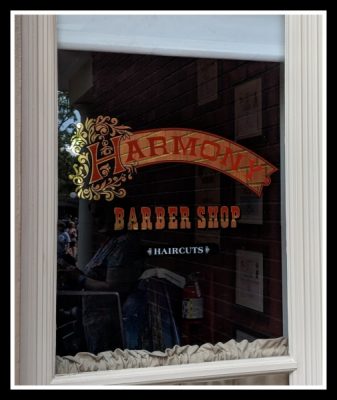 My brother laughed and agreed with my plan even though we knew that it would be a while before it happened. Over the next year and a half, I reminded everyone of my plan often.  (I wasn't giving up on this one!) Well, 18 months later, the magical day finally came. His appointment was set and we were off to the Magic Kingdom to say goodbye to that baby blonde! Not all of it, of course.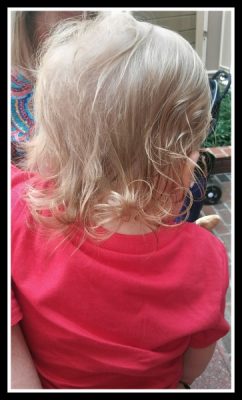 Planning Our Visit
Prior to our trip, I called to make an appointment at the Harmony Barber Shop. You can make reservations for many things at Disney World online, but for the barber shop, you have to reserve your spot by phone. They do take walk-ins sometimes, but it is best to make an appointment in advance. I had to give a credit card number over the phone to confirm our reservation, but didn't actually pay for the haircut until our appointment. When making the reservation, I chose the "first haircut package" and the cost was $25.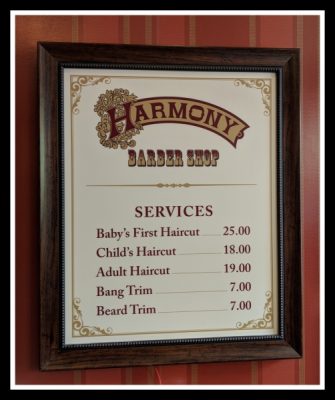 The Big Day
We arrived at the Magic Kingdom a little early for our 10:40 a.m. appointment and checked in at the Harmony Barber Shop. If you have never been there, this place can be easy to miss. It's tucked into a little corner of Main Street and is not very large. We waited outside since there wasn't much space inside.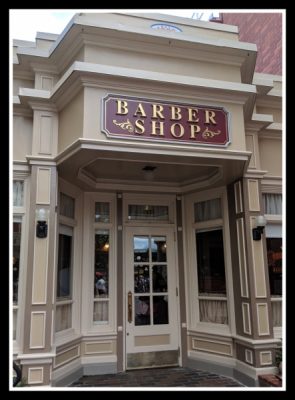 After a few minutes, it was Clayton's turn and in we went! The booster seat was already in the chair and ready. My brother plopped Clayton down and our stylist, Susan, went right to work.
Susan was fantastic! It was apparent that she had done this with many young children. We weren't sure what to expect and were a little nervous that he would be fussy with someone cutting his hair. He did great though! When he did get a little wiggly or antsy, Susan kept him entertained with a Sorcerer Mickey light-up toy.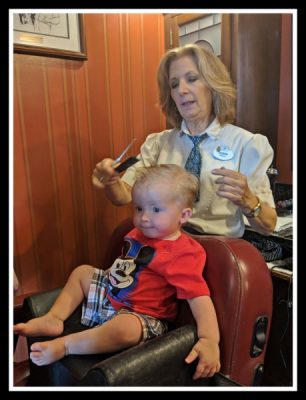 One thing to note, this is a true barber shop, not a salon. Stylists will spray water on hair to aid with the cutting, but there are no sinks or shampoo. This is why you will mostly see young guests or guests with short hair getting cuts.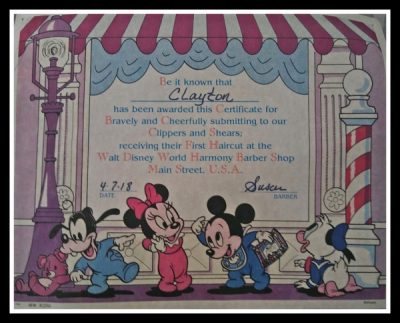 Susan was speedy and it wasn't long before the haircut was done and we were all snapping photos of Clayton's brand new do! Susan even coached us on where to stand to get the best pictures and set up some extra cute shots for us. At the end, Clayton received Mickey ears with "My First Haircut" inscribed on the back. He also received a certificate commemorating the occasion.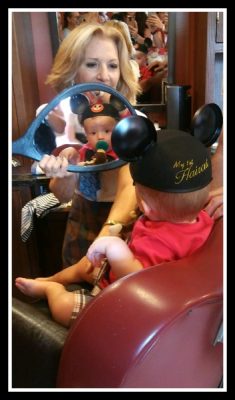 We thoroughly enjoyed taking my nephew for his first haircut at the Harmony Barber Shop.  A baby's first haircut is a big occasion! Disney does a great job of making the experience fun and memorable. I would highly recommend the experience to anyone considering it!
Have you had your child's first haircut at the Harmony Barber Shop? Share your experience in the comments, or on Facebook or Twitter.
Did you like this article? Make sure to share it with your friends! Check below for easy ways to share!