This post may contains affiliate links for your convenience. If you make a purchase after clicking a link we may earn a small commission but it won't cost you a penny more! Read our full disclosure policy here.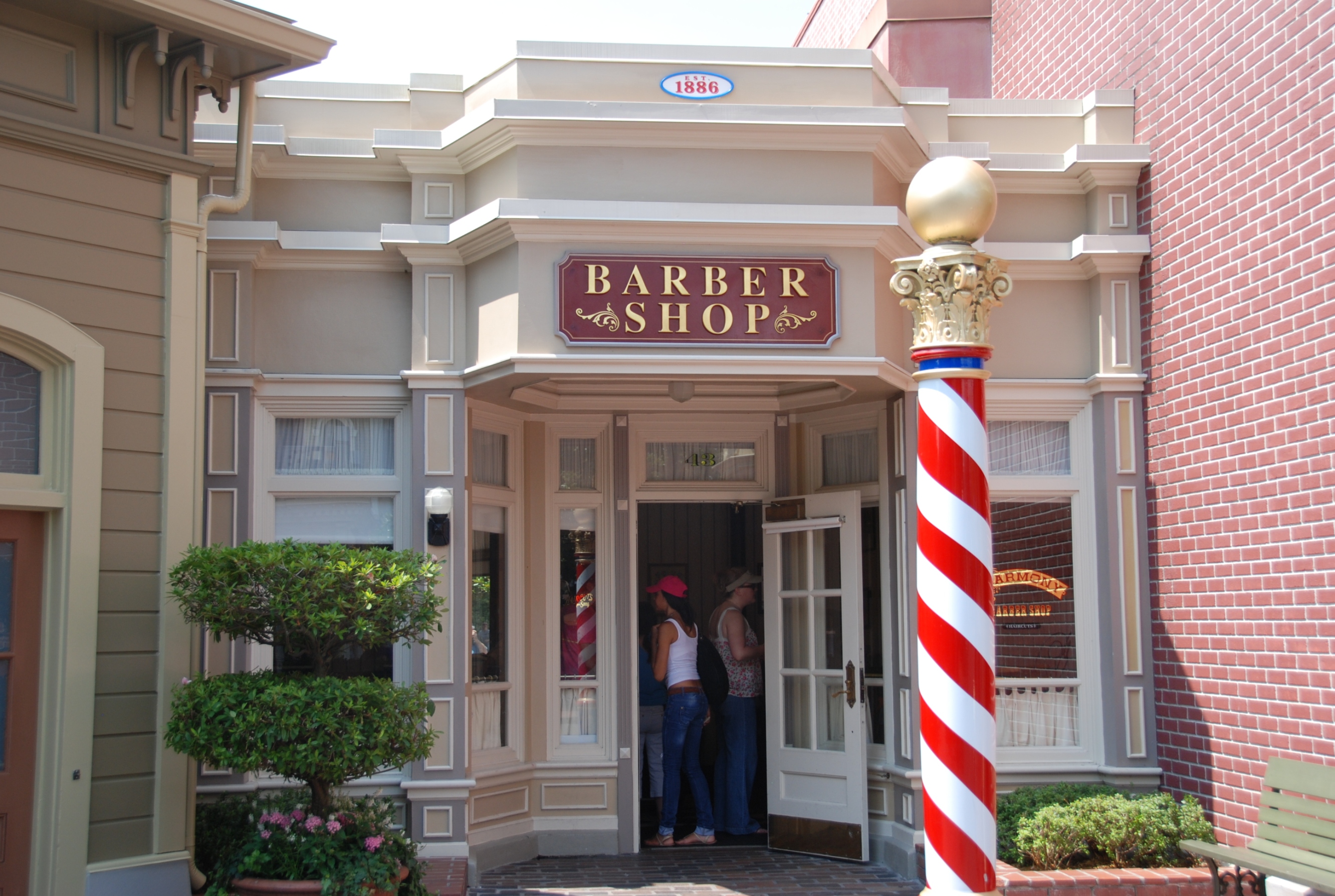 When we were planning our first trip to Disney World with our kids my second job became researching all the little things that would make the memories extra special.  One of those little things that I found was information about the baby's first haircut at the Magic Kingdom.  At that time our trip was more than 6 months away and my baby was not even a year old yet and barely had a hair on his head, but I knew without a doubt that his first haircut HAD to be at the Magic Kingdom Harmony Barbershop!  This is one of those experiences that sounds like a bargain when considering you are at Disney World and the bonus is a milestone in your baby's life.
Before I tell you about my son and nephew's first haircuts, I will fill you in on what the current prices are and what you receive for your money.  According to a few websites that I checked my facts on, for $14.00 baby will get his or her first haircut, the barber will assist you in saving that first curl, give you a commemorative certificate, and my favorite part is the embroidered Mickey ears that say "First Haircut" on the back!  Yes, all of this, plus all the pictures that you care to take really do make one of the best memories.
The two times that I have been were before the availability of appointments, which in my opinion, complicates matters.  I knew that my son's haircut was going to have to be after a nap, when he wasn't hungry, and preferably when there wasn't a line of people out the door (which I guess is eliminated by the appointments).  If you have a small child you know that if you have an appointment it is highly unlikely that all of these things are going to happen at that time.  Regardless, this is one of those once in a lifetime experiences not to be missed.
For Clayton's first haircut we were in the Magic Kingdom all morning, had lunch, and then he fell asleep in the stroller for awhile.  When he woke up he was in a pretty good mood and our afternoon was not planned out so we wandered over to the barbershop to see if there was a line.  Lucky for us there was not a line, so I added our name to list and waited for the next seat to become available.  (Just a side note, the barbershop is kind of small.  There are only a few chairs to sit in and strollers really do not fit so plan on leaving it parked outside.)  Clayton's name was called and I placed him up on the chair (they have a booster attachment that elevates the child) and Penny began preparing him for his first haircut.  She noticed that he was a bit restless so she pulled out a roll of Mickey stickers and literally covered him with them.  As he focused his attention on pulling off the stickers, she proceeded to trim his hair, carefully saving the first clip and putting it in a baggie that she sealed with another Mickey sticker.  She was very confident in her skills and that made all the difference as Clayton lost interest in the stickers and started to lose patience.  Penny produced a bottle of bubbles in a flash, handed them to me and instructed me to blow bubbles as she finished up.  Before I knew it she was pulling out the Mickey ears and slipping them on Clayton's head for the "after" pictures.  Even though Clayton did not have a lot of hair and probably could have gone a few more months without a haircut, I am so happy that his first haircut was at the Harmony Barbershop.  It is one of my favorite memories.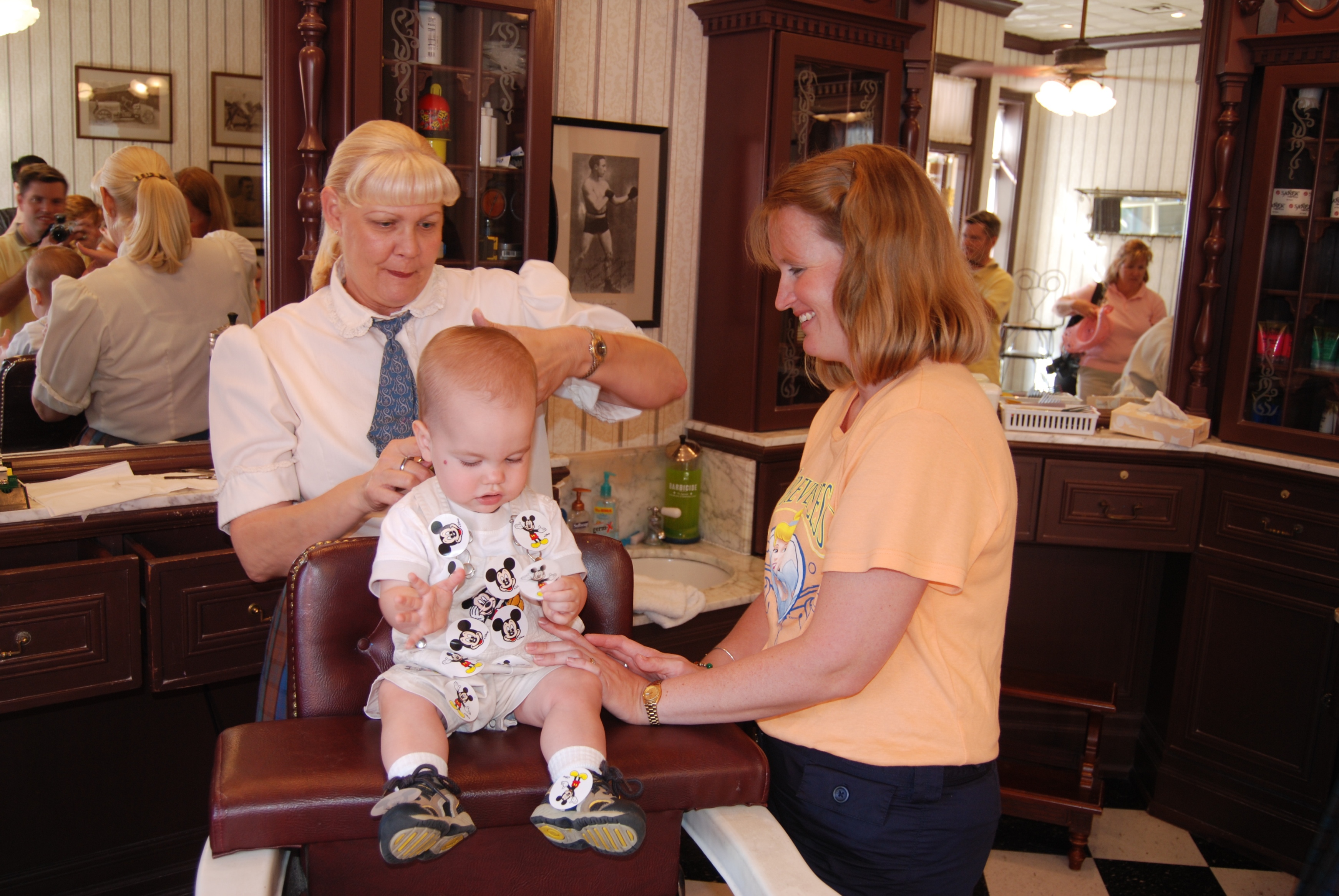 Flash forward two and a half years and my sister has her own baby boy and we are once again at the Magic Kingdom waiting in a modest line for Ryan's first haircut.  Ryan was a little skeptical when placed on the barber seat, but he was a little more willing to sit still as Nick worked his magic.  In the blink of an eye (okay, maybe about 5 minutes) his first haircut was over in pretty much the same fashion as Clayton's had been a few years prior.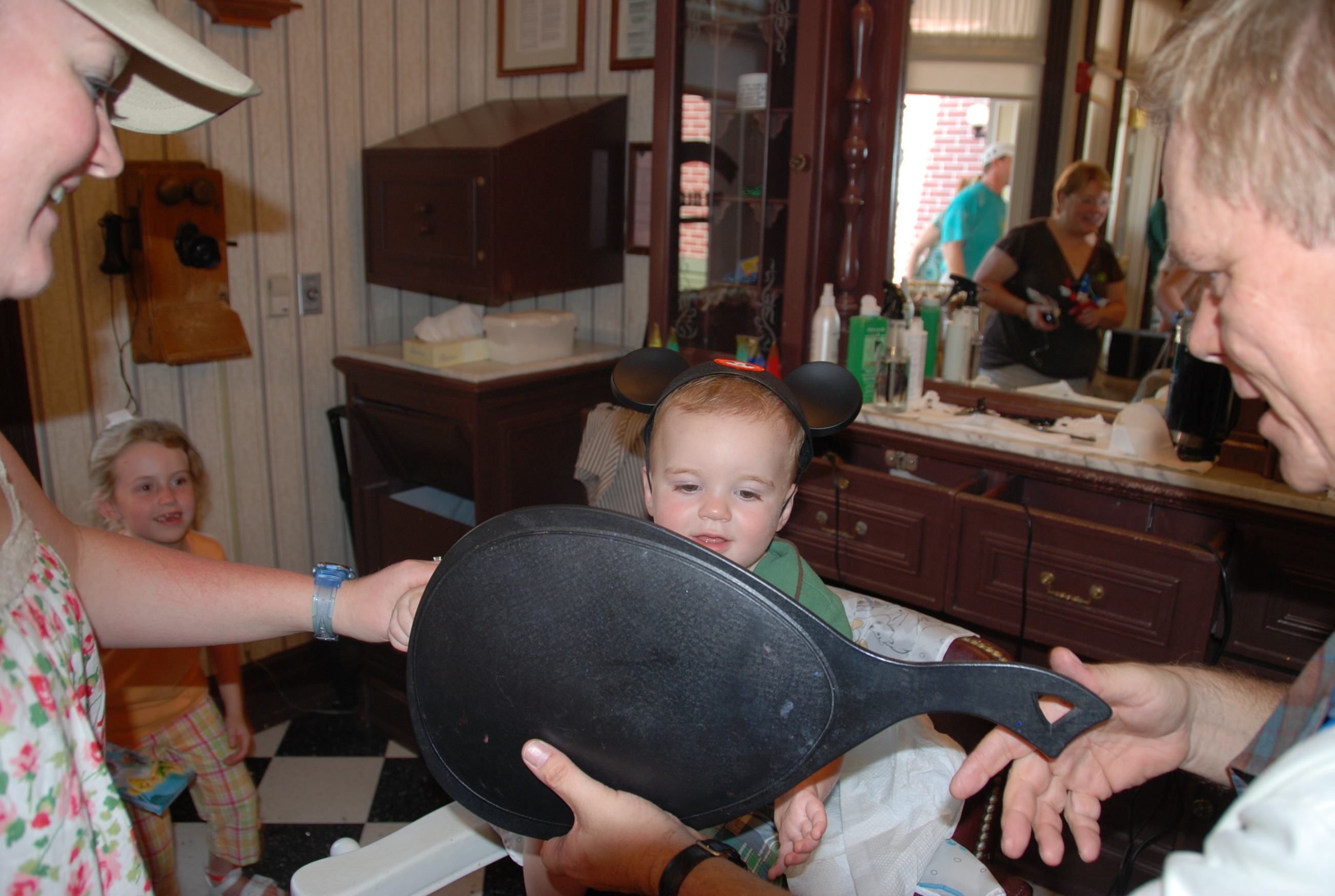 We have a trip planned for June 2011.  My new baby boy, Colin, is almost 18 months old as of this writing.  I am sad because I know that he is going to need a trim long before our trip, actually he needs a haircut now, but I keep putting it off the inevitable.  My thoughts are that if I put it off long enough, my husband can trim the edges here at home when we cannot wait another day, and then when we go to Disney World, Colin's first "barbershop" haircut can be at the Harmony Barbershop, just like his big brother and his cousin.  It has kind of become a family tradition and I do not want him to miss out!