This post may contains affiliate links for your convenience. If you make a purchase after clicking a link we may earn a small commission but it won't cost you a penny more! Read our full disclosure policy here.
From Our Magically Speaking Newsletter Archive – subscribe today!
By Teresa Pitman
If you haven't been to Disney's Animal Kingdom for a while, you'll be in for a little surprise next time you go. Two little surprises, actually: in the past year, two new gorilla babies – both boys – have been born into the gorilla family troop that guests see when they follow the Pangani Forest Exploration Trail.
Baby Cory was born in August, 2014, to a new female who had joined the troop. Disney works with the Association of Zoos and Aquariums in determining which males and females from all the zoos in the network should be permitted to mate, to reduce the risk of genetic diseases in their offspring. This female came from the San Diego zoo.
In September, baby Flint was born. He already has a big sister, four-year-old Lily, who is naturally very curious about both babies but also a little put out that her mother has less time to play with her. (Human parents, recognize anything here??)
I had my first chance to see them when I visited WDW in February of this year, and I was completely charmed. Cory's mother demonstrated how effectively her baby can cling to her body as she moved quickly around their living area. Flint's mother came and sat by the window as she carefully checked him over, lifting up each little arm and leg to make sure all was well; Lily then joined them and she and Flint played a kind of peek-a-boo game over their mother's back. Gino, the big silver-backed male and father of Lily, Cory and Flint, took up a watchful position nearby.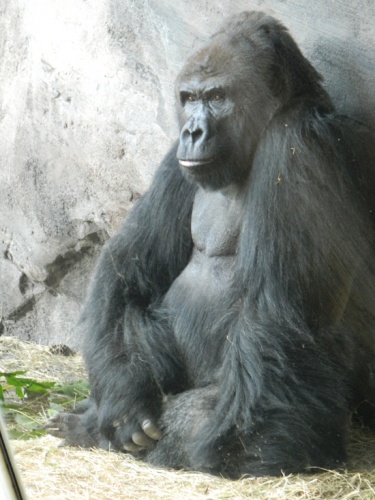 It's a rare opportunity for visitors to be able to observe a gorilla family in relatively natural surroundings. In the early months, the mothers keep their babies close to them all the time. Once the baby is able to move around on his own, she'll still keep him close by, but he'll begin to interact more with the others in the troop.
Like human babies and toddlers, the gorillas like to play with toys. I've watched Lily drape a blanket over her head and run around looking like a Halloween ghost, or pile rocks and twigs in a bucket, then dump them out again. Once Flint and Cory are more mobile, they'll be provided with toys, too.
Dr. Jackie Ogden, Vice President, Animals, Science and Environment, Disney Parks, told me in a recent interview about some of the gorilla conservation work Disney is involved in. Ogden's graduate research was on gorillas so they have a special place in her heart. Disney has partnered with others to build a gorilla sanctuary in the Democratic Republic of the Congo for orphaned or rescued gorillas with the goal of preparing them to be released back into the wild.
"The community is very remote, but the local people are very enthusiastic about the sanctuary. Most of the staff working there are local," she says. Not only are the gorillas in need of help are cared for, but there is also an emphasis on education for the community, and of finding alternative sources of work and food that doesn't involve hunting or harming endangered species.
"Our gorillas here in the park are helping their cousins in Africa," Ogden says. "Guests are encouraged to donate to conservation causes or purchase items made in Africa."
Disney received re-accreditation by the Association of Zoos and Aquariums in March 2015. Ogden quotes from the Association's report on the Disney Parks blog:
"The level and commitment to animal care sets the gold standard for our community. Veterinary, nutrition, training, browse program and enrichment programs are state of the art."
"The keeper staff is professional, passionate and engaged."
"Overall safety culture is extraordinarily strong across the organization, and staff training exceeds all expectations."
"Disney's Animal Kingdom staff has been successful in making conservation a key value of The Walt Disney Company. The current positive impact and future potential of this change cannot be overstated."
"New interpretive programs, including Wilderness Explorers and Wild Africa Trek, add both breadth and depth to program offerings."
As an animal-lover, knowing that Disney is providing good care to all the animals – not just the gorillas – makes me enjoy my visits that much more. If you go soon, be sure to say hello to Cory and Flint for me. And take the time to chat with the cast members in the area – I promise they will have some entertaining stories about the gorilla babies to share with you.
Magically Speaking Featured Article
Library of Congress ISSN:1556-3863