This post may contains affiliate links for your convenience. If you make a purchase after clicking a link we may earn a small commission but it won't cost you a penny more! Read our full disclosure policy here.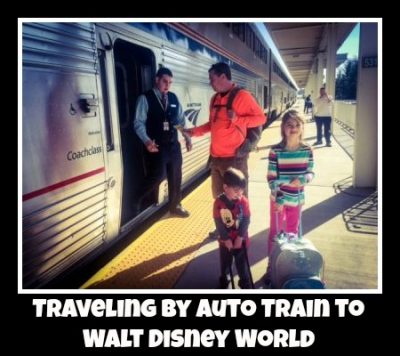 If you live in the northeast, you know that there is one major obstacle keeping you from spending more time at Walt Disney World in Florida:  geography.  (Okay, and money, but we'll save the money saving tips for another blog post!)  No matter how you get there, it is a long journey.

If you fly, you can arrive in a few hours, but you also have to account for the time to check in, get through security, and claim your bags on the other end.  Also, if you are traveling with young children, there is the extra added stress of keeping them seated and entertained on the plane for long periods of time.  Once you arrive you are then faced with either renting a car or relying on Disney or another transportation company to get from the airport to your resort.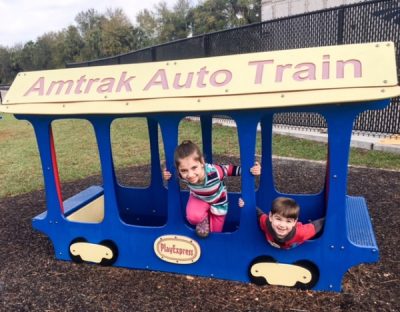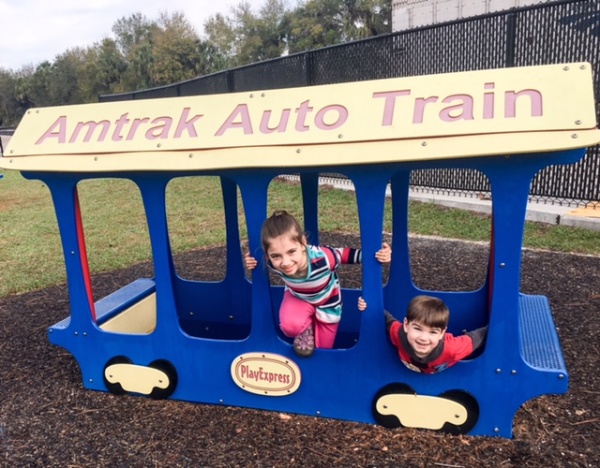 Driving allows you the freedom of traveling at your own pace and schedule, but all that time strapped into car seats does not make for happy travelers.  When you factor in the wear and tear on your car, plus the cost of gas, food, and possibly lodging along the way, driving probably doesn't save as much as you think it might.  
For our most recent journey to Walt Disney World, we decided to try the auto train.  The idea was appealing – we could load all of the stuff we wanted to take into the car, not worrying about how much our suitcases weighed or how many ounces were in our toiletries.  We had lots of room for princess dresses and pirate gear, and we would have our own transportation available when we arrived in Florida.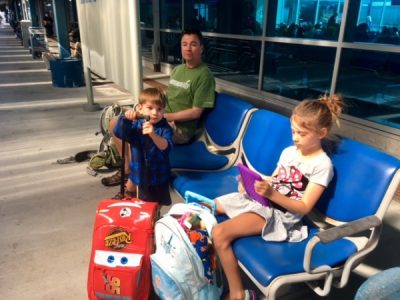 We live about 2 hours from the departing station in Lorton, Virginia.  Check in was scheduled from 11:30 a.m. – 2:30 .pm.  We arrived at the station around noon.  The check in process was smooth, and much less stressful than checking in at the airport.  We were told to gather any belongings we needed for the night, and directed to where to leave our car.  It was loaded onto a train, and we were directed inside the station where we officially checked in and selected our meal time.  The train wasn't full, so there were only 2 meal times, 5:00 p.m. and 7:00 p.m.  When the train is full, as it was on our return trip, dinner is offered at 5:00 p.m., 7:00 p.m., and 9:00 p.m..  One advantage to arriving early to the station for check-in is that you get to choose your meal time.  If you get there later, you are stuck with whatever time is available.  
We were then free to wander until the last boarding call at 2:45 p.m.  We found a few fast food restaurants about a mile from the station, so we walked over there and had lunch while we waited.  There was also a fun train/climbing area for the kids to blow off some steam.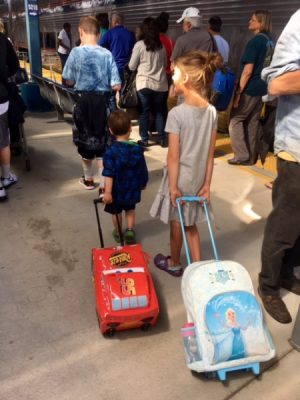 We each packed one bag to take with us on the train… backpacks for the adults, and rolling bags for the kids.  We made sure each pack included:
* toothbrushes and toothpaste,
* refillable water bottles,
* electronics (kindles, ipads, phones, etc),
* chargers (there is an outlet available at each set of seats),  
* headphones (your neighbors will thank you!)
* books,
* pillow and blanket,
* snacks,
* ear plugs  (for the adults)  
* removable stickers (we got a set of colorforms – my kids loved putting them on the train windows, and they were easy to remove before we disembarked)
* a few small toys
* a stuffed buddy to sleep with (for the kids, I left mine at home 😉 )

I noticed other families had card games, which I made a note to bring along next time.  I also noticed that some people were loaded down like they were going to be living on the train for a week or two – traveling light definitely made for a more enjoyable journey for us, so keep that in mind when packing.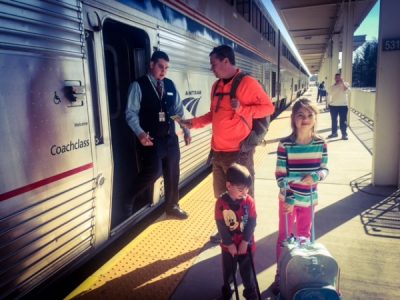 The train departed at 4:00 p.m.  We loved the freedom of being able to get up and wander around the train.  My children loved that they could "kick" open the doors between the trains with the foot press button.  There was a lounge car, with coffee, tea, hot chocolate, and water available throughout the trip.  They also sold snacks and beverages at certain times throughout the trip.
Since we were traveling with 2 children, ages 2 & 8, we decided to opt for the 5:00 p.m. dinner seating.  In retrospect, we would have rather preferred the 7:00 p.m.  We were still enjoying the newness of the experience and the scenery at 5:00 p.m. when we were called to dinner.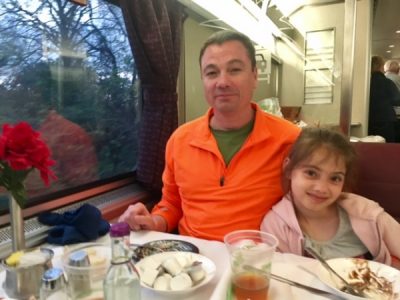 Dinner is included in the cost of the train ticket.  The meal was a choice of beef, chicken, fish, or pasta.  Each was served with 2 sides (mixed veggies, rice, mashed potatoes).  The only kids meal listed was chicken tenders, but my 8 year old ordered the pasta with meatballs from the adult menu.  Each meal also included dessert:  cheesecake, sugar-free jello, or ice cream.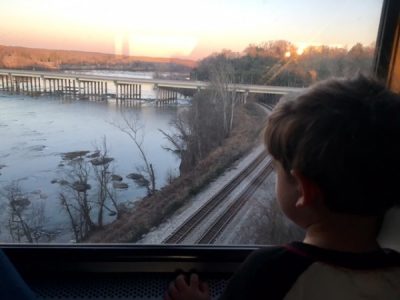 The dining car was probably our favorite part of the trip.  There was just something quaint and almost nostalgic about sitting at a table dining as the world flew by outside our window.  I definitely would not have enjoyed the 9:00 p.m. seating as much, when it was dark outside and you did not have the wonderful scenery to enjoy.  
After dinner we all watched a movie and then tried to get some sleep.  The kids decided to curl up on the floor with blankets and pillows.  The seats easily have at least a foot more floor space than airline seats, so they had plenty of room to flop around.  I will say that trying to sleep with all of the people, electronics, doors opening and closing, and other noise was probably my least favorite part of the trip.  I didn't get much sleep.  I was really glad I had ear plugs along, otherwise I wouldn't have gotten to sleep at all!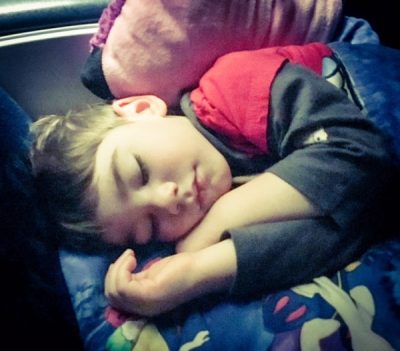 We arrived at Sanford, Florida, about an hour from Walt Disney World, at roughly 9:00 a.m. the next morning.  We had to wait until almost 10:30 a.m. for our car to be unloaded, but there is a nice little playground for the kids while you are waiting, and my 8 year old also had fun visiting the various pokestops on property.    
The return trip followed roughly the same schedule – check-in from 11:30 a.m. – 2:30 p.m.; boarding by 2:45 p.m., a 4:00 p.m. departure, and arrival back in Virginia at 9:00 a.m. the following morning.

The journey back was extremely cold.  I'm sure the colder outside temperatures up north were a factor; if you are traveling in the winter months, make sure you bring a jacket and blanket.  
We didn't arrive at the Sanford station until 1:45 p.m. to check-in for the return trip, and the 7:00 p.m. dinner was already full, so if you are concerned about your dinner time, make sure you arrive early.
On both legs of the trip, it seemed that they intentionally seated adults in certain cars, while seating families together in other cars.  This was nice for several reasons.  We didn't need to worry about our children making noise and disturbing other passengers as much because everyone in our area also had kids along.  Plus our children made friends with others nearby, which helped pass the time as well.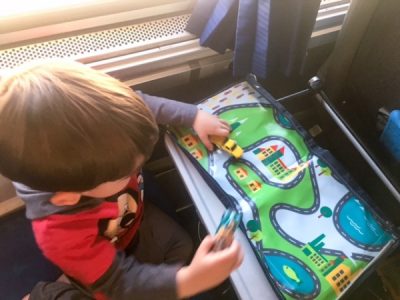 We only had one negative experience on the train.  While we were at dinner, someone stole my husband's travel pillow off of his seat.  We were careful to stow our electronics, and I took my purse to dinner with me, but apparently some other traveler forgot to bring a neck pillow and decided that he needed it more than my husband did.  So if you are going to be away from your seats, make sure you stow your items in the overhead bins, away from prying eyes and sticky fingers.  
Overall, the auto train was a wonderful way to get to Walt Disney World.  It was so much less stressful and less confining than flying, especially with a toddler.  Plus you have the luxury of having your own vehicle and all of your stuff ready and loaded when you arrive in Florida.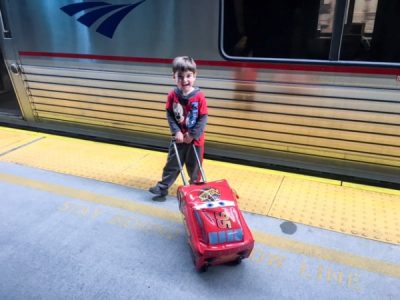 Have you tried the Auto Train from the northeast to Florida?  Any other advice to share with our readers?  Share in the comments.

Incoming search terms:
auto train to disney
auto train good for kids