This post may contains affiliate links for your convenience. If you make a purchase after clicking a link we may earn a small commission but it won't cost you a penny more! Read our full disclosure policy here.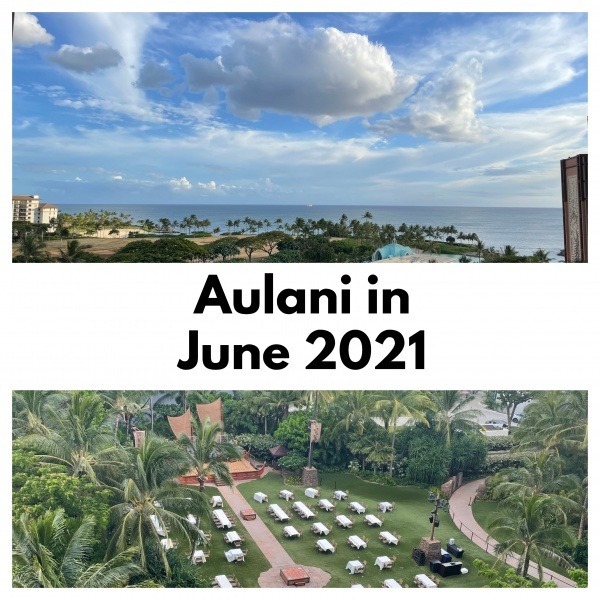 After Covid forced our family to postpone our family Hawaiian vacation in June 2020, we jumped into planning the trip for June 2021.  Even with the uncertainty and unknown of what travel restrictions would look like a year out, we went ahead with planning.
Booking a Room
I booked the trip using DVC points exactly 7 months out from the check-in date.  Even with jumping online right as the window opened at 8am, I was forced to reserve an Oceanview Studio rather than a Standard, Island Gardens, or Poolside Gardens view.  Due to our cancelled trip in 2020, I had plenty of points, but had wanted to save the points for a future Disney World trip.  However, I wasn't going to protest spending four nights in an Ocean View room in Hawaii.
Planning Activities
Having to cancel a fully planned trip for June 2020, I already had an idea of what we wanted to do.  Most important on my list of activities not at Aulani was making a visit to Pearl Harbor to see the USS Arizona Memorial.  By chance, I was able to make reservations about a month ahead of time due to a change in the scheduled release of tickets.  Visitors can reserve a ticket in advance for $1 per person.
The other "must do" on my list was an Aulani character breakfast at Makahiki.  Unfortunately, Auluni changed their rules on when resort guests could make reservations and I missed it- so I was unable to make this reservation.
With the time difference putting Hawaii 6 hours early than what it is on the East Coast of Continental United States, we planned as many of our activities for the morning as possible, knowing that we would be up.
I also planned one full day as a resort day.  Other activities on the list included a visit to the Dole Plantation and hiking Diamond Head.  I figured even with these small excursions, I would allow plenty of time for just enjoying the resort.
Pre-Arrival to the Airport
The big pre-arrival item was getting through the Hawaii travel restrictions.  As we planned this trip, the restrictions we faced went through many changes.  We started off expecting to need a pre-arrival negative COVID test, followed by an additional negative test before each island hop (we were planning to visit all four of the main Hawaii islands).  Ten days before our departure the governor of Hawaii updated that Health order to one that would only require a pre-arrival negative COVID test.  This made the planning and feasibility of the trip that much easier.
We scheduled our COVID tests at our local Walgreens store for 3:30pm on a Friday afternoon.  By 8pm that evening we had our negative results in hand and could upload them to the Hawaii Safe Travel (https://travel.hawaii.gov) site.  Appproximently 20 hours out from our flight, we answered the pre-arrival screening questions and received a QR code via email.  To be on the safe side, we printed copies out of our negative COVID tests and the QR codes so that we didn't have to worry about any technology problems upon arrival.
At the Airport
We were able to be Pre-Cleared due to the Covid restrictions by a Southwest gate agent.  This involved waiting in a slow moving line where the gate agent would scan our QR code, compare it to our ID, and then if everything looked good, put on a red bracelet that said "Southwest Pre-Clear" on it.  This service only works if everyone in your party has had a negative COVID test uploaded to the Hawaii Safe Travel website, has all of the flight information correct, etc.
Don't panic if something isn't correct and you need to fix it.  In my party of 3, I had to go in and change the flight number on one of the trips because I forgot to update everything after Southwest changed our flight times and numbers two months out from our actual date of travel.  It seemed as though pretty much every party was having some sort of problem- some issues were smaller and the gate agent was willing to wait as you fixed them, others much larger and you were handed off to a second gate agent who was available to help you fix the problem.  One potential issue seemed to be families traveling with children who weren't required to show negative COVID tests, and therefore weren't eligible to be pre-cleared.  As all the members of my party were adults, I can't speak to what the procedure was like for those families after landing.
On the Plane
We flew Southwest Airlines both to and from the island, including the hops between the islands.  On the way there, we were treated to a large snack bag that contained fruit snacks, wheat thins, dipping cheese, and tic-tacs along with a sweet treat of brownie crisps later in the flight. When the larger snack bags were distributed, they did drink service and offered water later with the brownie crisps.  Between the two services, flight attendants also distributed Hawaii Department of Agriculture forms (https://getconnected.southwestwifi.com/static/forms/form_LIH.pdf ) that allowed each household to declare any plants, fresh fruits or vegetables, or animals that they were bringing to the island.  Flight attendants collected all of these forms prior to landing.
On the Ground at the Airport
Step one at the Airport was picking up our luggage from baggage claim.  Step two was getting the rental car.  As a result of some careful planning, two members of our party went to baggage claim while I was off to the rental counter.  For those who are unaware, there is currently a rental car shortage nationwide, so I was just hoping that there would be a rental car available.  We actually had no problems getting a car and I was able to walk up to the counter and then drive away.
Pro tip for families: send one person after the car while everyone else grabs bags and then wait at the curb while the driver comes around to pick everyone up.  This is especially helpful to avoid getting everyone and their bags on a shuttle.  You can do the same on departure- dropping everyone and their bags at the airport and having just the driver return the rental car.
Arrival at Aulani
We drove to Aulani and arrival was flawless.  A Cast Member in the driveway directed us where to park, bell services took our bags, and a valet drove our car away.  I then went in to complete the actual check-in process.  Even though I had done the online check in and due to a delay from our plane, we were arriving after 5pm when check-in time was 3pm for hotel guests and 4pm for DVC guests.  There were several people ahead of me in line and it didn't move very quickly as Aulani had to do a Safe Travels check of each guest- including having every adult present to show their ID and their Safe Travels account with the verified negative Covid test.
We made it through check-in process and went to our first room.  Despite having an Ocean View, we weren't able to see the ocean due to a large palm tree blocking the center of our view.  There was a partial ocean view on either side that wasn't blocked by the palm tree, but it wasn't the view we were expecting.  A phone call to guest services resolved the issue and they switched our room to one with a full ocean view.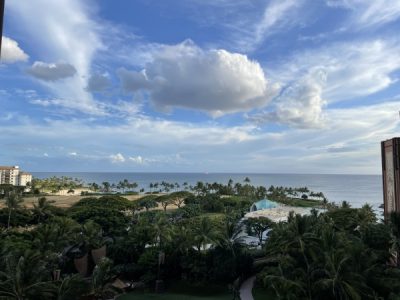 Water Activities at the Resort
If you love the water, Aulani has plenty for you to do.  A beautiful beach area that is protected by rocks allows access to the ocean.  There's also snorkeling in Rainbow Reef and pools!  There's an adults only infinity hot tub, a lazy river, two water slides, several pools, and a kid's water play area.  We never had a problem finding chairs- and if you do, just ask one of the pool attendants- they are awesome and happy to help find you a place to sit.
Off resort excursions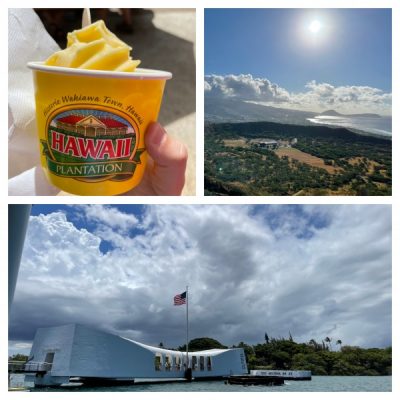 We successfully completed off resort trips to Diamond Head, The Dole Plantation, and Pearl Harbor Memorial.  We scheduled Diamond Head to be first thing in the morning (Be warned- parking here was the most difficult of any of our entire time in Hawaii!)  and were able to climb this and be back in our car in about 2 hours.  This is not an especially difficult climb, but you will want a shower afterwards as it is warm and a lengthy experience.  Make sure to use the restrooms before starting the climb as there are none during the hike.
For the other two excursions, we arrived at the opening of the Dole Plantation.  There was a posted sign saying that the wait to ride the train (the main attraction) could be up to 2 hours.  We were lucky enough to get on the first train of the day and by the time we returned 20 minutes later, we could see that there was easily 3 trains worth of people waiting.  The Dole Plantation doesn't sell tickets ahead of time, so arriving early and making the train your first stop is your best bet for saving time.  As we were all adults, we skipped the maze and garden tour, but it is easy to see why the maze appeals to kids!
We had reserved our Pearl Harbor tickets for 12:45pm, so after wandering the gift shop and enjoying a Dole Whip, we drove off to the Pearl Harbor Memorial.  The biggest item of note when visiting here is that security is tight- no bags of any size are permitted inside.  You have the choice of renting a locker for secure storage or leaving your bag in your vehicle.  Do not be the person who ignores this and gets all the way to the entrance and then has to turn around and go back your vehicle.  There seemed to be plenty of available parking if you are willing to wait patiently and look around for a spot.  Walking through the history exhibits, you're transported back in time.  Even in Covid times, the exhibits had interactive elements and videos showing.  Regardless if you're a history buff or just have respect for those who served in the military, the exhibits take approximately 30 minutes to walk through, read, watch, and explore.  The historians have done a great job of bringing together not just the American perspective, but also gathering Japanese documents and displaying a diverse American perspective (both gender and racially diverse).  The exhibits were fascinating and I could have spent more time there, but our scheduled departure time awaited.
At 12:20pm we were waiting outside of the theater.  We were able to join the 12:30 group due to various ticketholders in that group not showing up, so we embarked slightly early for our short boat trip to the Pearl Harbor Memorial.  Due to Covid, there was not actually a movie being shown in the theater, so we were ushered single file through the theater and onto a boat.  Two young men decked out in their Navy Dress Whites were responsible for ferrying us over to the Arizona Memorial.  It was truly a chill-invoking moment to realize that just below our feet, hundreds of men had perished in this attack.
Covid Protocols
Aulani staff members were wearing facemasks the entire time.  Anywhere that glass could be in place to separate guests and staff members, it was.  There would occasionally be longer waits for the elevator since there were signs posted requesting that elevator capacity be reduced to promote social distancing.  Masks were required of guests at all times.  In my opinion most guests were great about following the rules in every situation except when they were coming from the pool, getting in the elevator, and going up to their rooms.  Overall, Aulani felt very safe.
Overall Takeaway
Aulani is an amazing destination resort.  If you're a Disney fan going to Hawaii, it should be on your to-do list.  Of the various resorts my family visited, it is truly one that catered to kids- so take that into consideration with your planning.  If we were going to do our trip over, we would probably spend fewer nights at Aulani and then followed it up with 2 or 3 nights in Waikki so that we would be closer to the main tourist attractions on the island.  But we would make a point to return to Aulani, even if it was to float in the lazy river for a few hours.
Have you visited Aulani? What are your tips for staying at this resort? Let us know in the comments or on Facebook or Twitter!
Did you like this article? Make sure to share it with your friends! Check below for easy ways to share!  
Want to visit a Disney Destination? Contact The Magic for Less Travel for more information and a free, no-obligation quote.

Incoming search terms:
2021 disney aulani review
disney aulani blogs