This post may contains affiliate links for your convenience. If you make a purchase after clicking a link we may earn a small commission but it won't cost you a penny more! Read our full disclosure policy here.
By Rikki Niblett
I'm guilty of it so I know you must be too!  With a place the size of Walt Disney World there are always going to be some attractions that have to be dropped…that you simply aren't going to make it to.  Unfortunately, that's just how it works.
I realized it myself on my last trip as I was walking past Swiss Family Treehouse.  It had been multiple trips since I stopped by for a visit so I decided to pop in and enjoy this great distraction found in Adventureland.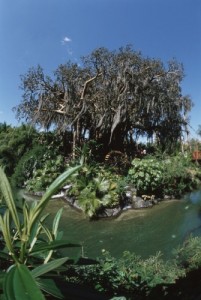 However this quick jaunt got me thinking. There are some attractions that you should make sure to visit every so often.  Some of these are lesser known and don't necessarily have universal appeal. They do have merit and heart and shouldn't be missed trip after trip.  These are the attractions you are probably missing at the Magic Kingdom.
The first attraction, of course,  the one I'd previously mentioned.  The Swiss Family Treehouse is a great "little" attraction with amazingly detailed sets themed after the movie Swiss Family Robinson.  In addition, it has incredible views from the top.  Do keep in mind that it is a walking tour and there are quite a few stairs. Since it's shaded in places it's a great attraction to hit in the middle of the day when crowds are high.
The Country Bear Jamboree is plain, simple and an all around fun attraction.  Some think it's a bit dated but it's got just enough kitsch to make it a must do.  Join audio-animatronic bears Henry, Liverlips, Big Al, Wendell, Trixie, and others as they sing country songs that harken back to days of yore.  One reason that many don't like the show is that some songs are a little "suspect" in this day and age but it's all done tongue-in-cheek and people shouldn't be offended by it's (bear) nature.  Well folks, thanks for bearing with this one to the bear end and bear-el around to see them again on your next visit to the park. (Editor's Note from  Chris: Oh, Rikki…I'll never forgive you for this one! LOL)
If you head over to Frontierland you'll find another commonly missed attraction;  Tom Sawyer Island.  I think this one is skipped because you have to take a raft over to the island.  Once you do, though, the area is chock full of places to explore and run wild.  It is great for families with kids because everyone can explore at great lengths.
Liberty Square Riverboat is one that I just recently crossed off my bucket list. It is one of the few attractions in the Magic Kingdom I had always missed because of timing (it's only run during daylight hours) and due to the length (it clocks in at around 25 minutes).  This riverboat ride takes you along the Rivers of America and has views of Frontierland and Liberty Square you won't see anywhere else.  It's simply fabulous.  My suggestion is to take the last voyage at sunset.  The view is even more incredible.  Crowds are always minimal here, so if see you the boat pulling up, get in line.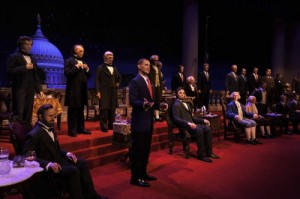 The Hall of Presidents is another one of those audio-animatronic shows that everyone's heard of and will, more than likely, see at least once.  If you haven't seen it lately, you are missing out.  The show has been redone to include a very moving film as well as speeches from George Washington and Abraham Lincoln.  (The film is narrated by the great Morgan Freeman … who seems to narrate everything now.)  You will automatically feel a touch of patriotism during the roll call.  This is the closest we'll ever get to "seeing" all of the presidents in our lifetime.  Sure, they aren't actually real but it still has a ton of power behind it!
The Tomorrowland Transit Authority Peoplemover is well known among the Disney community as one of the best attractions to relax on.  If you're more of a Disney newbie you would, more than likely, just skip this attraction.  If you fall into that camp you are making a huge mistake!  This attraction's entrance can be hard to find, which may cause you to miss it.  It can be found in the same plaza area as The Lunching Pad and is close to the entrance to AstroOrbiter (another commonly skipped attraction, in my opinion). The TTA or Peoplemover, as it's known, is an amazing option for just sitting back and relaxing.  It takes you on the grand circle tour of Tomorrowland, taking you through Space Mountain and with a look into Buzz Lightyear's Space Ranger Spin and the shop Mickey's Star Traders.  It is the nicest 10 minutes in the park that you'll have and, if it's not busy (which it commonly isn't), they'll let you stay on and go around and around and around.  So kick back, relax, and enjoy a spin (or many) on the TTA.
The final attraction that you are most likely missing is the Carousel of Progress.  This attraction harkens back to Walt Disney and the 1964 World's Fair.  It was one of four attractions built by Walt and his team for the festivities.  The show takes you through four different scenes in a theater that rotates and tells the story of one family's journey through time via technological advances. The show is a favorite for a couple of reasons.  One reason is that it gives you a glimpse of where we've come from the past 100 years to the present .  (If you don't mind the last "retro future" scene which has clearly missed the mark on the vision of the future and needs an upgrade drastically.  It's still a fun finale, even if it is dated.)  The other part that is great is the song.  Trust me … you WILL have it stuck in your head.  (Thank you to the Sherman Brothers).  This attraction is one you shouldn't miss because there really is a Great Big Beautiful Tomorrow, Shining at the End of Every Day.