This post may contains affiliate links for your convenience. If you make a purchase after clicking a link we may earn a small commission but it won't cost you a penny more! Read our full disclosure policy here.
By Rikki Niblett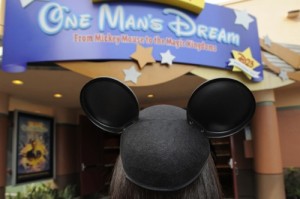 I'm back with my third segment in this series with a look at what you're missing at Disney's Hollywood Studios.  This park, because of it's show heavy nature, I believe causes a lot of people to miss things, mostly due to timing.  Many shows are shown at or around the same time throughout the day, so it really is hard to fit everything in to one succinct day.  So, attractions that you CAN miss, start falling by the wayside.  Of course, Toy Story Mania and Tower of Terror are musts, but what are the things that you are skipping that you shouldn't be?
First and foremost, I think I would be remiss if I said that many first timers simply pass up Walt Disney:  One Man's Dream.  The fabulous walk through attraction (more or less) is all about the great man who had a dream and helped to create all that we love today.  It is quintessential and shouldn't be missed.  This walk through exhibit showcases Walt Disney's life, featuring fantastic memorabilia and models.  However, because it isn't a ride and it's not really a show (though there is a movie shown inside)  It's really more of a tribute to history, which many people aren't intrigued enough to actually walk in.  (I mean, we aren't in a museum…we're in a theme park!  I didn't want to learn here!)  But that's where many are wrong.  Because without this simple story that's told in a fabulous way, none of this resort would be here.  It is because of this man that we are all visiting these parks today.  So go pay tribute.  He deserves to be remembered as the visionary he was.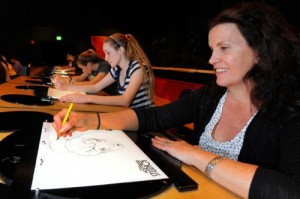 Ok…sappiness is over.  Let's get to one of the cornerstones of what built this company…animation.  Many guests pass over the Magic of Disney Animation.  Sure, the film is a bit campy and dated, (which if you REALLY want to, you can skip over) to what I think is the true gem in this part of the park…the area where you can learn to draw a Disney character.  The Animation Academy is this really cool experience that many take for granted, while running to meet the latest and greatest Disney characters that greet guests in this area.  Here an animator goes through, step by step, how to draw some of Disney's most famous characters while guests attempt to draw said character.  I am no artist and my drawings always come out looking a little funny but, in the end, this is a really cool souvenir that guests can take home with them.  Keep in mind that space is quite limited for this experience and is first come, first serve. It's oh, so fun!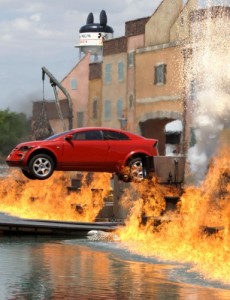 I've noticed that the stunt spectaculars are not as well attended.  Both Lights, Motors, Action Extreme Stunt Show and Indiana Jones Epic Stunt Spectacular are both excellent examples of what this park originally set out to do, to show some of the inner workings of how Hollywood does what it does.  These shows, while technically both stunt shows, show different kinds of special effects and both are certainly well worth the drop in.  This is "movie making" magic at it's best.
The Studio Backlot Tour is one of the first of two attractions that could be found when the park opened in 1989 (The other is The Great Movie Ride).  With all that in mind, it's still a fun little romp that many people walk past. Back when the park first opened, the ride really was a tour into the backlot workings of this studio they were attempting to build up here in Florida.  Guests would ride past facades and experience pieces of Disney television and movie-making magic.  Unfortunately, as we can all tell, the working studio idea never really took hold and we are now left with a sliced-up version of the original.  With that in mind, some of the really cool stuff is actually what has remained.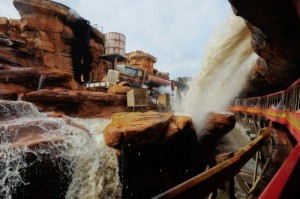 Guests always get a kick out of the first part of the show, where they can take part in the water tank special effect section.  Here, water pours in as the effects take place in a naval battle scene. (If you want to be part of the show, make sure to ask the Cast Members there … though be prepared to get very wet … even with the lovely rain slickers they provide!). From there, you head down to get on the tram portion of the tour where they take you to Catastrophe Canyon.  This is what I remember most from my trips as a kid, as well as old Disney specials.  Guests take part in the special effects portion of a movie involving a lot of … well … catastrophes that all happen at the same time.  I don't want to spoil what happens but it's quite fun.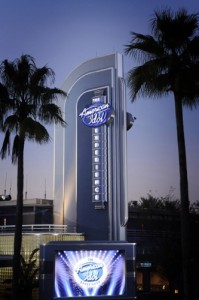 Finally,  it is an attraction that's actually quite new, but with it's waning popularity on television, is one that people often skip.  I'm talking about The American Idol Experience.  This attraction, again, is one of those that harkens back to what this park was originally built for; showcasing how Hollywood is brought to life.  Guests can actually audition for the show (if you have enough courage … and, trust me … it takes a lot).  However if you want to participate in the audience, that's fine too.  Once you step inside those doors it's really like you're on the set of American Idol.  The stage feels like the real stage with all the neon and the silver.  Guests will enjoy stellar performances by the acts and then get to vote on the person who wins that particular show.  You don't have to be a fan of Idol to enjoy this show.  Trust me, it can be absolute fun for anyone who wants to see behind the scenes of something like this.
So, while you may enjoy the big must-see attractions here like Star Tours or Rock 'n' Roller Coaster, don't forget that there are a ton of great attractions that can still be found in this park, that you shouldn't skip over.  Because here, life's a stage … and while you are visiting this park you are part of telling the incredible story too!