This post may contains affiliate links for your convenience. If you make a purchase after clicking a link we may earn a small commission but it won't cost you a penny more! Read our full disclosure policy here.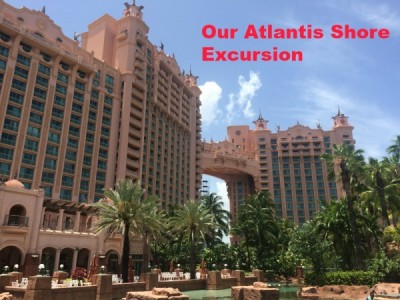 The Atlantis Resort on Nassau
One of the few things not covered in the price of a Disney Cruise are the myriad port adventures you can choose. On our recent Bahamian cruise aboard the Disney Dream, my family and I decided to book one of these in advance. We would be spending a day at Nassau, so we checked out those options. After looking at our options, we chose the Atlantis Beach Day and Discover Atlantis Adventure.
This port adventure includes beach access at the Atlantis Resort, plus self guided tours through the resort's two massive aquariums. It also included a counter service lunch at selected spots throughout the resort. We found the price of $75 per person ten and up to be quite reasonable.
After we docked at Nassau, we headed to D-Lounge at 10:00 a.m. to check in for our excursion. The friendly and enthusiastic cast members gave everyone on this excursion a matching orange Donald sticker and meal vouchers. Water bottles were for sale here as well.
After being briefed on the procedures for leaving the ship and getting back on again, which included some silly singing to the opening strains of The Circle of Life, we headed down to depart the ship at 1015 a.m. We needed to bring our Key to the World Cards and each adult also needed a photo ID. Our cast members showed us where to wait for our Atlantis guide to arrive.
Do you know that feeling when a Disney vacation is over, and the well organized flow of things suddenly stops and you feel disoriented? Yep, that's what this felt like. We waited for quite a while, not really knowing what to do except hang out with other people with matching stickers.
Eventually, the cheerful guide from Atlantis came and walked us towards our shuttle. The shuttle driver was friendly and although this wasn't a guided tour, he was always happy to answer guests' questions about his home.
To reach the Atlantis Resort, we crossed the Sidney Poitier Bridge. (Did you know that Poitier was the first Bahamian to win an Academy Award for Best Actor? Me, neither!)
Atlantis is absolutely massive. The hotel's water park alone is 141 acres, and that's just a tiny bit of this immense property. It took us quite a long time to walk through the hotel's grounds to get to the beach. We were shown where we could get towels, and then the guide reminded us that buses would return us to the ship every half hour, so we could return whenever we wanted to, with the last bus leaving in plenty of time to get us on board for the all aboard time.
At this time, my California acclimated family and I were so hot and humid that we didn't want to hit the beach. Lead us to the air conditioning! On our way to The Dig, the hotel's huge aquarium, we stopped at one of the counter service restaurants to use our meal vouchers. We were limited to a choice of burgers, veggie burgers, hot dogs, or garden salads, with fries and a soft drink. The food was adequate but the portions were large.
As huge as this place is, they need to invest in better signage. The Dig is a highlight of this resort, yet it was nearly impossible to find. Eventually, we found an employee who was happy to show us to the entrance. There is no way we would have found this on our own.
The good part about getting lost – stumbling across cool sites like this
The Dig was so cool! It was designed to look like the ruins of Atlantis, with the fish and other sea life swimming in and around toppled temples, old arches and columns.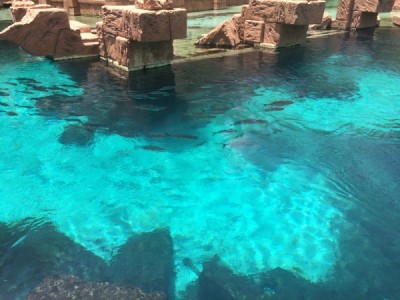 Some of the incredible marine life
We really took our time here, and sometimes just stopped to gaze at the sea creatures in awe. Every once in a while, another shore excursion group that included a guided tour would pass by, and we listened to the guides explaining the details of the architecture and the marine life. It felt like we were cheating a little bit!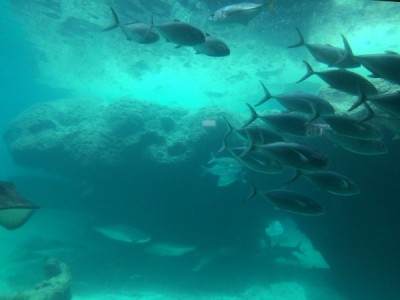 One of the many tanks in The Dig
There is a gift shop in the center of The Dig, and we had fun browsing, but we didn't purchase anything. There are also plastic sea life identification cards that you can borrow so you can tell what creatures you are looking at.
Afterwards, we decided to head towards the second, smaller aquarium, which was dedicated to predators. This place was much easier to find, being below an open air bar with a gigantic seashell as its roof.
Hey, did someone say bar? This weather was seriously sapping our energy, so we stopped to get some icy cold tropical drinks for the grown ups and a frosty cold apple juice for the little one.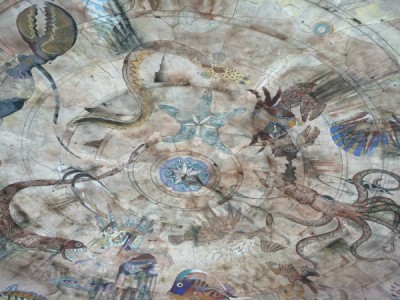 The sea life themed ceiling at the bar
Although the predator exhibit was smaller, it was still a lot of fun. Sharks, sting rays, and other predators swam by and we got a great look at them through the tall, clean viewing windows.
We could have stayed longer, but there were things on the ship we wanted to explore, so we headed back to the shuttle stop. We were on a shuttle by 2:18 p.m. Once again, the bus driver was happy to answer questions about his home. A man asked him how he thought the Bahamian soccer team would do in the Olympics. The driver grinned and said, "I'm sure they'll do their best."
We arrived at the ship close to 2:30 p.m. and were greeted by cast members handing out very welcome ice cold wet washcloths. That really hit the spot! There were also containers of ice water with slices of citrus in them.
I loved this port adventure because we were able to come and go as we pleased. We could have stayed all day if the mood hit us, and we weren't stuck there when we decided we were done. Even though we never hit the beach, the Dig itself was well worth the price we paid. This is a great shore excursion option for those stopping at Nassau.
Have you ever done a shore excursion at Atlantis? What were your thoughts? Share in the comments.
Incoming search terms:
https://www themouseforless com/blog_world/atlantis-shore-excursion/
https://www themouseforless com/blog_world/atlantis-shore-excursion/#:~:text=This port adventure includes beach up to be quite reasonable
Disney Cruise Atlantis excursion review