This post may contains affiliate links for your convenience. If you make a purchase after clicking a link we may earn a small commission but it won't cost you a penny more! Read our full disclosure policy here.
By Binnie Betten
If Epcot didn't quite turn out to be the Experimental Prototype City of Tomorrow that Walt had envisioned, Innoventions surely has become the park's technological playground of the future. It is here that guests can be entertained through hands-on experience with games, gadgets, and inventions on the cutting edge. Thus, Innoventions, located in the Future World section of the park, is appropriately home to "Around the World at Epcot." This two-hour guided tour gives participants the opportunity to master a groundbreaking transportation technology, while simultaneously offering a truly unique view of World Showcase prior to park opening.
The Segway® Human Transporter (HT) is the world's first self-balancing, electric-powered transportation device. Some of you may have already noticed these curious, two-wheel contraptions zipping around Epcot and other areas of Walt Disney World. Cast members riding them make it look effortless and fun; after a bit of instruction and practice, one will find that it truly can be.
My family did the "Around the World at Epcot" tour during our July vacation. We entered the park prior to opening and went to Guest Relations to the left of Spaceship Earth to get our name tags and sign our waiver forms. One of our two instructors for the tour was waiting there to greet us. Once everyone going on the tour had assembled, he led us to Innoventions where we would train on an indoor obstacle course.
The cost of the "Around the World at Epcot" tour is $80 per person and tours take place daily at 8:30 and 9:30 a.m. If you're not quite sure about the longer tour, there is a cheaper option called the "Simply Segway Experience." This is a one-hour program that gives guests a product overview, training, and riding on the indoor Segway obstacle course at Innoventions. The cost is $45 per person and it is offered daily, except for Tuesdays, at 12:30 and 1:45 p.m.
The class size for both programs is limited to 10 guests. Epcot admission is required and, for very good reasons that I'll explain later, there are also weight and age restrictions. Riders must be at least 16 years of age and weigh no more than 250 pounds and no less than 100 pounds to participate.
Our training started by viewing a short film on how to operate the Segway and then getting fitted for helmets. I usually require a child-size hat and was sure our instructors would never have a helmet to fit me. My fears were unfounded. The Segway HT is cool, but the helmets made us all look pretty "dorky."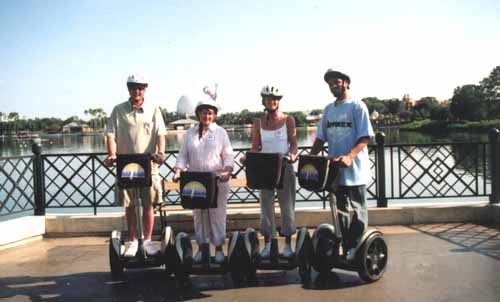 Our Segways were lined up waiting for us, leaning against the back wall of the indoor training course. We were asked to select one with an appropriate adjustable handlebar height. Being a mere 5 foot tall, mine of course, needed to adjust all of the ways down.
The vehicle's electric motors, which are powered by a pair of rechargeable nickel-metal hydride batteries, turn each of the wheels independently–sometimes at variable speeds. When the rider leans forward, the motors spin both wheels forward to keep from tilting over. When the rider leans backward, the motors spin both wheels backward.
Mounting my Segway was the most difficult part of the training for me. In order to make the self-adjusting balancing system work, the Segway must be turned on prior to stepping onto it. Inserting the key until the smiley face LED on the handlebar panel turns green engages the device's "dynamic stabilization." Just like magic, the Segway becomes capable of staying upright all by itself!
From the moment of ignition on, any tilting of the handlebars will cause the Segway to move forwards or backward. If one is short or young with limited reach (one of the reasons for the tour's age and weight restrictions) keeping the handlebars parallel with the floor will be difficult and even a little precarious when mounting; pulling the handlebars towards you causes the machine to roll backward. One will encounter the same problem when dismounting.
The Segway HT uses advanced technology, gyroscopes and tilt sensors to emulate human balance. The unit monitors a rider's center of gravity at a rate of 100 times per second. It has five gyroscopic sensors, though it only needs three, and multiple onboard microprocessors equaling three times the power of a typical personal computer. The extra sensors add redundancy to make the vehicle more reliable at detecting forward and backward pitch. The excess "brainpower" is there in case one of the processors breaks down. Should that happen, the spare microprocessor will take over, the system will notify the rider of a failure and then Segway will gracefully shut down.
Once the Segway is mounted, you must allow it to balance itself. If you don't, you'll be doing what's known as the "Segway Dance"–moving forward and backward in short jerky movements trying to use your body to stabilize the thing. It doesn't take long, however, to realize that you have to let the machine do the work of balancing.
When the rider operates the steering grip to turn left or right, the electrical motors spin one wheel faster than the other or spin the wheels in opposite directions, so that the vehicle rotates. Turning without leaning causes the Segway to literally turn in place!
The fact that one's own body serves as both the gas and the brake takes a bit of getting used to.
In order to master the melding of woman and machine into one seamless, novel, transportation vehicle, I spent nearly forty-five minutes of the first hour following our instructor's directions on how to maneuver between plastic cones and navigate up and down a handicapped-accessible ramp. I managed to knock down only one of the orange cones, which was not the worst performance in the class. ?
Soon, we were on our way to World Showcase, and turning quite a few heads in the process. I smiled listening to park visitors wonder out loud, "Where do you rent those?"
Our instructor coolly replied, "We're trying out our newest Epcot parade. We expect that it will be much better once we add costumes and music."
We were told that some Segways could travel up to 12.5 mph for a distance of 24 miles on a single charge–an impressive energy efficiency equivalent to 450 miles per gallon. Speeds and distance will of course depend on the terrain and weight of the rider. I suspect that our Segways were speed-controlled, governor versions.
I felt very comfortable riding my Segway until we reached China and my first small hill. My normal reflex reaction was to brake by turning the handlebar grip as I do on my bike. Wrong! I didn't make that mistake again, however, and my mind grudgingly adapted to leaning back to slow down on slopes.
Our tour took us through the gardens of China, Germany, and Japan and the streets of Italy and Morocco. Occasionally our instructors would offer an interesting tidbit about one of the buildings or countries, but behind the scenes, facts were clearly not the emphasis of the tour.
In Italy, we stopped for a photo op in front of the World Showcase Lagoon, and then our instructor turned us loose for about fifteen minutes of free-style riding in front of the Italian pavilion. We were allowed to go as fast or as slow as we wanted, travel in circles or zigzag or just show off our newfound skills. I really liked that part of the tour the best.
Our hour of touring World Showcase was over all too quickly and soon our instructor was leading us back to Innoventions. I managed to dismount without running over myself, a detail I had spent the last fifteen minutes of my ride worrying about.
We lined up our Segways in the hallway outside of the indoor training course where they were plugged in and recharged for the next tour. Finally, our instructors gave each of us a really cool moveable Segway pin to commemorate the tour; it's one you can't buy in the parks.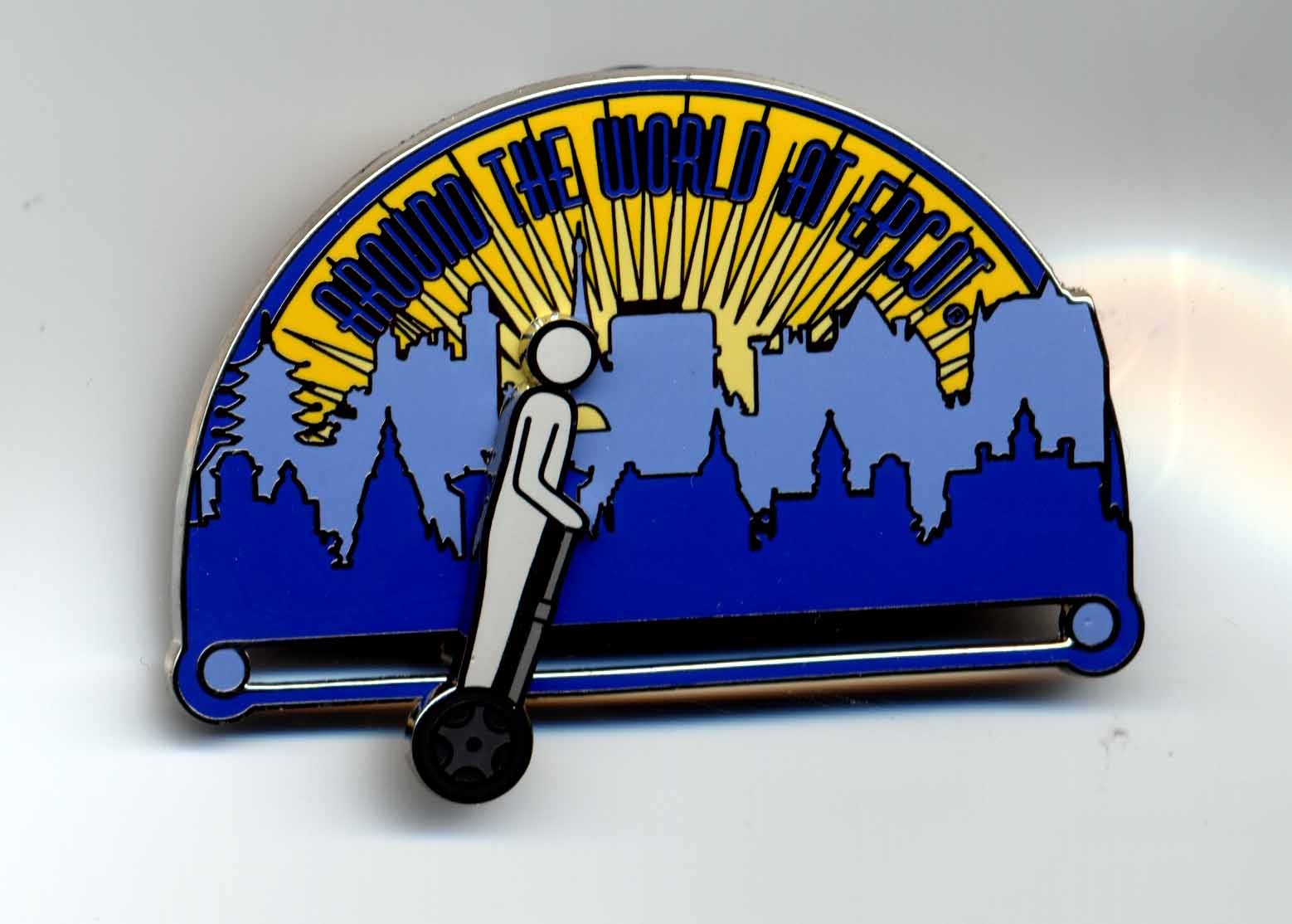 If I learned one thing on this tour that really surprised me, it was that riding the Segway is really hard on the feet. Have you ever noticed how your feet hurt the worst when you are standing in a ride line that's not moving? The Segway is like that. For those who think that it would make a good substitute for an ECV, honestly, it would not.
I'll most likely do this again when I visit Walt Disney World in December. It was just plain fun. If I had the time and reason to ride a Segway around Pittsburgh, I'd probably even buy one.
If You're Going:
Times: Daily at 8:30 am and 9:30 am
Price: $80 per person (includes tax) for the two-hour "Around the World at Epcot" tour and $45 per person for the one-hour "Simply Segway Experience." The tour is paid in advance on a credit card at the time of booking.
Discounts: A 15% discount is offered to AAA members, Disney Vacation Club owners, Disney theme park annual and seasonal pass holders, and Disney's Visa cardmembers.
Reservations: Call 407-WDW-TOUR for reservations or information
Other requirements: photo ID and Epcot admission ticket
Cancellation: 48 hours in advance for a full refund. In the case of inclement weather, the experience may be shortened to a one-hour, inside-only tour at a 50% discount.
Restrictions: Guests must be at least 16 years old and weigh 250 lbs or less. The signature of a parent or legal guardian is required for riders under 18 years of age. Riders should be in good health and able to stand for the duration of the tour. Expectant mothers and persons with special needs may not participate.
Included: Helmets are provided and participants will be given a special Segway pin.
MouseForLess Tips:


Come with well-rested feet.
Magically Speaking Featured Article
Library of Congress ISSN:1556-3863