This post may contains affiliate links for your convenience. If you make a purchase after clicking a link we may earn a small commission but it won't cost you a penny more! Read our full disclosure policy here.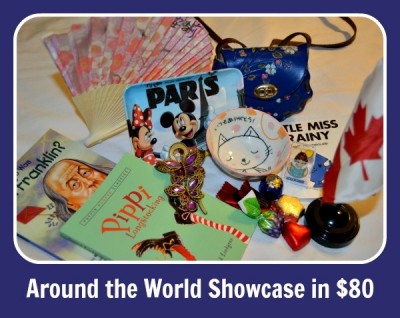 When you travel to Walt Disney World as often as we do, it's nice to find creative ways to make each visit unique. While our family has always loved spending time at Epcot, up until our most recent trip, we had never really taken the time to explore each World Showcase pavilion in great depth. Sure, our daughter has colored a Duffy and collected stamps from each country, and we've dined at several of the restaurants along World Showcase lagoon, but we'd never spent much time browsing in the shops and taking in the ambiance of each pavilion.
While planning for our January 2015 trip, Scott had a great idea to challenge our 7-year-old daughter's math and budgeting skills, and to get us all excited about exploring the World Showcase – an "Around the World Showcase in $80" challenge! In preparation for this challenge, we loaded $80 onto a Disney gift card and explained the concept to our daughter. She could use the $80 to buy anything she wanted in the World Showcase – but here's the catch – she had to purchase at least one item from each of the eleven pavilions!
We briefly covered some key budgeting basics, for example, we explained that she could spend a little more than $7 at each pavilion, but if she wanted something more expensive at one pavilion, she'd have to find something that cost less at another. We gave her a notepad and pencil to log her purchases and track her remaining balance. And then she was off! From the moment our plane landed in Orlando, she was itching to get to Epcot and start her budgeting adventure! In all of our trips to WDW, we've never seen her so excited to visit the World Showcase.
Her first stop was Canada. To be completely honest, before this experience we weren't even aware that the Canada pavilion had a full store – we'd only ever noticed the small leather-goods kiosk in the walkway. But with a mission to complete, we ventured up the steps to the Canada pavilion and "discovered" Mercantile Trading Post. Our daughter had settled on the strategy to start off small, so that she would have extra money to spend on more expensive items as she progressed. After some hemming and hawing over a lip-gloss called "Beavers Butt" and a small black bear plush, she finally settled on a small Canadian flag for $4.95 (+tax).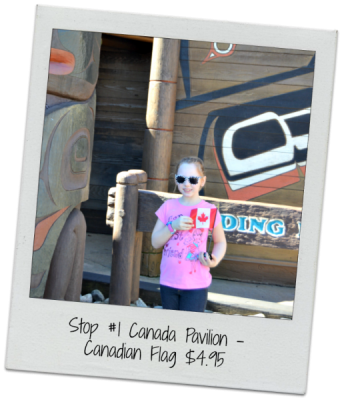 Stop number two was the United Kingdom pavilion. After poking around a few shops, our daughter headed into the Toy Soldier and fell in love with their collection of "Mr. Men and Little Miss" books. After several minutes of indecision, she finally decided to purchase "Little Miss Brainy" for $3.99 (+tax). At checkout, the cast member ringing her up noticed the DVC slider on her magic band and offered the 10% DVC member discount. We hadn't initially factored discounts in to the challenge, but figured we might as well take advantage, as we seldom pass up an opportunity to save!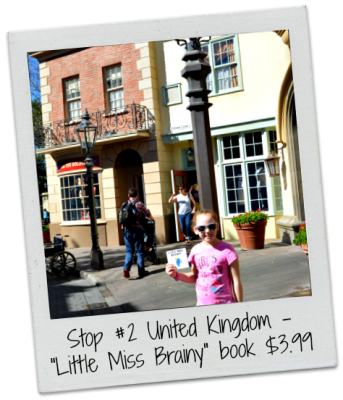 Our third stop was France. After browsing all of the shops in the France Pavilion (after all, she had to make sure she was getting the perfect souvenir), we made our way into Gallerie Les Halles, where she found an adorable plastic "Paris" tray featuring Mickey and Minnie in front of the Eifel Tower for $4.95 (+tax). With her purchase secured, we popped in for a quick viewing of "Impressions de France," before saving "au revoir" to Epcot for the day.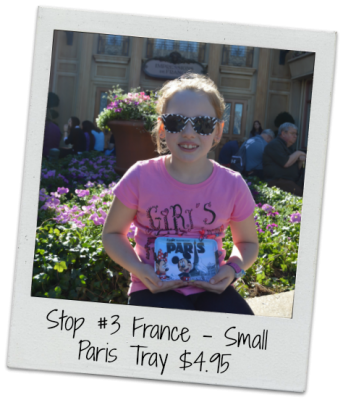 A few days later, we resumed the challenge in the Mexico Pavilion. The Mexico Pavilion proved to be tricky, as there are so many exciting, colorful souvenirs that were right within our daughter's budget. After pacing between shops and looking at everything from jewelry to pottery to sombreros, she finally settled on a cute leather purse for $14.95 (+tax). For our budget-conscious girl, this was quite the "splurge," but it ended up being one her most useful and favorite purchases!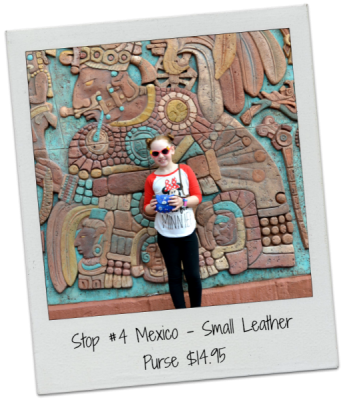 After Mexico, it was on to Norway! With all of the Frozen merchandise currently for sale in the Puffins Roost, we were pleasantly surprised when she selected a chapter book, "Pippi Longstocking" for $6.99 (+tax).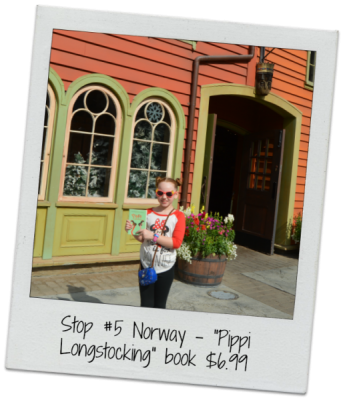 The sixth stop on the World Showcase challenge was the China Pavilion. If you've never been inside China's shops – a word of warning – this place is jam-packed with merchandise! Our daughter spent what felt like hours (probably about 20 minutes) wandering back and forth, contemplating pandas, jewelry, fans, and toys.
Ultimately, she chose a bamboo-folding fan for $9.00 (+tax), which the cashier personalized with her name in Chinese. These fans are fairly flimsy, and clearly not manufactured for children, so we tried to talk her out of this purchase to no avail – her heart was set on a fan! This was a good reminder that this challenge was for her – not us – and we needed to be patient and respect her choices, even if they weren't what we would have chosen for her.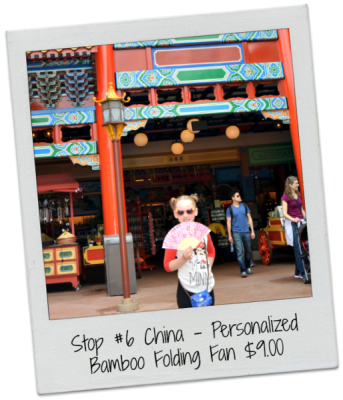 From China, it was on to Germany! In the Germany Pavilion, our daughter gravitated towards the Arribas Crystal shop. After deciding that the sparkling tiaras and etched glassware were out of her price range, she settled on a miniature glass bust of Snow White in a tiny display case for $9.50 (+tax).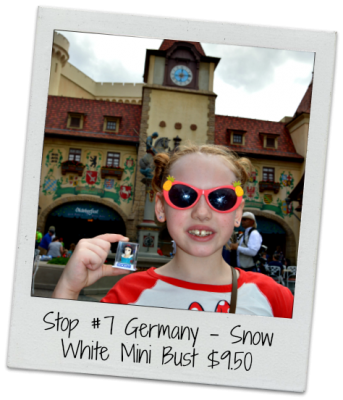 Our eighth stop was the Italy Pavilion, where the shopping options appeared to be fairly limited. As our 7-year-old wasn't really in the market for expensive perfume or handbags, she honed in on the edible options. She was quickly drawn to the selection of individually wrapped Italian candies, and ended up purchasing 8 candies for $3.80 (+tax).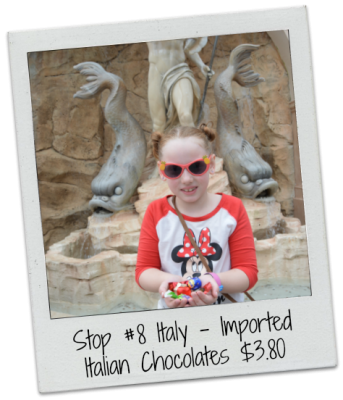 Heading into the American Adventure Pavilion, our daughter made a beeline right to the book section and picked up the non-fiction chapter book, "Who Was Ben Franklin?" for $4.99 (+tax).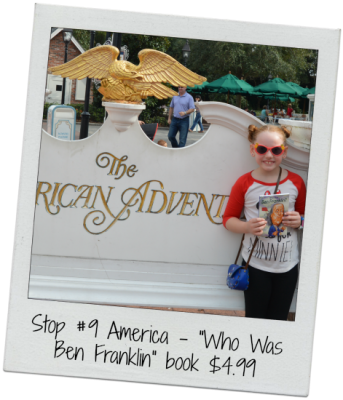 The tenth pavilion in our challenge was Japan, which like the China Pavilion, proved to be a bit overwhelming! The Mitsukoshi "department store" is huge and full of unique items that would appeal to any interest! Our daughter was excited to come across a plastic monorail plate (the same plates that children's meals are served on at Tokyo Dining – one of her favorites!), but was less than enthused by its $50 price tag. Ultimately, she decided on an adorable kitten-themed, ceramic rice bowl for $4.95 (+tax).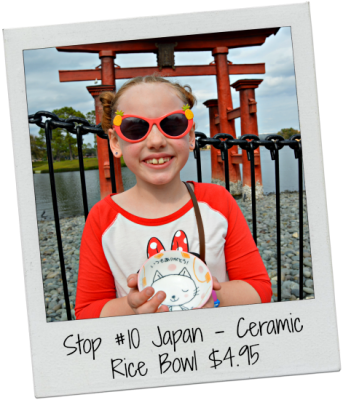 Our final stop was Morocco, and after carefully perusing all of the shops in the pavilion, our daughter selected a pretty, plastic jeweled hair clip from Marrakesh Arts and Crafts for $7.75 (+tax).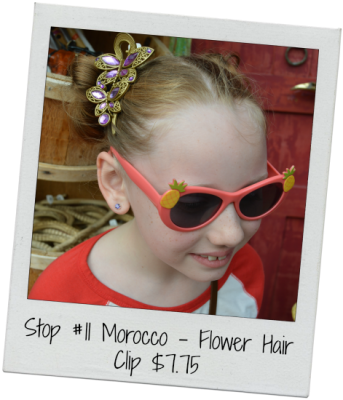 At the end of the challenge, our daughter ended up spending a total of $75.95 on souvenirs from each of the eleven World Showcase Pavilions. She successfully budgeted her way "Around the World Showcase in $80" and most importantly, had fun exploring each pavilion and learning about different cultures!
Have you created your own World Showcase challenge? What do you do to keep your trips to Disney fresh? We'd love to hear your suggestions in the comments!