This post may contains affiliate links for your convenience. If you make a purchase after clicking a link we may earn a small commission but it won't cost you a penny more! Read our full disclosure policy here.
I've said it before and I'll say it again, but for our family, eating at the restaurants of the Walt Disney World Resort is almost as much fun as touring the theme parks. Most of us know the "big" places to eat – Cinderella's Castle, Crystal Palace, Le Cellier, The Brown Derby, Chef Mickey's, O'hana's – just to name a few. Each of these places are wonderful and some of them are on our "not to be missed" list for each vacation, but sometimes you want to try something new, maybe something off the beaten path, that doesn't have to be an all-out dining extravaganza – casual dining without the tray, so to speak.
On one of my last trips, my family and I had the opportunity to stay at the Grand Floridian Resort. Now, most people when asked about dining at the Grand Floridian will say that they would like to eat at 1900 Park Fare, Nacroosee's or even (if it's in their budget) Victoria and Albert's. I have to admit, those were all tempting during our stay but one particular morning we had gotten up and wanted to just have a casual, leisurely breakfast, but not from a food court. Fortunately, the Grand Floridian had just such a place in the Grand Floridian Café. I must say that I love how this resort, though top of the line, still manages to take in to account that every traveler has a different budget and that they cater to each and every one of them!
There are no characters, there is no "theme"; this is just an honest-to-goodness restaurant that happens to serve delicious food. The Grand Floridian Café offers a moderately priced breakfast, lunch and dinner of American favorites. This casual, light-filled restaurant has a charming Victorian setting and overlooks the lovely gardens and pool at the hotel, so there isn't a bad view to be had! The service was top-notch and because this restaurant is probably mainly utilized by guests of the Grand Floridian, it wasn't overly crowded.
Their breakfast menu had all of the staples – pancakes, French toast, omelet's – but I decided to be decadent (I was, after all, staying at the Floridian!) and ordered the lobster eggs Benedict. I can honestly say that I don't think I've ever eaten a more delicious breakfast. We drank Mimosa's, we had fresh fruit, it was most definitely, a feast.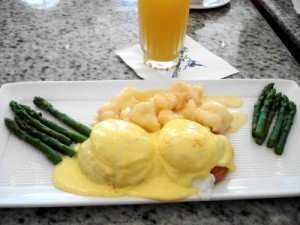 Throughout the day, the Grand Floridian Café serves all three meals. Breakfast prices range from $14.99 and under, while the selections for lunch and dinner range in price from $15.00 to $35.99. I know for some people, they see that price and say that they would rather eat at one of the other, more well-known, table service restaurants, but consider this, you do not need advanced dining reservations here and if you aren't a guest of the Grand Floridian, you can take this opportunity to tour the resort after a fairly quiet, yet wonderful meal.