This post may contains affiliate links for your convenience. If you make a purchase after clicking a link we may earn a small commission but it won't cost you a penny more! Read our full disclosure policy here.
By Michelle Leifur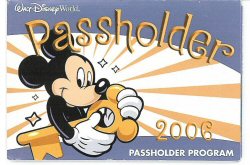 All too often in Disney forums, the benefit of Annual Passes is brought up. Usually, though, the benefit centers around the park entrance. How often have you read, "If you are going to be staying for more than a week or if you are going to be going back within a year's time, get an AP?" However, there are more benefits to being an Annual Passholder than just the reduced park entrance rates.
Unfortunately, if you go to Disney and plan on purchasing an Annual Pass without reading this article you may be in the dark as to what discounts and benefits you are entitled. The new 2006 Passholder sleeve no longer details all the discounts and advises Passholders to look up all their benefits at the Passholder website. That does you a whole lot of good in the parks now doesn't it?
Shopping! While shopping discounts change from year to year, most often Passholders will find that they get a 10% discount at many Downtown Disney shopping venues. Whether they are picking up a Pooh sweatshirt at World of Disney or purchasing a nice figurine at Arriba's Brothers, you will be sure to save a bit off the final cost. Basin, House of Blues merchandise, and many other stores offer a 10% discount to Passholders. Also, currently, the Lego store at Downtown Disney offer says that a $5 savings off a purchase of $50 or more is one of your benefits, we found that the Lego Store actually was giving a flat 10% discount on all purchases regardless of the purchase price. You could make some kid (of any age) extremely happy! Because Downtown Disney always seems to be in a state of flux, it never hurts to ask when shopping if there is a discount available at that location. It is better to get a no than to miss out on a possible discount. World of Disney is currently under refurbishment and parts of the store have temporarily been moved to other locations throughout Downtown Disney. We were given discounts at the Princess Store, Kids of Disney, Tails, and even at the discount barn (a small strip of a store outside Tails that has items for under $20.)
Dining! Yes; eat for less by being a Passholder. Passholders usually save 10% off many of the Epcot full-service restaurants during lunch hours.  Discounts of 10% can also be found at many of the Downtown Disney dining locations such as Wolfgang Puck's (both Café and Express), and Fulton's Crab House. This can really add up after just a few meals. Just remember to tip your servers based on the pre-discount amount.  Passholders also can save $25 off the cost of the Disney Dining Experience. The purchase of the Disney Dining Experience gives the holder and up to 10 guests a 20% discount at over 70 dining establishments. You can read more about DDE here.
Playing! And I'm not talking about all the fun you are going to get to have in the parks for a full year either. Imagine golfing at a Disney for 30% off! You can even include 3 guests at that rate. Not really a golfer? Then how about a round of "goofy golf" at either the Fantasia Gardens Miniature Golf Course or the Winter Summerland Miniature Golf Course? Passholders get in half price for themselves and 3 guests! This could be a fun afternoon of silliness for you and your family! And don't forget about water park discounts. Tickets to Typhoon Lagoon and Blizzard Beach are discounted for Passholders. Disney Quest, Pleasure Island and the AMC Theatres also offer discounts to Passholders.  There are further discounts to be had for boat rentals at resort marinas.
Tours! If you have ever wanted to do one of the backstage tours at Disney, being an Annual Passholder is your key to saving a penny or two on your fees. Passholders save 15% on most of the tours that Disney offers. What a great way to be able to afford some of these fun and informative tours!
Sleeping! Well, you don't have to just sleep. Annual Passholders get some of the best rates on resort stays. Sometimes discounts as much as 40% off. These vary depending on expected crowd levels and room availability. Information about these discounts can usually be found on TheMouseforLess website or through the Mickey Monitor (see below). Passholders have a special phone number that they can call to make trip reservations.  The helpful Cast Members usually are aware of the codes or you can use your favorite travel assistant.  Just make sure they know that you are an Annual Passholder.
Bragging Rights! OK. OK. Being a Passholder is really all about bragging rights. There are little bonuses such as Passholder only events, special soft openings or Passholder previews to new rides and attractions, and the ability to purchase Passholder only souvenirs. I have been lucky enough several times to coordinate a vacation with Passholder previews for new attractions. There is a bit of pride when you see other guests wondering why those people are special enough to get to enter a new attraction. It's also fun to wear a hat, shirt or pin that states to everyone that you are a bona fide Disney nut. And see Erica's article on her Everest preview experience as an example of previewing benefits!
Mickey Monitor! The Mickey Monitor is the Passholder quarterly newsletter. This little gem is filled with interesting information on upcoming events, behind-the-scenes facts, and extra savings for Passholders. This is where you will find out about Passholder gatherings, previews of new attractions, Passholder only events such as Passholder Pin Meets, and discounts on resort stays.
The Extras! As if all that isn't enough there are other special things about being a Disney World Annual Passholder. Spa treatments come with a discount as do discounts through Alamo Car Rental. One other lovely benefit is free parking at the four theme parks. Annual Passholders are entitled to park for free at Disney World theme parks.
There are several kinds of Annual Passes. There are Premium Annual passes which include unlimited visits to Typhoon Lagoon, Blizzard Beach, Disney Quest, Pleasure Island, and Disney's Wide World of Sports. Regular Annual Passes offer admission to just the four theme parks.  Florida Resident Annual Passes have the same benefits as regular Annual Passes, but they are discounted for Florida residents. (Proof of Florida residency such as through a driver's license is required). The fourth Annual Pass which is available is also restricted to Florida residents. This is the Florida Seasonal Pass. This pass costs quite a bit less than a regular Annual Pass, but has blackout dates for the busiest times of the year (mainly during Spring Break, Winter Holidays, and the heat of the summer.) For many Florida residents, this is a bonus as few Floridians enjoy being in crowded places in 100° weather.
While Annual Passes aren't for everyone, there are some definite benefits to being a Passholder. Whether you want to decrease the cost per day of your vacation, take advantage of the discounts, or just know that you can go back to Disney all year if you wanted to, there are many reasons why people decide to become Passholders. For more information about Passholder benefits and to see if one would fit into your next vacation budget check out our web page on Annual Pass benefits. Remember that benefits can change annually and are subject to that "subject to change clause", so be sure to check back often to see what is current for Passholders.
If you are a current Passholder, be sure to check out your benefits before your next vacation by visiting Disney's Passholder Gateway at http://www.disneyworld.com/passholder. You will need your Annual Pass to log in. Oh, and if you just happen to lose your Annual Pass, the good news is that the pass is linked to you through your mailing address. They are much easier to replace than other Disney entry tickets.
Magically Speaking Featured Article
Library of Congress ISSN:1556-3863