This post may contains affiliate links for your convenience. If you make a purchase after clicking a link we may earn a small commission but it won't cost you a penny more! Read our full disclosure policy here.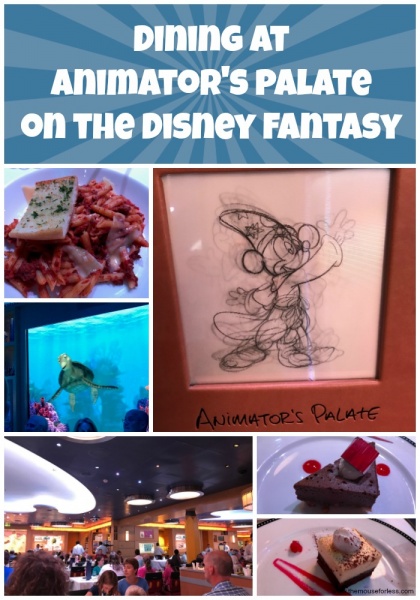 There's nothing better for a foodie than a cruise. Why? Because you literally get to eat all you want and the food, for the most part, it top notch. That fact is absolutely true onboard the Disney Cruise Line.
This summer, I took an incredible seven day adventure on the Disney Fantasy. It was one of my favorite trips I've ever taken because I was surrounded by family and friends. And you can bet that dining on the ship played a big part in my enjoyment of the vacation.
So, over the next few weeks, I'm going to take you on a journey of the dining onboard the Disney Fantasy. Don't read these posts hungry!
The first thing we need to go over is what it means to dine on Disney Cruise Line. The four ships offer something called rotational dining. This means that you travel to the three different restaurants onboard the ship and your Cast Member wait staff travels with you. They will take care of all of your dining needs throughout your cruise. Which means that these Cast Members become like family and take excellent care of you. For example, I drink a lot of milk and every night, I would have milk waiting for me. The Cast Members also play games with your table and entertain with good conversation.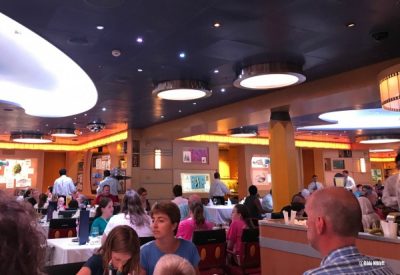 Speaking of your table, another thing you have to keep in mind about dining on a cruise ship is that you may not be dining with just your family. Many times you will be joined by another group or two. Now, for our cruise, that wasn't a problem, because we had a traveling party of over 70 people, so I was seated with my friends, but for those of you who are not traveling with that many other cruise mates, be aware that you may be seated with others.
Let's get to the meal. Animator's Palate onboard the Disney Fantasy is themed after an animator's workshop. There are drawings, maquettes, art supplies and more that decorate the walls. In addition, there are giant video screens where different animation-inspired shows take place.  (One show is similar to Turtle Talk with Crush and the other show allows Guests to create their own animations.)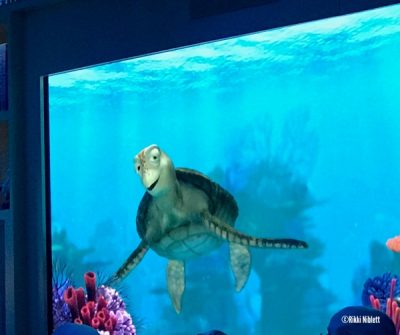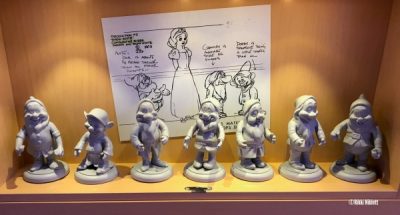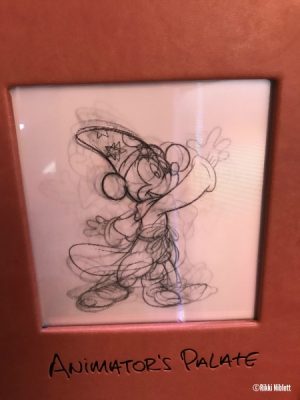 For my appetizers at Animator's Palate, I enjoyed the Sliced Serrano Ham which is  served with a Manchego Cheese and Olive Tapanade. The ham and cheese were fantastic. But then again, I'm always a fan of this type of appetizer. It's simple but delicious.
I also enjoyed the creamy Butternut Squash Soup which is garnished with chives and drizzled with sour cream. I found this to be just ok. It wasn't really a stand out.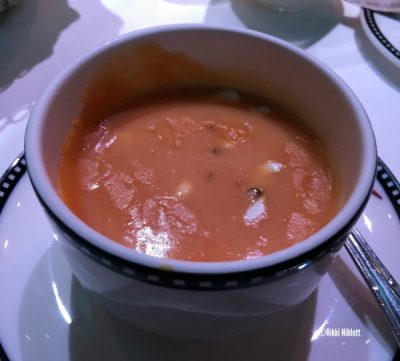 Another dish I was a little disappointed in was the Pinnate Bolognese which is pasta mixed with a rich bolognese sauce garnished with shaved Parmesan Reggiano and served with toasted garlic ciabatta. I am very picky about my Italian dishes and this one just didn't meet my standards. It was serviceable, but I think there are much better choices to get, unless you are just really in the mood for pasta.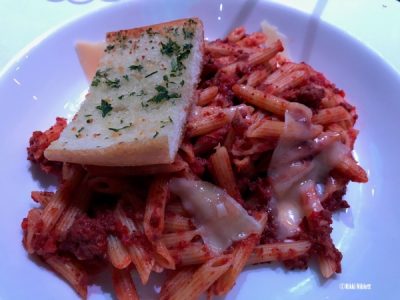 For dessert at Animator's Palate, I enjoyed the Crunchy Walnut Cake. This is dark chocolate mousse served with a raspberry couli. This is a good dessert, especially for chocolate lovers. And I think the name of cake is a misnomer, because it's more like a mousse/pie thing than a cake.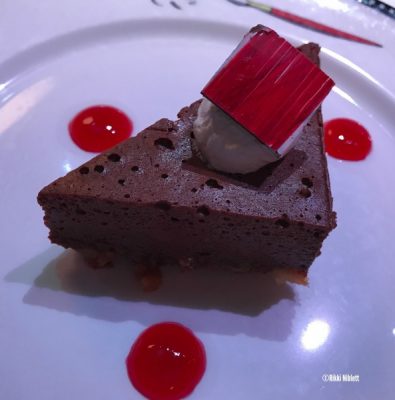 Also good was the chocolate fudge cheesecake. This is a creamy vanilla cheesecake served with a chocolate fudge base. Again, another top notch and satsfiable dessert.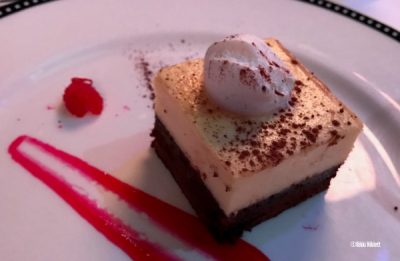 Overall, I think that the meals I've had at Animator's Palate have been good, but they haven't been outstanding. There are parts of the meal that are fantastic here and there are parts where I'm not as impressed. Of course, it does depend on what you're ordering.
What are your thoughts about Animator's Palate? Do you enjoy dining here? Share your thoughts in the comments.
Did you like this article? Make sure to share it with your friends! Check below for easy ways to share!