This post may contains affiliate links for your convenience. If you make a purchase after clicking a link we may earn a small commission but it won't cost you a penny more! Read our full disclosure policy here.
Many people might not be aware of this, but Disney is giving away free souvenirs! What's the catch? You have to make them yourself. Tucked in the Magic of Animation building in Disney Hollywood Studios is  the Animation Academy. Here you'll have the opportunity to learn how to draw both classic and current Disney characters.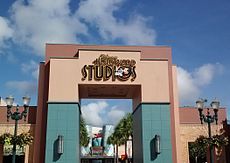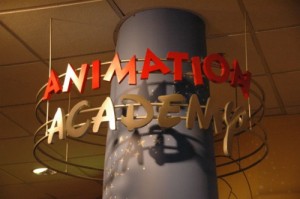 This experience queues up in the lobby of the Magic of Animation building where you can also score a character meet and greet. The show lasts approximately fifteen minutes so on a typical day you would wait no more than twenty minutes for the next show. Once inside, you will choose one of the adorable Mickey desks to set up shop. Each desk is outfitted with a blank piece of paper and a sharpened pencil waiting for you to create your masterpiece.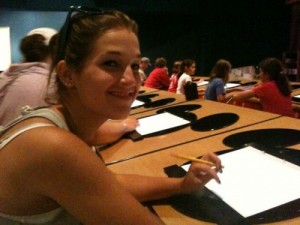 Seated at the front of the room is a Disney animator. He or she will sometimes ask the audience who they would like to draw, but more often the animator chooses the character. Sometimes they might keep you guessing through the process until the character suddenly comes to life on the page.  The artist will be instructing you  step-by-step, using clever sketching techniques. All these steps are clearly shown on a large screen.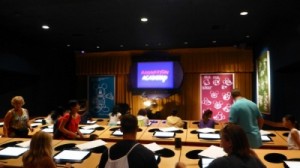 You might be thinking that this is not for you because you can't draw. This is not a problem at all! It really is amazing how well anyone, young or old, can do replicating these characters using these techniques. Of course, some come out better than others…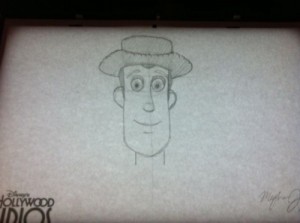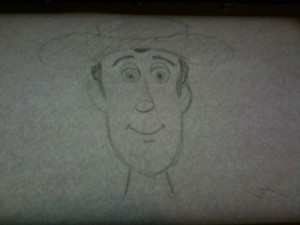 Another  great thing about this attraction is that you can create several drawings over the course of your visit. In the past I've seen people carrying a whole portfolio of Animation Academy artwork! We've come home with several drawing over our last few trips: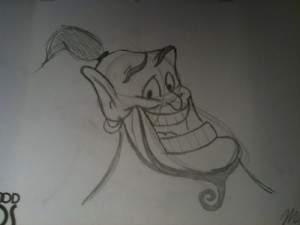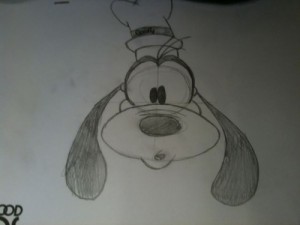 Here's a great tip for you: Once you've finished your drawing you will exit through the Art of Disney store.  Go up to the cast member at the register and politely ask for a rubber band and a bag. They will gladly give them to you. This way, you can roll up your drawing and store it in the shopping bag without having to fold or crease your work. I've been able to preserve all of our artwork this way. These drawings come out so well that they are truly worthy of being framed once you get home! They are also emblazoned with the Hollywood Studios logo which is a really nice touch.
The Animation Academy is a truly unique Disney experience. It's a nice cool break from the bustle of the parks, you can relax and get off your feet for little bit , all the while drawing alongside talented Disney artists. I highly recommend you make this attraction  a part of your next Hollywood studios visit.
Incoming search terms:
animation academy hollywood studios
whats the audition process for animation academy cast member